Tamiya 57401 1/14 RC Lightning Hawk SU-01 Chassis details & photos
Star unit series No.1 Lightning Hawk LIGHTNING HAWK Item No: 57401 (total length = 282mm)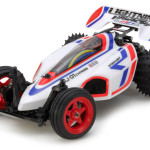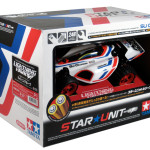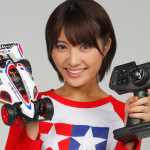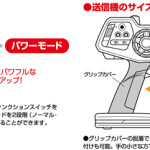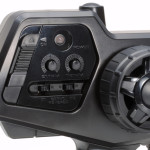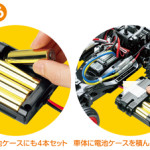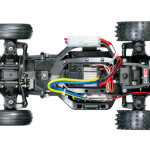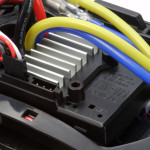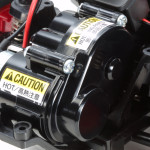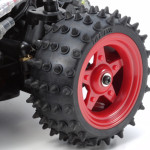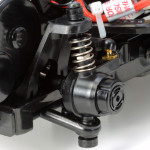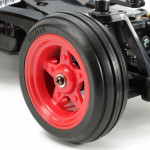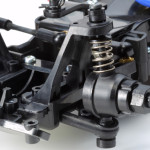 AA traveling in the form of battery OK!
Four AA batteries were in power source, it is complete electric RC buggy of all-in-one. Chassis rear-wheel drive type. Four-wheel strut suspension is a simple structure. Equipped with a 370 type motor of easy to control characteristics, nimble running will feel free to enjoy from indoor to outdoor. Strong polycarbonate body in shock at lightweight, familiar znug design (rigging design) in the four wheel drive mini Nezu Kota Mr. responsible. Thin long cockpit and a large side pontoons, separate large rear wing features. Also, happy point of traveling mode in easy operation of the transmitter is switched in two stages. There is no need to add to buy a dedicated battery, it can travel only in familiar AA batteries, it is the perfect machine for the first time of the RC car.
Adopt the mechanism of orthodox
SU-01 chassis, lightly strength in the center of sufficient monocoque frame, ESC TRE-01 unit that integrates the (speed controller) and the receiver, equipped with a battery case under the wheel drive type after excellent weight balance Te. Suspension 4-wheel independent simple strut type. Equipped with a motor in the rear end to it and enough traction such a configuration in the rear wheel of the drive wheels, it was also equipped with Diff to produce a smooth cornering in the sealed gear box. In addition, 370 motor also point the length of the running time. In addition, on the back of the transmitter by providing a speed selector switch, you can switch between the two stages of the speed of normal power.
Mr. Nezu Kota (designer / creative communicator)
After working as a designer at Toyota Motor Corporation, was established znug design (rigging design) in 2005. Including automobile, he worked on concept planning and design of industrial products, won numerous awards including the Good Design Award and Germany iF Award. Activities in human and human to beliefs that the "connect" engaged in manufacturing. ⇒ design studio · znug design (rigging design)
Basic Specifications
★ Length: 282mm ★ overall width 152mm ★ Height 95mm ★ wheelbase 170mm ★ tread = before 121mm, rear 126mm ★ Tire Width / Diameter = before 21 / 61mm after 26 / 64mm ★ frame = monocoque type ★ Drivetrain: rear wheel drive ★ Front method = pinion Taipudefu ★ steering tie rod = 2 split ★ both the front and rear suspension = strut ★ Gear Ratio = 10.71: 1
Thing you purchase separately
★ running power supply (single three-size alkaline batteries 4 or nickel-metal hydride battery neo Champ four) ★ power supply for the transmitter (4 AA alkaline batteries)
The post Tamiya 57401 1/14 RC Lightning Hawk SU-01 Chassis details & photos appeared first on TamiyaBlog.