Marc Rheinard Wins 5th Reedy On-Road Race of Champions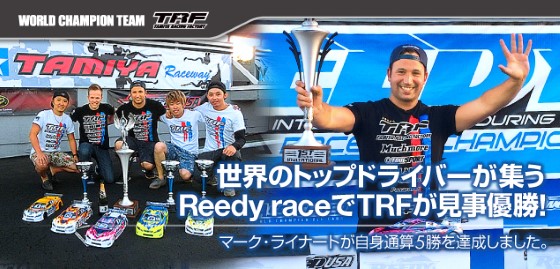 [Date] 21-24/5
[Location] USA
[Circuit] Reedy race?
RC champion Mike Reedy of the late American legendary motor tuner world and collected and is the race that was held with the aim of RC boundaries of the development. Mr. after the death even this race is inherited, in order to convey the splendor of RC race to RC fans, it has been held every year in the United States. This is the race in invitational class that not only can not attend class TOP30 of the world, every race is carried out in the final style, it is the overall ranking in total points of the goal ranking. Therefore, it can not only driver that combines the strength and luck to win, it is said that race that it may be difficult honor to win the world.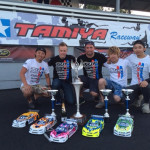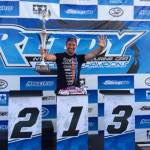 [Race Report] · TRF becomes a new system, it became a race in the first full members "Reedy race". The driver, in addition to Matsukura mark of active world champion, Christopher to Sobue who played in the previous ETS, five players plus Nicholas has participated in invitational class. Machine to be used TRF419. Passed five months since its release, and repeat the test in Japan to advance the further ripening, it was challenged to race in the posture of thorough. To become the most important and level race as the race to be held this year, players also increases the fighting spirit is always than ever. Because it was the participation of the full members, team work functions from the beginning of the race, each driver will struggle unity setting the direction of even well. Marc Rheinard repeated top goal without having run out of the ability to concentrate until the final round in excellent stability among the, able to decorate the splendid career fifth time won the powerhouse crowded invitational class (single most winning number).
[Comment from Marc Rheinard]
The world's best in the race that could total 5 time of victory, I am very pleased. This race gave me running good teamwork anyway also a thorough TRF419. Come also to everyone who had you support and to tell this setting, I think I would like you to experience. Thank you for your support !! (Marc Settings sheet ⇒ , please click here. )
[Race Results] 1 place: mark (Tamiya) 2nd: Ronald (Yokomo) # 3: Mean (Yokomo) 4th: Christopher (Tamiya) 5 place: Victor (Serpent) 6: Sobue (Tamiya) 7th: Hagubagu (X ray) 8 Place: Nicholas (Tamiya) 9: Akiyama (Yokomo) 10th: Freddie and (HB) Thank you everyone had you support your It was Mashi goods! Next time, TRF also ETS to be held in Luxembourg on 5 / 29-5 / 31 is expected to participate in the races! Success in this race Please also expected.
The post Marc Rheinard Wins 5th Reedy On-Road Race of Champions appeared first on TamiyaBlog.