Full cowled 4WD Mini Magnum Saber First Impact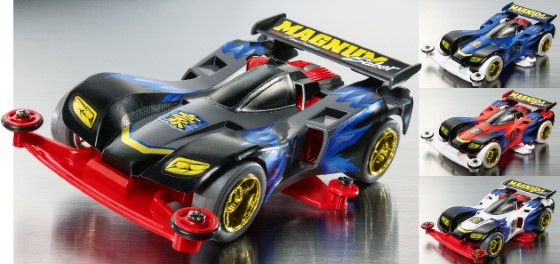 Tetsuhiro / Shogakukan · ShoPro
Prize dedicated mini four wheel drive have gotten popular every time: Boasting a high among the popular (Planning Co., Ltd. SK Japan) "Bakuso Brothers Let's & Go !!" hero HoshiUmaTsuyoshi Magnum series. Cyclone Magnum that was released in the past, followed by Victory Magnum, finally Magnum Saber appeared, which is also the first round of full cowl mini four wheel drive. Its name is also "Magnum Saber First Impact".
Body color four colors of red, blue, gray-white. Each it will expand in four types in combination with chassis tires of two colors. Please pay attention to the common original sticker and gold-plated wheel.
From late July, it appeared as a crane game prize in amusement arcades nationwide. Handling store, etc., refer to the details, SK Japan of prize information site "take character". Co., Ltd. SK Japan prize information site "take Chara" http://charatoru.skj.jp/
Inquiries regarding this matter
, Ltd. SK Japan TEL 03-5806-2122 AM Division Product Planning Division, addressed to
SK Japan website http://www.sk-japan.co.jp/
The post Full cowled 4WD Mini Magnum Saber First Impact appeared first on TamiyaBlog.