Flashback Friday – 1966 Vintage Mokei Tamiya American Missile Submarine Thomas A. Edison SSDN610
Release date 1966/04
Release price 100 Yen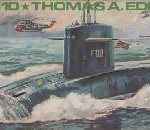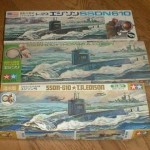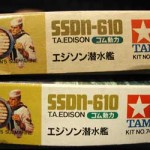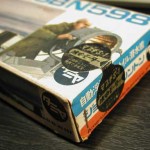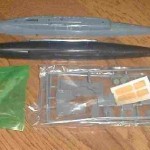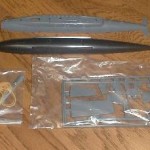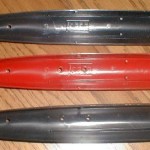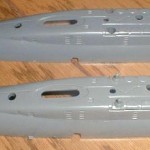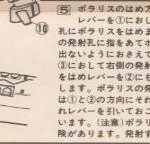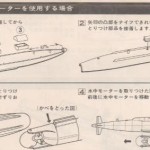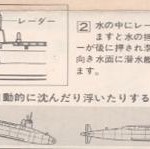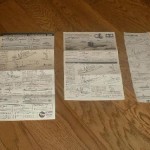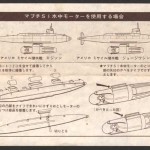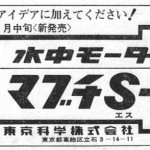 Sorry I made you wait. Is the emergence of "American missile submarine series". The official series name than you do not know is better for most? So-called is "100 yen submarine series". The first edition has a long in addition to, (because there is a black dot mark, in the strict classification of in our laboratory medium-term logo is old) old logo era dates back to. Edison, gray back, Halibut, became a 4 Tsugahobo at the same time the launch of Washington. After that, received a subtle refurbishment according to go through the year, there is roughly divided into three types of generation. Is "Auto浮潜" gimmick Common to all generations. When you start to sink under its own weight, but in the water of the resistance is a trick that the direction of the insidious rudder that was linked to the radar instead to fly, or my home waters (bath) is too narrow, it was never finally witness to the gimmick reproduction . Exactly the same thing Fortunately in our laboratory is is there are a plurality of current, but it does not have the courage to make quite. Primary is quite chic bottom of molding color is black, Polaris missile of 2 groups will spring launch. Slide marks in the back baking, is moreover surprised thin moment because the paper is stuck, but it was a relief to understand the special slide mark that does not peel off even when wet with water to put in upside down. However, since it only to re-tension is not allowed, there was a little tension. By the way order to have a buoyancy, hull, but the top is back to make an air-tight chamber 2 places, the children will not wait absolutely that the adhesive of the portion serving as the lid is dry, the ship that would contain the water was one after another . Become a second generation, it will prevent the use of course as at the time of the Renaissance motor "Mabuchi underwater motor S1". Order to withstand the weight of the water this motor, Tamiya is for us also put three of the float of the more powerful drums type, was not me this also well "Auto浮潜" is to. If you were successful someone, and large recruiting your experiences! ! Also vary greatly binding of the box along with the change of the logo. Box art itself is not changed, but the sailors of the illustration has changed. By the way, articles of this second generation release is launched recently Tamiya news Vol. 3 Since it has appeared in) (issued May issue … March 1967), primary is you can see that that has not been released only a slight one year. This submarine series once entered 70 years will be production stops, but will continue to live as summer limited production kit. You look at the comprehensive catalog and, 70, 71, although at 72 Toshiban Is there a description in the body, it does not have a name at the end of the price list. 73 onwards the text, I get lost at all at the end of both, but I get a list of the price only at the end to suddenly '75 edition. But since it was not able to see in print again. It became a very deeply insidious the kit. Meanwhile, Tamiya Junior News Vol. Third generation was introduced as a new product in 24 (No. March 1974). Bottom of transparent blue cool, yet the winding condition of the rubber did what good that can be seen at a glance. But missile launch gimmick is omitted, the missile to the hull top I have is integrally molded. This I thought the kana helped be considered from safety, but it was no longer being whopping put underwater motor. Decal also eliminates Innovation what, became one installation also of about sorry size of Perak. Moreover, transparent blue bottom of Uri also come after production stops, it has returned to the black. This is done with the third-generation reformer, but none was the advent of the painful era for the submarine. Everyone I think that it is a kit that may have seen a boy if the current 40-year-old before and after men. Did any of you have touched? By the way, for the other companies of the submarine during the same period, "Mr. Tabitha" so detailed is, there should also have a look. (1999/04/12)
Standing almost two years from the above update new fact (not so much even) was found. But as long as there is one after another it embarrassed has been found that there has been a drop past a variety of written Tamiya news in the editing process of "Tamiya news of the world". Tamiya News Vol. There was a description of a "rubber power submarine four points the launch of memories" to 111 (1981/08). . . Price increases in each 200 yen does not also. "I knew it. For the 75 year sale stop dividing and I wish I had felt like I saw until recently," but I thought Nante, but still I'm was twenty years ago. "1981 summer limited kit". This is It is a truth of the 3 Daimearatame. (2001/06/15)
Once, I thought this in one case closed, McCoy's Speaking of submarines I received an email from. Thank you! "Because it would have been the third generation 150 yen, and I think in the price increase of as 200 yen 3 Daimearatame of '81?" Oh? That's right Speaking. . . When do and again Gosogoso, bits and pieces that have been found a lot was of Tamiya price increases , but there were several times on both sides of the oil shock, the big price increase was in January 1974 (the rush in the fourth period). If the third generation of the sale is 150 yen in the March 1974 immediately after the, common sense amount of money that this 150 yen is considered to have been held until the price increases of November 1979 (5th rush). On the other hand, it is essential for this third generation and consider what has been produced to time around, at the end list of As mentioned earlier 1975 version of the catalog (published October 1974), the fact that the rests of that there is no price notation until the summer of 1975 is common to think that was sold, it will have been sold for at least three generations of two years. And 3 Daimearatame Tamiya news Vol of Kudan hitting the announcement. 111 that the expression "Memories" is used in will be expected to have not been produced at least immediately before the 2-3 years. Because it contains November 1979 5th rush to the period of the two to three years ago, will have a sufficiently convincing of that has been price increases for the first time at 200 yen in the third generation breaks. If you see again diligently 3 Daimearatame of assembly instructions think so, the character of "8105 (May 81)" had been printed small. In addition, the submarine version of the history and the transfer of Tamiya address is has been found to be subtly intertwined. 3 is released mother in May 1981 of Daimearatame, but I'm the address notation despite box side has relocated remains of Kojika 628 to Ondabara the previous year in December. Because in more third-generation if Kodaware has been launched in Fawn 50-1 are moved to Fawn 628 after the six months, strictly to the "third generation" was released in the summer of 1975 is "Fawn 628,150 yen" you should see, but of, should not have been so (if, please let me know who you are yourself owning someone). The Edison is in the third generation in the box side I have a notation "Kantai bottom transparent plastic" In addition, this one line has been removed in the third generation breaks. But what it was a clear Kan bottom in the third generation modified with respect to Halibut it was found. However, this submarine is Edison, and the type to put the power rubber to the ship, such as Washington, halibut that power rubber is exposed at the bottom Kantai, I can be divided into gray back, can check the wound so that it becomes invisible originally from outside Edison, there was a breakthrough benefits that Washington whereas no longer is a transparent ship bottom, do not know the reason for sticking to stubbornly transparent Halibut that do not have much sense. 3 Daimearatame of gray back is the interesting or going on, but can not be confirmed immediately because you have stored in Unfortunately Toyama black hole. When the change in the second generation from primary Speaking of which, in a box of primary as transitional put a seal of "Mabuchi underwater motor can be used," that there was a thing that corresponds also has been found. It is in the box Exhibit of "If you want to use the water motor" has been added. And depends on the boy plastic model newspaper advertisement, the first place of TKK Mabuchi S-1 has been released it is March 1967. Tamiya Immediately after this is to become that which corresponds, but it will be considered as there is also the fact that after only one year from the first generation to sort box was sealed corresponding to not meet the deadline. Sonaruto second generation of launch is sometime a new package? Although this particular was thought whether quite difficult, lighthouse source life, Tamiya Junior News Vol. We found the description in 3 (1968/05). Just with binding picture of the new package, do not there is a sentence of "new appeared has gained popularity in the package from this year"! Given representation and water things of present perfect progressive form from at the time was released from an early March convention, frankly second generation of the sale is a new package in March 1968! It will expire say that. While I think that inosine after a long time in the exciting (?) Historical research, looking at the "Kke I've been What happened to Speaking Tamiya model all work 3?", Properly "second generation of launch in 1968 3 moon "and it does not is written firmly. . . (-_-;). This book of the kit release date specific, we have supervised all of our laboratory assistant, but will on earth I was looking at what this time? Come to think of it against the hand in a good rather than ~ chest, a faint memory that had been examined at that time Junior news Speaking is. . . Certainly Tamiya release date specific model all work, but it was hard work in the fight against tomes, I I had been examined again forget that I did of myself. . . . We will come together many people who were clearly able to understand in those who have read so far? Finally it was clean when I summarized in Table. In other words I'm submarine are five types roughly. Kit No. That there were three types it has also been confirmed in the notation.
| | | | | | | |
| --- | --- | --- | --- | --- | --- | --- |
| Version | Release date | Sale hour price | Kit No. | Address notation | Missile launch | Remarks |
| Founder | 1966/04 | ¥ 100 | MS001 | Kojika 915 | ★ | Rubber power |
| Early breaks | 1967/03 | ¥ 100 | MS001 | Kojika 915 | ★ | Submersible motor available seal |
| Second generation | 1968/03 | ¥ 100 | MS001 | Kojika 915 | ★ | Submersible motor |
| Third generation | 1974/03 | ¥ 150 | SS001 | Kojika 50-1 | × | Rubber power only, transparent ship bottom |
| 3 Daimearatame | 1981/05 | ¥ 200 | 7401 | Kojika 626 | × | It is no longer a transparent ship bottom |
The post Flashback Friday – 1966 Vintage Mokei Tamiya American Missile Submarine Thomas A. Edison SSDN610 appeared first on TamiyaBlog.