Build explanation video and details of Tamiya 57986 First Try RC Kit (On-Road TT-02 Chassis)
TRF commentary in the video along the illustration before living Satoru assembly "First Tri-RC Kit" (Tamiya Racing Factory). It is a content that further understanding is deepened not only for beginners, such as the tips of screw tightening and the amount of grease applied to gears, but also for medium and advanced users.
0:00:28 to be prepared
0:01:28 assembly illustration of a perspective
0:02:52 (1) charge of the traction battery
0: 4:00 (2) Lower Deck decomposition of (assembly settled)
0:04:23 grease up to (3) gear
0:09:08 mounting (4) gear cover (A4)
0:13:55 (5) front upper mounting of the arm
0:19:34 (6) rear upper arm mounting of
0:22:35 (7) mounting of motor
0:27:24 (8) installation of Riyarowaamu
0:29:50 (9) of the rear bumper mounting
0:32:39 (10) front lower arm mounting of
0:35:04 (11) installation of the front bumper
0:37:09 mounting of (12-13) front upright (left and right)
0:44:50 (14- 15) installation of the rear upright (left and right)
0:49:40 (16) mounting of the damper
0:52:22 (17) mounting of the steering arm
0:53:16 (18) of the radio control mechanical check
0:59: 14 (19) installation of the servo stay
1:01:52 (20) steering servo mounting of
1:05:45 example of mounting (21) RC Mecha
1:09:00 (22) a method of attaching the wheel
1:11:50 (23-24) rear / front body mount attachment of
1:12:55 (25) mounting of urethane bumper
1:13:42 (26) equipped with the traction battery
1:14:50 mounting (27) body
1: 16:30 test run
"Chassis another option parts catalog" is here
FIRST TRY R / C KIT (ON-ROAD TT-02 CHASSIS)
Item No: 57986 8 May 2016 Release around 27 (Saturday) 9,288 yen (main unit price 8,600 yen)
◯ Front and rear differential gears ◯ Steering wipers ◯ Spur gears & propeller shafts ◯ Front and rear dampers ◯ Wheel bonded tires ◯ Motor mounts & pinion gears are assembled. * Other parts necessary for assembly are also set.
Total length = 376 mm
Part of the part is in the finished state, perfect for those who first assemble RC cars!
But I want to challenge RC kit, happy to fans assemble all from the beginning is thought to wonder if a little high hurdle news. It is a chassis kit of an electric R / C car set with a part that takes a little time to complete. Since it can be assembled with a good tempo, it is also ideal as a tool kit that challenges with parents and children. Based on TT – 02, a basic 4 – wheel touring car chassis with excellent handling stability. Assemble the suspension, complete with the motor and RC mechanism installed. Since I assemble by myself, I understand the structure of RC car well, smooth work for setting and upgrading. Of course, it is also attractive to freely choose the RC mechanism and body. Let's try it in the RC kit that does not have fun now!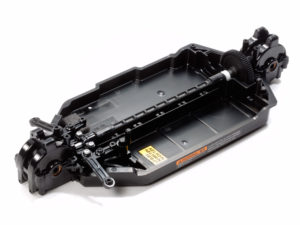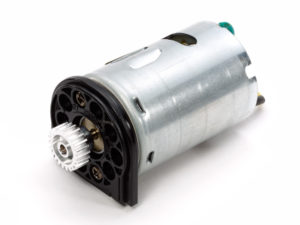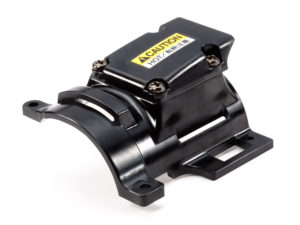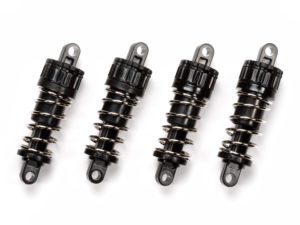 RC choose mechanics and the body freely
Also points to choose freely the body. Please find and paint favorites from among the 1/10 RC touring car body which we have abundantly ranging from running mood full racing car to sports car seen in town, high performance super car. Also, RC mechanism can choice on their own, but recommended " Fine spec 2.4G electric RC drive set ". We have set 2.4 GHz 2 channel propo set and 7.2 V battery for traveling with less worry of interference, as well as a charger.
Basic Specifications 
● chassis total length 376mm, both chassis width 182mm ● wheelbase 257mm ● Tire Width / Diameter = both before and after 27 / 67mm ● frame = bottom shape Bathtub type ● Drive = vertical motor shaft drive 4WD ● Front before and after Resin 4-bevel type ● Steering = 3-piece tie rod type ● Suspension = 4 wheel double wishbone ● Damper = front and rear friction ● Gear ratio = Kit standard 8.27: 1 (11.38: 1 to 7.28: 1 combined with optional pinion 10 types of gear ratios can be selected) ● Motor = 540 type
Separately you purchase
● 1/10 touring car for the body ● traction battery, (including battery for the transmitter) RC equipment is sold separately. The traction battery and the RC device is a set " Fine spec 2.4G electric RC drive set " is recommended.
The post Build explanation video and details of Tamiya 57986 First Try RC Kit (On-Road TT-02 Chassis) appeared first on TamiyaBlog.