2016 Tamiya guidance of the 56th All-Japan model Hobby Show and some more new release additions

★Trade Day ※Not open to the public.
September 23rd (Fri.) 9:00~17:00
★Consumer Days
September 24th (Sat.) 9:30~17:00
September 25th (Sun.) 9:30~16:30
★Venue:Tokyo Big Sight West Hall 3,4
★Entrance Fee: 1,000 yen
(※Children 15 and under: free)
Click here to be taken to the official event homepage (contents are in Japanese)
Be among the first to set eyes upon new and recent releases in all of the Tamiya product ranges by visiting the show! From completed versions of model kits to rare sights such as items still under development, the All Japan Model & Hobby Show is a great chance to see what wonders Tamiya has in store. What's more, development staff will be on hand to explain their products and answer any questions you might have. Add to that the shopping corner which will have Tamiya products on sale including limited edition event items, and this is a chance not to be missed. We look forward to seeing you at the show!
Some of the Tamiya products on display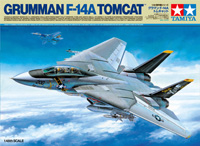 ★1/48 Grumman F-14A Tomcat


First announced tentatively at this May's Shizuoka Hobby Show, this stunning model of the famous aircraft will be appearing at the show. Tamiya designers pored over actual F-14As at a number of locations in the U.S. to make this a superbly accurate kit, complete with moving recreation of the variable sweep wings. It promises an intuitive, logical and highly involved build. Parts are included to recreate 267-gallon drop tanks and 3 varieties of air-to-air missile, as well as 2 authentic scale figures and 3 marking options including those for 2 U.S. Navy aicraft and 1 Iranian IRIAF jet. ★Length: 398mm, Max wingspan: 408mm.
★God Burning Sun (MA Chassis)
This Mini 4WD PRO model depicts the car seen in the famous Japanese Mini 4WD manga "Hyper Dash! Yonkuro!" from the CoroCoro Aniki magazine. Its design has roots in the classic Dash-2 Burning Sun, brought up to date by arch-designer Hiroyuki Takei and including twin fenders that jut forward with style. The MA Chassis is a speedy, easy-to-maintain base. ★White large-diameter 4-spoke wheels are paired with slick tires. ★Metallic stickers for decoration, plus double shaft motor included. ★Gear ratio = 4:1.
★Spray-Work Power Air Compressor
This powerful air compressor is compatible with the range of Tamiya airbrushes and provides high pressure air output (0.4MPa) suitable for quality paint jobs on large surface areas or applying gloss coats. It also features a pressure regulator with display to allow adjustment of output for fine paint jobs. The included airbrush hanger works with its hanger switch to act as a shut-off, turning on the compressor when the airbrush is removed, and off when the airbrush is replaced again. Also included are a handy clamp and necessary hoses. ★This product is for use with 100V (50/60Hz) AC power sources only. It is compatible with separately sold Tamiya HG and Airbrush Lite series products.
RC
42305 TRF Super Short Big Boa Damper (4 Pieces)
42306 Large-diameter Short Spring Set for Touring Car
47325 Adjustable Aluminum Wing Stay (Silver)
47327 TB-04 Carbon Damper Stay Set (for TRF-SSBB)
54725 TA07 Aluminium Motor Mount Post
54726 TA07 Front One-Way (37T) Set
54727 TA07 Aluminium Servo Mount
54728 Piston for TRF-SSBB Damper (4 Pieces)
55727 Oil Seal for TRF-SSBB Damper (4 Pieces)
Mini 4WD
95277 Geo Emperor Premium (Super II Chassis)
15503 Winning Bird Formula Clear Body Set (Polycarbonate)
15504 GP504 Super X/XX Large-diameter 5 Spark Wheel & Hard Slick Tires (Red)
15505 Mini 4WD Motor Case 2
15506 Lightweight Plastic Spacer Set (12/6.7/6/3/1.5mm)
95275 HG Large-diameter Aluminium Wheel (4 Pieces)
95276 HG Aluminium Wheel for Low-Height Tire (4 Pieces)
95278 Offset Tread Tires (Hard/Green)
Tools & Construction
69907 Clear Universal Plate L (210 x 160mm)
69906 Clear Universal Plate (2 Pieces) (Craft Kit)
70225 Shaft Drive Unit
74128 Precision Drill Bit 0.7mm (Shaft diameter 1.0mm)
74127 Precision Drill Bit 0.6mm (Shaft diameter 1.0mm)
The post 2016 Tamiya guidance of the 56th All-Japan model Hobby Show and some more new release additions appeared first on TamiyaBlog.