Zoo City Invitational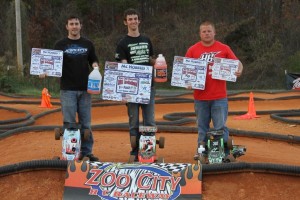 The Zoo City Invitational Race was held this past weekend in Asheboro, North Carolina. The raceway is named after the main attraction of the city, which is the North Carolina Zoo. Drivers from Pennsylvannia and Ohio were present for the race along with North and South Carolina drivers in attendance.
The weekend started with a cold Saturday morning just before qualifying. JConcepts Team Driver Barry Pettit made it just in time for only one lap of practice due to school on Friday and the distance to travel to the track. Barry finished the day struggling for a better set up. The surface was totally different from the last time he was there and different from anything he had been on in a while. Barry finished the day qualifying second in both buggy and truggy and a 4th in electric 1/8th scale buggy.

The Sunday mains began with a win in the first A main of the 1/8 electric buggy and a second place finish in the last 1/8 Electric A main but Barry lost the tie breaker giving him a second overall finish in that class. The next main was a 45 minute Truggy main, Barry took the early lead and led to the final lap finshing 2 laps up on the field. Pro Buggy was also a 45 minute main. Barry challenged early for the lead but a few mistakes put him with an overall 2nd place finish.
Barry used the following JConcepts Equipment:
1/8 Pro Buggy
3048-02 Hybrids 1/8 Buggy Tires – Green Compound
3302 Mono 1/8 Buggy Wheels
0203 Illuzion MBX6 Punisher Body
1/8 Electric Buggy
3048-02 Hybrids 1/8 Buggy Tires – Green Compound
3302 Mono 1/8 Buggy Wheels
1/8 Pro Truck
3027-02 Sevens Tires – Green Compound
3320 Mono 3.7 Wheels
0070 Illuzion MBX6T Punisher Body