Wodonga Off-Road Bash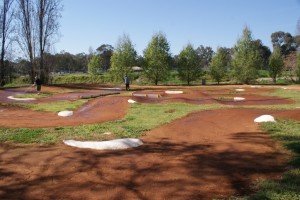 Event: Wodonga Bash -Round 3 of Victorian Drivers Series
Location: Wodonga
Date: 4th September 2011
Race Reporter: Leigh Cheeseman
For round 3 of the Victorian Drivers series we headed north to the rural city of Wodonga. Saturday was open practice and we were met by a clear sky and temperatures in the low 20's (Celsius). The modified classes were wide open due to the absence of JConcepts driver Ray Munday who has dominated rounds 1 and 2 of this series.

Sunday for racing we had lots of rain which made conditions very wet and sticky and put the track crew under enormous pressure. The club did a great job keeping the track in a raceable condition through out the day. Round three of qualifying had to be cancelled due to the rain and time restraints.
2wd Stock
This was very close with three drivers tying for points after the finals had been run. On a count back Michael Salis won driving his X Factory from Scott Rawlings B4.1 and another X Factory of Glenn Wilson was third.
4wd Stock
This class was completely dominated by Scott Rawlings with his B44.1. Other place getters were the ever improving Nigel Spokes and John Watkins rounding out a B44.1 sweep of the podium.
2wd Modified
I was top qualifier but could not convert my number one qualifying position into a win, finishing third. This class was won by Losi driver Logan Symes whose mid mounted configured car was best suited to the wet sticky conditions. Second was a very consistent Johnny G. driving a B4.1.
4wd Modified
Logan Symes controlled this class all day and won comfortably from Paul Simms and Matt Chisholm.
Stock Truck
PK could not convert his TQ into a win and he was hauled in and passed by the T4.1's of John Watkins and Nigel Spokes. These two battled it out in every final with John having a bit more pace when needed to take his first win of the series.
Modified Truck
I was able to win all heats and finals and shut out the competition. Second was home town legend "The Wookie" and third was Mick Ellis with his RT5.
Round 4 will be at Knox in November.
Leigh Cheeseman used
JConcepts Doubles Dees – green and blue compound
Bar Codes – green compound
Rips
Illuzion Bodies and
6.5 inch High Clearance Wing.
8/32 Locking Wheel Nuts for B4.1 and T4.1.