Winter Racing League – Round 3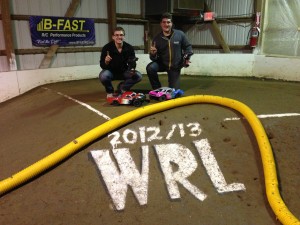 Event: Winter Racing League – Round 3
Date: December 8, 2012
Track: CRCRC
Race Reporter: Dustin Richards
We are in the dead of winter and the CRCRC WRL has proved it is here to compete for the largest most competitive RC Racing series in the country. Drivers from all over the Midwest are making the trip to Columbus. Major manufacturers like Team Associated, TLR, Reedy, Orion, X Factroy, Viper, Airtronics, Spectrum and more are all getting in on the action as their drivers make the trip. This round 3 had 180+ entries. Round 1 had 180+ and round 2 had over 170.
I decided to run 2wd Mod Buggy and 2wd Mod SCT at this series. My gold Bar Codes on 2wd were awesome all day. On SCT I can Gold Bar Codes Rear and Gold Pressure Points on the front. When the dust had settled for qualifying I was 4th in 2wd Main and 2nd on the grid in SCT.

When the mains rolled around tensions were high and everyone was excited to see the top names in the Midwest compete for the points in their respective classes. The 2wd A was a little rough for me and several mistakes had me settling for 5th. In the 2wd SCT A I did not have enough for the TQ, Luke Richards and settled for second. Luke was running JConcepts Gold pressure points on his SCT all the way around. After 3 rounds a single point separate me and Luke for the lead in the 2wd SCT points for the series. I still lead the 2wd Champ bracket that takes the best combined points in 2wd Mod Buggy and 2wd Mod SCT.
Congratulations got out to fellow JConcepts driver JP Richards for winning the 2wd Mod Buggy Main on the last lap.
JConcepts gear used
0222 Illuzion HI-Flow SCT Body
3049-05 Gold Pressure Points
3344 Hazard Wheel +3MM
0212 Finisher +8mm B4.1 Body
3017-05 Gold Bar Code Front
3016-05 Gold Bar Code Rear
3206-02 Medium Rear Insert
3204-1 Front Insert
3347Y Yellow Front Wheel
3348Y Yellow Rear Wheel
2005 Tire Bands
2043 Glue
1155 Chassis Tape
2164 Body Brace SCT
2165 Carbon Towers
2169 B4 Hex Conversion
2171 SC10 Hex Conversion
2076 Black Locking Wheel Nuts
2056 Racing Bag