Winter Racing League – Race 1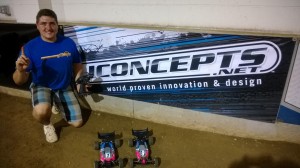 Dustin Richards wins 4wd Buggy at WRL 3.1 with JConcepts.
Race Reporter: Dustin Richards
It's that time of year again. Weather up north is turning colder and everyone looks forward to going inside and getting the indoor racing season underway. While the leaves start to fall the buzz about the anticipated WRL begin. We knew this was going to be a big one. The WRL 3.1 (year 3 race 1) brought out over 175 entries of the Midwest's finest talent including drivers from Losi, Associated, Kyosho, JConcepts, AKA, Orion, Reedy, LRP, Airtronics, & Spectrum. With that many entries and starting at 11:30AM it was sure to be a long day.

After 3 rounds of rocket round qualifying the cream had risen to the top and the A mains were packed with talent. I ran 2wd Mod Buggy and 4wd Mod buggy. These will be the classes I will run for the rest of the series. I qualified on the pole in 4wd and 5th in 2wd.
2wd Ran first and definitely did not go the way I wanted it to. My car was not all that great as a the days traffic had significantly dried the track. I did not chase the track as I should have. I was forced to settle for 8th.
Happy to have a shot at a little redemption, I made a few changes from what I had learned in 2wd for the 4wd main. I would go on to win the main giving me a perfect 101 points for the weekend in 4wd with the TQ and win.
The next WRL 3.2 is 11/9/13. The week before that I will be at the world famous Trackside Hobbies for the Spectrum Champs. This facility will host the best talent in the nation with multiple world and countless national champions in attendance. Last year I made the 2wd Mod A and was on the podium for 4wd so that is where the bar is set this year.
See everyone at the races.