Winter Indoor Shootout – Practice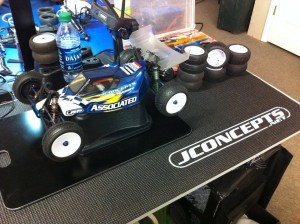 So far so good in practice. Things are going well here at Real R/C Raceway. The track when it has a light sprinkle seems to hook-up really well and the vehicles have that responsiveness the racers like. The layout itself is a blast too so I'm excited to see what it's like with just 8 cars.
Kody Numedahl has all 3 of his cars flying this weekend and should be a factor in the invite class for sure. We have 24 secured drivers in the Hillbilly Invitational so that means 3 heats of 8 drivers. This is going to get interesting really quick.

Jared Tebo looked amazing as usual in his practice runs and he was even doing a difficult triple jump line. I tried it myself several times and it's a fine line between hitting a pole and doing a downside. I'm cautiously staying off that line!
I appear to be sitting in heat 1 and car 3 so I'm going to find out right away. Based on my experience, you can look at the heats all-day but they never race out how you think so it's always about valuing your position all the time.
The green compound seems to be the ticket for this track and the Bar Code V1's are working awesome.
We will post some results as the first day moves along.