Warehouse Raceway 2012 1/8 Winter Slam $10,000 Purse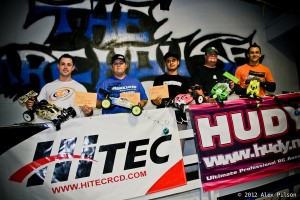 Event: Warehouse Raceway 2012 1/8 Winter Slam $10,000 Purse
Track: Warehouse Raceway, Helena Alabama.
Date: January 6-8 2012
JConcepts Team Driver Max Flurer traveled to Warehouse Hobby Raceway in Helena, AL for their 1/8 Winter Slam $10,000 purse. There were 4 classes with money up for grabs: E-Buggy, E-Truggy, Pro Buggy and Pro Truggy with $1200 going to the winner of each class, $600 to 2nd, $400 to 3rd, $200 to 4th and $100 to 5th.
After the 3 rounds of qualifying were over Max was sitting 2nd on the grid for the E-Buggy main missing TQ by .5 seconds to Jason Branham. As the first of the double 15 minute A mains got under way Max wasted little time getting to the point as Jason jumped a little wide over the double on the first lap and Max was able to get to the inside and make the pass stick. From there Max was being pressed by Billy Easton who started 3rd on the grid for the first 6 to 7 minute until Billy had a mechanical issue and dropped out of the race. After that, Max had very little pressure for the lead until he got caught up in a wreck with some lapped cars and Jason was able to catch back up with about 2 minutes to go. Max was able to hold on for the win in A1.

In A2 Jason was able to hold onto the lead for about 4 laps until he made a mistake over the triple and then it was again a two car break away as Max and Easton put some distance on the field. A few mistakes from Easton would give Max a lead of almost a lap over the field and then once again lapped cars came into play. Max's lead was gone, so for the last 3 minutes it was back and forth between Easton and Max until around 45 seconds to go when Easton crashed over the triple which let Max get by and put in some clean laps in to take the win in A2 and the overall win in E-Buggy.
JConcepts Products Used:
3048- Hybrids 1/8 Buggy Tire – Green Compound
3304 – Inverse 1/8th Buggy Wheel
0224 – Illuzion RC8.2e FT Punisher Body
0120B – Punisher 1/8th Wing
2073 – Illuzion 1/8th Wheel Nuts