Victorian State Championships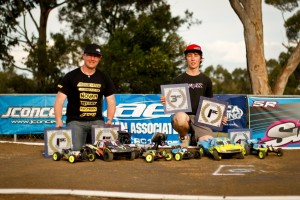 JConcepts products have again dominated the tracks down under, this time at the Victorian State Championships. For 2012 the titles were held at the Keilor track in Melbourne with just under 200 entries received from all around Victoria as well as from Sydney, Perth, Adelaide and Tasmania. The Keilor club had prepared a high grip track with an abrasive surface and had chosen the JConcepts Bar Codes as the control tyre (in Orange compound). With temps reaching close to 30c, this was the perfect tyre choice for the track with high grip and good wear.

JConcepts / Associated / Novak factory driver Ray Munday calls this track home and was looking to add more state titles to his tally, however he was facing stiff competition from the likes of Ashley Peeler (Kyosho), Leigh Cheeseman (JC / Associated), Jody Denner (Associated), young guns Glen Bonetti (JC / Associated) and Logan Symes (Losi), and 2011 National Off-Road Champ Josh Pain (Yokomo).
After a long weekend of racing, Ray would walk away with victories in 4wd Open and 2WD SCT, with Glen Bonetti taking a surprise win in 2wd using his JC equipped B4.1. In Mod truck, Leigh Cheeseman would finish a close second to Ash 'king of truck' Peeler.
The Keilor club worked very hard to promote a professional atmosphere for the event with great commentary, food and even a Red Bull tent (with Red Bull promo girls!) to keep everyone entertained.
2WD Mod Buggy: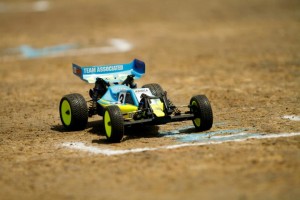 After 4 tight rounds of qualifying, Ash Peeler took TQ with 2 round wins from Jody Denner and Glen Bonetti with a round win each. Milduras Mark Rogers would start an excellent 4th with JC driver Leigh Cheeseman 5th. A last minute business trip to Japan meant that Ray Munday missed the start of qualifying on 2wd day, and after coming straight from the airport to the track scraped into 6th on the grid.
A1: There was some carnage at the start and emerging unscathed was Glen Bonetti. Showing speed and maturity beyond his years, he led from start to finish with a fast time followed by Ash Peeler, Jody Denner and Munday.
A2: Ash took advantage of his TQ position to get out to an early lead. Munday fought from 6th on the grid through to 2nd and started pressuring Ash. In the end a slight mistake from Peeler gave Munday the lead which he held until the end.
A3: Ash again got off to an early lead and looked to have the win (and the title) in the bag. Munday again got to 2nd but a tangle with Bonetti let Denner back through. With a minute to go the 'turtles' (moguls) claimed Ash letting Denner through to the lead. Munday tried everything to pass him in the dying moments but he held out to claim the third leg.
When the points were tallied up, Munday and Bonetti were tied for first place and Glen was announced the winner on tiebreak virtue of his fast A1 time. This was Glens first victory and was well deserved after putting in lots of hours at the track during the year. Keep an eye out for him in the future! Denner took 3rd, with TQ Ash 4th and Mildura's young Jai Davis an excellent 5th.
Ray and Glen used JConcepts Bar Codes (Orange Compound), Finnisher bodies and Mono hex rims with JC alloy hexes. Ray also used the JC Monroe battery brace, alloy steering bellcranks, alloy wing mounts, carbon hub adaptors, alloy wheel nuts and alloy thumbscrews on his B4.1.
4WD Mod Buggy: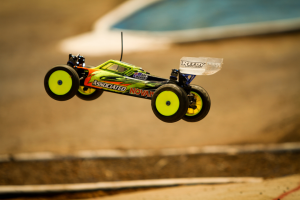 4w mod was all Munday. With his JC equipped B44.1 on rails all day, he was the only driver to make 14 laps and did it every race to take TQ.
Qualifying 2nd was Logan Symes, showing great speed and smoothness with his B44.1. In third was Josh Pain. Josh flew in from Perth overnight to make the 4wd day and 3rd on the grid was an awesome effort with no practice! Glen Bonetti would start 4th with his JC / AE B44 from Leigh Cheeseman running a borrowed Tamiya.
A1: Ray got off to an early lead and after some early pressure from Logan, settled into a rythm a few seconds in front of second. Josh Pain then took over 2nd but on the last lap a crash saw him break his Yokomo, allowing Logan to finish 2nd.
A2: After winning A1, Ray again led from start to finish in A2 to seal the 2012 title. There was again a big fight for 2nd, with Pain coming out on top and Leigh Cheeseman finishing a fine third.
A3: With the title over, the battle was for second and it was Logan Symes showing the way with a strong win in A3 over Josh Pain and Cheesy.
So in the end it was Ray taking out his 18th state title from Logan, Josh and Glen Bonetti 3rd.
Ray used JConcepts Bar Codes (Orange Compound), Finnisher body with Hi-Clearance wing, Mono hex rims with JC alloy hexes, alloy wing mounts, carbon hub adaptors, alloy wheel nuts and alloy thumbscrews on his B44.1.
Short Course: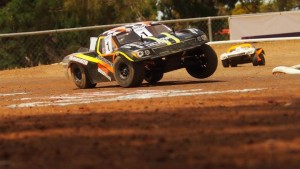 Short Course had a strong entry of 30 trucks all vying for the win. Ray Munday took 4 from 4 qualifiers to take TQ, but it wasn't as clear cut as it sounds with Ash Peeler very close behind and Glen Bonetti only a few seconds back in each race. Scott 'The Hot One' Rawlings from Bendigo qualified 4th, ready to pounce on any mistake by the top 3.
A1: Ray led from wire-wire with strong pressure applied by Ash Peeler at the start. Ash and Glen lost time with a battle for 2nd allowing Ray to take a 4s win.
A2: A mistake on the centre triple on lap 1 by Munday allowed Peeler and Bonetti to clear out. Munday fought back to pressure Ash for the last few laps, the crowd on their feet as the two circulated only inches apart but Peeler holding on brilliantly to take it down to the third final.
A3: Ray wasnt going to make the same mistake twice and jumped away to an early lead. Peeler this time made a small mistake in the centre triple, giving Ray some breathing space and allowing Bonetti into 2nd. Ray pressured on to the end to take the fastest time of the finals and a 7s win over Bonetti and Peeler. This race can be viewed on youtube HERE.
This secured Ray his 19th state title with Peeler 2nd and Bonetti third.
Ray used the JConcepts Hi-flow body to tame the jumps, Orange Bar Code tyres to grip the track, Hazard rims to give stability and the JConcepts overbody to keep the dirt out of the chassis.
Big congrats to the hard working crew at Keilor who put on a fantastic track and ran a very professional event. A special thanks to PK from Mildura for running the computer, Adam Box and Bob Tierney for race refereeing and John 'Cactus' Watkins for the commentary and hard work behind the scenes!
Full results (and Ray's setups) can be found HERE
Thanks to Poppy Tonka, Joey Canals and Pete Brady for the photos and to Ray Munday for the report.