Victoria Series Round 3 'Mallee Madness'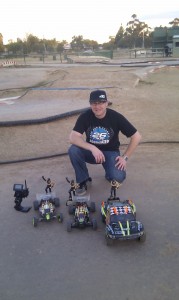 Event: 2012 Mallee Madness 6
(Round 3 of ORRCA Victoria Drivers Series)
Track: Mildura, Victoria, Australia
Date: 10th June 2012
Format: Qualifying 3 rounds, IFMAR style. Finals 3 rounds.
Race Reporter: Ray Munday
JConcepts Factory driver Ray Munday took out 'The Triple' at the 3rd round of the 2012 Victorian drivers series in Mildura, 6 hours northwest of Melbourne. Over 100 entries were received for the event and all racers were treated to one of the best tracks in the country which had been recently revamped. The layout had a mix of super fast corners, tricky jumps and a super technical ess section, resulting in lap times close to 30s and huge smiles all round!
The Mildura track is made up of a fine white clay which gives good traction but at this time of the year, temps are generally very cool. The JConcepts range of tyres came out on top with the new 1/10 Hybrid tyre proving to be a winner on this surface.

Ray Munday (Novak powered AE B4.1 / B44.1 / SC10) was looking to back up his wins at round 2, however work commitments prevented him from attending practice so he would have to use qualifying to set up his cars. The Mildura club has a stack of very fast locals who are always tough to beat on home turf. Leading the charge in the modified classes would be Andrew Giddings (Kyosho), Mark 'Paris' Rogers (AE / HB), Logan Symes (TLR) and Scott Cameron (Team C). Challenging to take the titles back to Melbourne were young gun Glen Bonetti (AE / JC), Andrew Selvaggi (AE / JC), Paul Sims (Durango) and Jody Denner (AE) who recently moved out from the UK.
2WD Mod:
Mildura local (and previous stock national champ) Andrew Giddings opened up his account with a round 1 TQ from Logan Symes, Jody Denner and Ray. In round 2, it was Jody Denner pulling out an awesome TQ run from Scott Cameron, Giddings and Ray, all 4 covered by less than 1.5s. In round 3 the track slowed considerably with mark Rogers taking 1st from Ray and Jody. The overall result was TQ for Giddings followed by Denner and Munday. Denners 2nd place was all the more remarkable as he is very unfamiliar with racing on a dirt surface after racing in the UK.
The Mildura track allows close racing and this series of finals was no different. In A1, Giddings got off to a good start with Munday up into 2nd and in hot pursuit. For the next 5 minutes the lead changed several times with no contact, Munday eventually winning by 1.2s from Giddings and Denner 10s back with Glen Bonetti right on his heels. In A2, Munday went from 3rd to 1st in the first lap and he and Giddings again cleared out from the pack. With a minute to go and with a 2s lead, Ray had a bobble on the far triples and incredibly Giddings did exactly the same. In the end, Ray took A2 and the overall win from Giddings with Glen Bonetti coming in 3rd.
In A3, Giddings showed his form was no fluke by taking the win with the fastest time of day to seal up second overall. Glen Bonetti again showed impressive pace to take 3rd overall with Jody Denner 4th. Jody lost a little pace in the finals but showed that he is a new contender in the Victorian scene.
Rays victory gives him an unbeatable lead in the series with one round to go, backing up his 2010 and 2011 series wins with JConcepts products.
Ray used JC Hybrid rear tyres and Rips front tyres on his B4.1 (Blue during the day, Green in the morning / late afternoon) as did many of the A final runners.
4WD Mod:
Munday didn't let a lack of practice stop him from getting TQ, but not without intense pressure from Mark Rogers. in the first two rounds of qualifying they swapped places with Ray coming out on top by less than a second in each case. Mark would line up 2nd on the grid with young guns Logan Symes and Glen Bonetti 3rd and 4th respectively.
With fast straights, flowing corners and big jumps the Mildura track is perfectly suited to 4wd mod and the drivers loved being able to attack at 100% every lap!
In A1, Mark Rogers jumped into 1st on the 2nd lap but a slight bobble on the triple allowed Ray back past, which he held until the end for a 3s win with Bonetti 3rd. In A2, Rogers, Symes, Cameron and Bonetti waged an epic battle for 2nd which allowed Ray to pull away for an 11s win and the overall victory. When the dust settled, it was Rogers in 2nd with Symes and Bonetti right behind.
In A3, Ray dropped the hammer to record the fastest time of the day with his JC equipped, Novak powered B44.1 working sweetly. All eyes were on 2nd as 'Paris' Rogers and Bonetti had another huge battle, this time Bonetti coming out on top by less than 0.2s!!
Final results were Ray 1st, Rogers 2nd and Bonetti 3rd. This was a great result for Glen on his first visit to the track against a field of very tough local racers.
Ray used JConcepts Hybrid rear tyres and Double Dee front tyres to bite into the surface. The JConcepts tyres had low wear with the same set of front tyres being used all day with FTD in their 6th race!
Short Course:
Ray's JC / Novak / SC10 was dialled on the track straight away with wins in rounds 1 and 2 of qualifying, sealing TQ from Logan Symes (TLR) and round 1 winner Tim Woods (Novak / SC10).
In A1, Tim Wood got an awesome start from P3 but managed to collide with Ray in the 2nd turn, dropping them both to the back and giving Logan a big lead. Ray clawed his way to the back of Logans bumper but Logan drove very maturely, taking tight lines and not giving Ray an inch to pass. Coming into the last lap there was less than 0.5s between them when they came up on traffic which had crashed over the big jump. Logan emerged 1st from the chaos to take the win from Ray, Sean Connolly a distant 3rd.
In A2 Ray made the most of TQ by leading wire-wire to take a big win from Logan with Shepartons' Paul Garner in 3rd.
It came down to A3, the last race of the day. The track was getting quicker as the air became cooler and the Double Dees on Rays SC10 were providing awesome traction to take another wire-wire win, this time with FTD with Logan and Paul again 2nd and 3rd.
Ray used the JConcepts Hi-flow body to tame the jumps, Green Double Dee tyres to grip the track, Hazard rims to give stability and the JConcepts Over-Tray to keep the dirt out of the chassis.
A big thanks to the Mildura club who ran a very tight event and presented one of the best tracks in the land.
The final round of the drivers series will be at the Keilor track in Melbourne in August. This will be a warm-up for the Victorian Titles in November. See you there!
Full results (and Ray's setups) can be found HERE
Thanks to Peter Brady for the photos.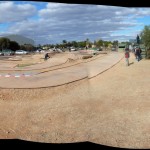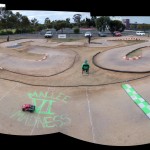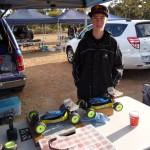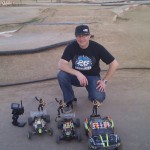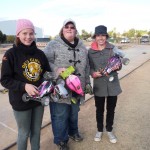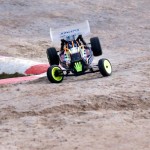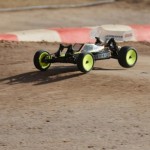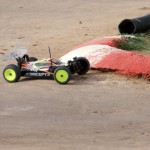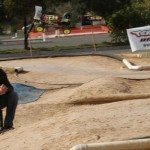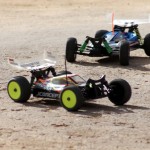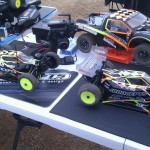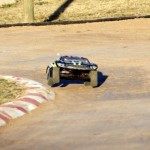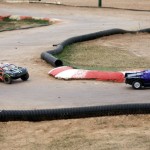 Products Used:
B4.1 +8mm Finnisher Body
B44.1 Punisher Body
SC10 Hi-Flow SCT Body
SC10 Over-Tray
6.5″ Hi-Clearance Wing
7″ Wing
B4 / B44 JC Mono Wheels
Inverse Wheels
SCT Hazard +3mm Wheels
SC10 Hex Adaptors
JC Carbon B4.1/B44.1 hub towers
Monroe battery brace
Green / Blue Compound 1/10 Hybrids
Green / Blue Compound Rips 2wd front
Green compound Double Dee 4wd front
SCT Green Compound Double Dees
JC Wheel Nuts