Updates from the Alabama Indoor Super Nats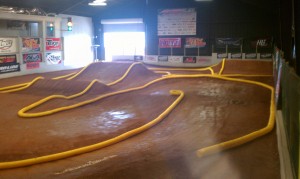 We arrived at Warehouse Hobby Raceway late Thursday afternoon. We were able to set up our pits but the track was closed for practice. JConcepts Team Drivers, Dan & Damion Borkowicz and my self, "Double D" Dave Duncan are here along with other local Florida racers, Mac Davis, Mike & Tiler Pollack and Matt Scott.
We hit the track early Friday to begin practice. The track is beautiful, very well maintained. The race director is on the ball with watering and sweeping the track to keep the traction up. We started on JConcepts Flip Outs rears and Groovys up front for our first time out. We then went to Double Dee rears, then Double Dee front and rear. Dan and I are running Mod Truck. I am also running Mod Buggy, Dan is also running Mod SC and Damion Stock SC and Buggy. Looks like we are all getting a good feel for the track. I will report tonight on how it goes for the rest of open practice. The track is staying open till 10pm tonight. Wow!!!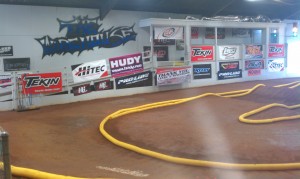 So after a full day of practice. The track is still really good. Not ready for Bar Codes just yet but still good traction with Double Dees on all cars. The track clay is hard but the rubber is starting to groove up in the corners. Should be a great weekend. The weather here in Alabama is hot and rainy. Good thing this track is indoors.