Turnpike Tussle Series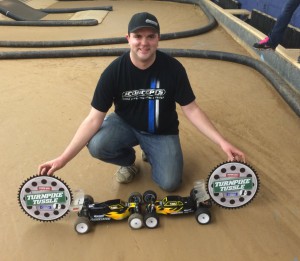 Matt Stoltz Sweeps Mod Buggy Classes at the Turnpike Tussle Series with JConcepts.
Kickin' Dirt Raceway in Somerset, PA was the location for the Turnpike Tussle series, held on 3 weekends throughout February and March of 2015. The series brought in drivers from all parts of the region along with an interesting concept for R/C racing: single day races with extremely limited practice time and a fresh track layout for each event with no "drop races." Consistent top performances would be the key to success in the series that drew over 105 entries on average per event. JConcepts driver Matt Stoltz was able to take the points championships in both Modified 2wd Buggy and in Modified 4wd buggy.

With podium finishes in all 3 rounds including a TQ and win in Round 3, Matt was able to secure the championship in the Modified 2wd class. Matt used Gold JConcepts Dirt Webs and Bullet 60mm wheels front and rear on his RC10B5 for all rounds on the indoor clay surface. Matt also utilized the RC10B5 Silencer body on his buggy for all rounds.
In Modified 4wd, Matt was able to take 2 out of 3 wins with his B44.3, which also wore Gold JConcepts Dirt Webs for all arounds as well as the B44.3 Finnisher X-Flow body.
Both of Matt's buggies were outfitted with a variety of JConcepts accessories, including the RC10B5/B5M Aluminum Front Suspension Brace and B44.3 Carbon Fiber Option parts.
Matt would like to thank Kickin' Dirt Raceway for providing a great host facility for the series as well as Chad Segner, Mike Hoffman, Judd Hoffman, Amanda Zavolta and Tyler Herwig for organizing a great series that brought in so much competition at a relatively new facility.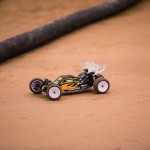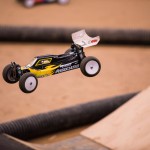 Modified 2wd Buggy Final Points Results:
Matt Stoltz – Associated
Matt Kirby – Kyosho
Rob Martin – Associated
Alex Kubilus – Associated
Brad Thomas – Associated
Modified 4wd Buggy Final Points Results:
Matt Stoltz – Associated
Matt Kirby – Kyosho
Jason Mackanick – XRay
Alex Kubilus – Associated
Jeremy McGuigan – Associated
Action photography by Seth Williams