Traction Raceway Showdown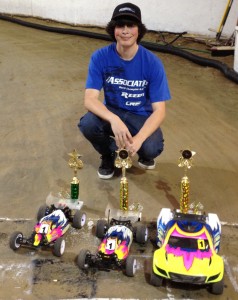 JConcepts takes 2 wins at the 1st Annual Traction Raceway Showdown
April 28-29
Traction Raceway- Reno Nevada
Traction Raceway in Reno, Nevada hosted its first annual big race for the new track. It was a 2 day event with a friday night club race, 3 rounds of qualifying on Saturday and 1 last round of rocket round qualifying and mains on Sunday.
In 2wd Short Course, JConcepts Team Driver Eric Albano would set the TQ in round 2 with no one able to touch it. He'd start off the main and not look back putting the field down a lap, winning the main running Bar Codes in Gold Compound.

4wd buggy would be a similar situation with Eric setting the pace 1st round. He'd start the race with a battle for 1st, but managed to pull ahead and finish the race with the win with V2 Gold Bar Codes.
Finally, in 2wd buggy, Eric would again set the TQ in round 1. In the main, a early mishap put him far back, but he was able to fight his way back in a battle for 2nd finishing overall with V1 Gold Bar Codes.
Overall it was a great first event for Traction Raceway with 170 entries!