Tollard and Champlin Lead JConcepts Modified Sweep at the 2018 AE RACE!!

The 2018 Team Associated Race, hosted by world-renowned Trackside Hobbies & Raceway, is the Midwest's premier off-road race that many racers wait all year long for. This year, the popular race saw 330 entries and almost 90 entries in just 17.5 Stock Buggy alone showcasing some amazing talent in all categories.
The dedication of Jamie Tennies and his crew at Trackside Hobbies kept the awesome clay surface grippy and track conditions top notch for racing all weekend long. Also thanks to the sponsors and racers who made this race possible as it is such an awesome event each and every year.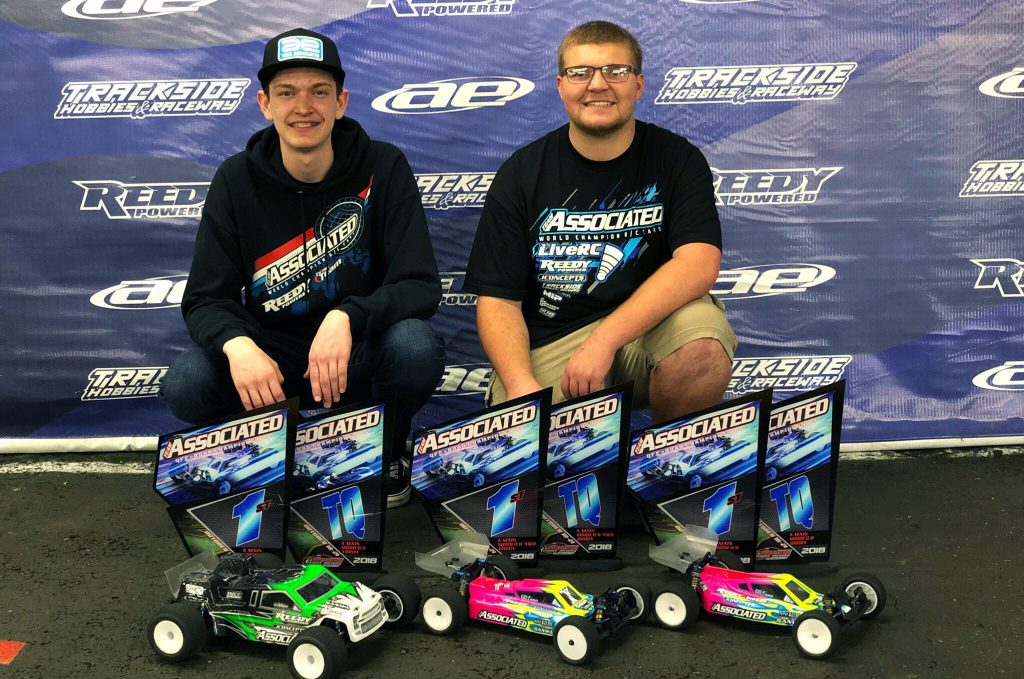 Modified Stadium Truck
What a weekend for Team Associated/JConcepts' Broc Champlin as Broc put in a stellar effort to TQ the Modified Stadium Truck class ahead of some heavy hitters. With the TQ spot, Broc controlled the field from the start, but a mistake 2 minutes in saw Dustin Evans take over the lead. Unfortunately, the two front-runners locked wheels allowing Aydin Horne and Cole Tollard to get by for a lead change. It became a 4 truck race with traffic playing a factor on lap times and luck. In the closing minute, Aydin Horne looked like he had it wrapped up, but an electronic issue saw Horne fade from the lead handing over 1st to Dustin Evans on the last lap. With 1 triple jump left to go, a mistake by Dustin saw Broc Champlin sky his way into the lead and took the exciting win! Dustin finished 2nd with Cole Tollard getting back up to 3rd and finished on the box.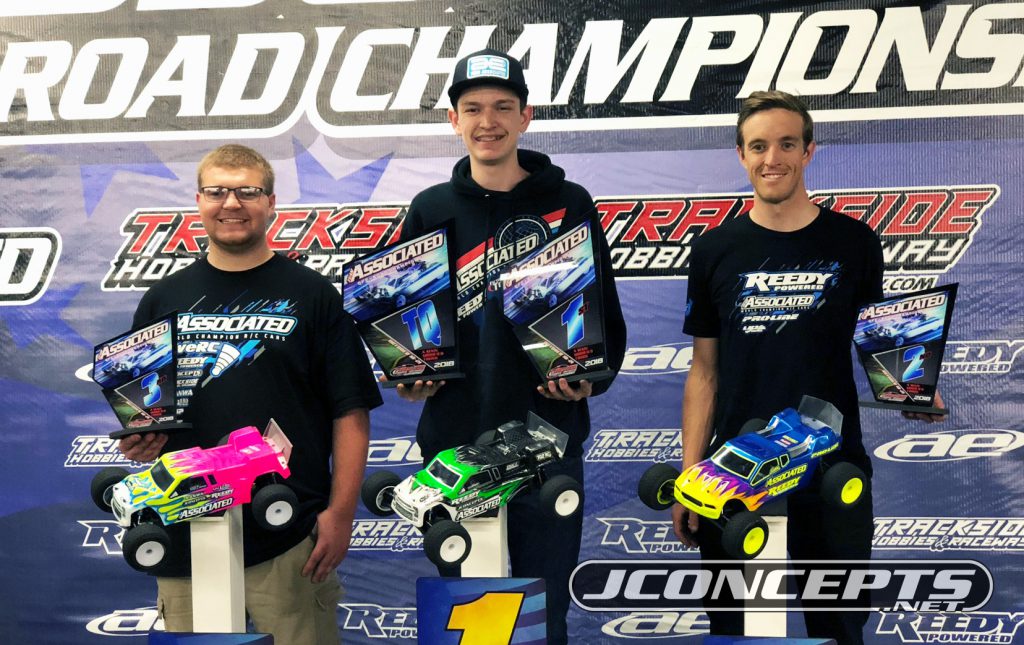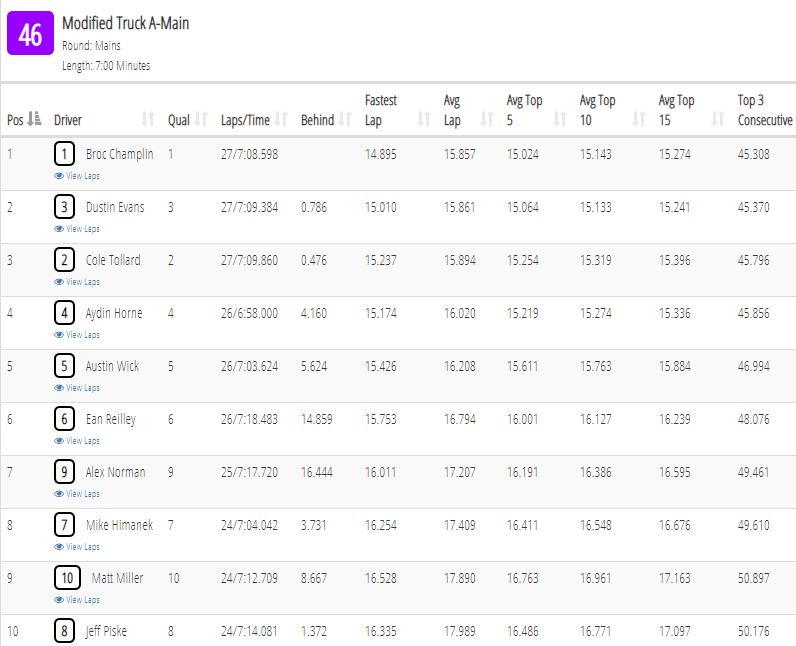 2wd Modified
Earning the overall TQ after 4 tough rounds of qualifying was AE/JConcepts' Cole Tollard. The other young driver that seemed to want it just as much as Cole was AE/JConcepts' Broc Champlin, as the two future stars battled it out over 3 intense mains with Cole winning A1 and Broc Champlin taking A2. A3 saw a fantastic race between the top 3 drivers for the entire 5 minutes. With Cole Tollard being picture perfect in all of A3, Cole crossed the line taking a very well earned win for the hometown crew. Broc put in a valiant charge and showed great speed finishing 2nd with Dustin Evans 3rd overall.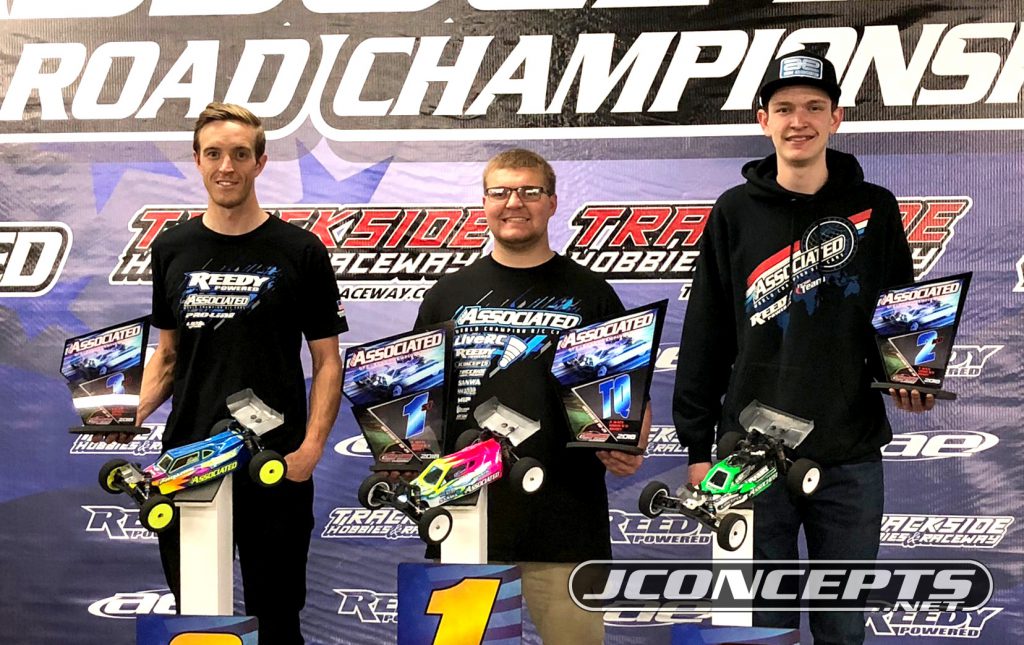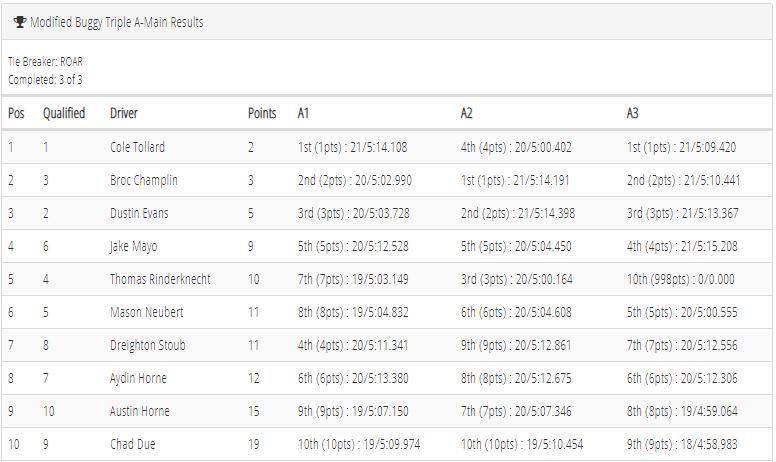 A1
A2
A3
4wd Modified
Having set the double class TQ, AE/JConcepts' Cole Tollard once again enjoyed TQ honors in 4wd Modified. During A1, Cole proved to be too strong for the competition as he drove flawlessly to win A1 in full control. With immense pressure on Cole's shoulders for A2, he remained calm and composed and delivered another heart-stopper of a run to win A2 and the overall in just 2 mains. AE's Dustin Evans won A3 to land himself 2nd overall with AE/JConcepts' Broc Champlin 3rd just 1 point behind.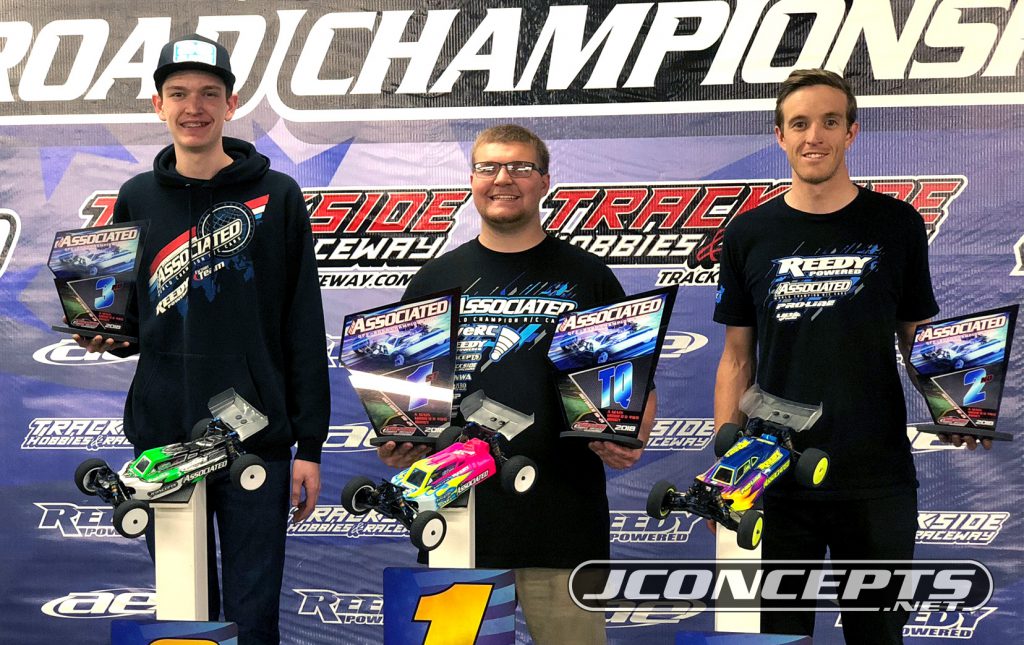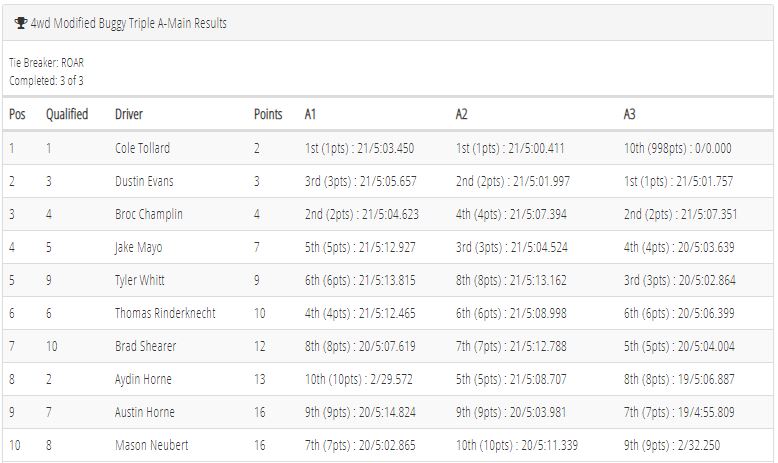 A1
A2
A3