TLR Points Series @ OCRC Raceway (updated)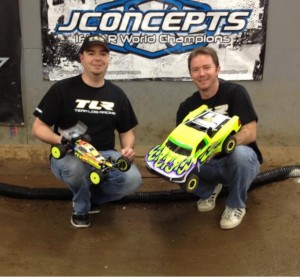 Another dominating night at OCRC for JConcepts!
Race: TLR Series, Round 3
Track: OCRC Raceway
Dates: February 19th, 2012
Format: 2 IFMAR Rounds, Single 5 minute A-Mains
TLR and JConcepts driver's Frank Root and Ryan Dunford, along with Tamiya Driver Jake Thayer, were on hand at the 3rd round of the TLR Series Sunday at Orange Country R/C Raceway (OCRC). The track had fantastic traction and a very fast layout. The entry count was very strong at over 110 and a great day of racing was had by all.

2wd Modified Buggy – There were 2 heats of modified buggy and the qualifying action was intense. Jake Thayer had a great run in the first round nearly taking the early TQ, but Frank Root would charge back hard in the round 2 to take a strong TQ by over 4 seconds. When the tone went off, Root jumped out to a quick start to gap the field. About 4 minutes in, Frank had a slight interaction with traffic, and surrendered the lead to Jake. The 2 JConcepts drivers would then have an intense wheel to wheel battle for the next 3 laps until a little bobble by Jake allowed Frank to take the lead for good. After regaining the lead, Frank would make it by for his 16th lap, and cruise home for the win. Both drivers ran JConcepts Gold Bar Codes front and rear, with JC closed cell inserts in the rear.
1/8 Electric Buggy – Jake Thayer was debuting his new Tamiya 1/8th electric buggy in preparation for next week's Nitro Challenge. His car was fast and easy to driver on 1/8 Gold Bar Codes, and took strong TQ. When the tone went off in the main, Jake quickly pulled away and sailed off into the sunset taking his first win in 1/8 electric buggy in his first race in the class!
Pro4 (Modified SC) – Ryan's Losi Ten-SCTE equipped with the JConcepts Gold Bar Codes was untouchable all day. Ryan would take the TQ in both rounds of qualifying, earning the overall TQ by almost 10 seconds! Ryan started on form at the sound of the tone and quickly pulled out from the field, leaving the battle for 2nd place. Doug "Casper" Nielsen also had a strong run finishing on the podium in 3rd, but the day belonged to Ryan with a statement TQ and Win!
The JConcepts team won using the following equipment:
1/10 Buggy Gold Bar Codes – JCO301605
1/10 2wd Buggy Fronts, Gold Bar Codes – JCO301705
Short Course Gold Bar Codes – JCO304405