Thunder RC Winter Championships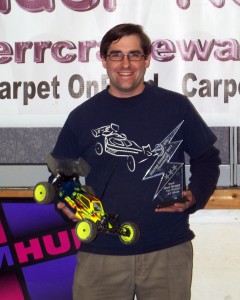 Paul Sinclair TQ's and Wins with JConcepts.
Race Reporter: Paul Sinclair
I had a great race this past weekend at the Thunder RC Winter Championships in Nashville, TN. It was a 3-day race with around 125 entries. I ran 2wd mod buggy and 2wd mod SCT. The track is similar in size, dirt, and traction to Smac Trac in St. Louis. Qualifying was rocket-round.
In 2wd, I ran very worn green V1 Bar Codes in the rear with the new 3206-1 foams; up front I ran green Bar Codes with a rear And1 insert cut to 3/4 width. The yellow Mono wheels and JConcepts hexes looked great on my prototype X Factory X-6 Cubed, topped with a Finnisher RB6 body. Traction was great with my car pulling picture-perfect wheelies down the straight. I took the TQ in round 1 with the only 21-lap run, and also had the fast lap of the round with a 16.9 (4wd's only ran a 16.7!). Dan Reino, a local fast X Factory driver, re-set the TQ in round 2 and held on until the final round when I laid down a near-perfect run to secure the pole position. In the single A main I wrecked early and fell back to fourth, but chased down the leader and took advantage of his mistake with 2 laps to go, taking the win.

In SCT, I ran green Pressure Points all around on my X Factory SCX-60CF with stock molded foam on Hazard +3mm wheels, with the Illuzion Hi-Flow SCT body on top. Again took the TQ in round 1 only to lose it to another fast X Factory truck driven by Scott Fuller. A good run in round 3 saw me back on top of the field, and then the only 20-lap run with a 2wd short course sealed the deal in round 4. The main was a demonstration in patience as I led from the wire and worked through the field, lapping everyone but 2nd place.