The Wicked Weekend 2020
This past weekend the JConcepts Team traveled to S&B RC Speedway in Piedmont, SC for the 2020 Wicked Weekend. The Wicked Weekend typically takes place inside an arena in Gainesville, GA. However, with covid restrictions they were forced to move the event, making this the first outdoor race in Racetime Entertainment history! Thursday was the first full day at the track and it was a dedicated practice day. Initially, there were two separate practice sessions that drivers had to choose from. With the weather that rolled in Wednesday night, practice didn't start until around 11am Thursday morning. The Racetime crew decided to make practice a free for all, with more impending weather to hit Thursday evening. The team spent Thursday getting to know the track. They were learning the layout, but more importantly trying to decide on what tires they would need. The track was a living creature all weekend constantly changing as weather rolled in and out.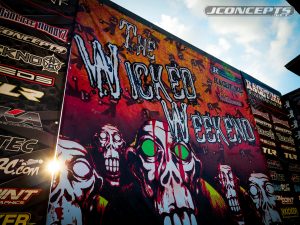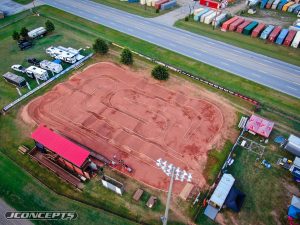 For tires, the team started with Green Reflexes and Triple Dees but ended up moving into bar tires during practice. By the end of the Thursday practice session they were on A2 Ellipses. It rained over night so they were predicting to be back on green reflexes at the beginning of the day Thursday and move to harder indoor style tires as traction came up on the track throughout qualifying. The track was constantly changing from wet and muddy to dry and dusty. Check out the video on Facebook where we checked in with Maifield, Rivkin, and Phend right before qualifying.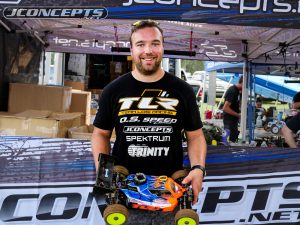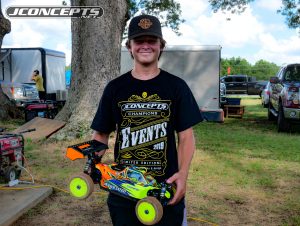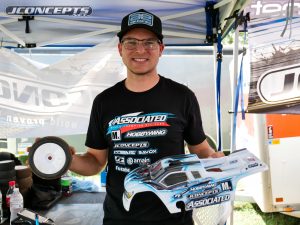 Friday was the beginning of qualifiers. The start time was delayed due to the overnight rain Thursday evening. They had a small practice session for drivers who weren't able to practice Thursday and then it was showtime. With the forecast constantly changing, they decided to get in as much racing as possible. As an end result we raced under the night lights and finished around 10:30pm. We made it through all 3 rounds of qualifiers allowing 2 days to get in the mains. Thankfully we hammered through qualifying because the mains ended up having to be split between Saturday and Sunday due to more rain.
Results:
Qualifier 1:
Pro Nitro Truck: Cole Ogden TQ'd on the Ellipse with Spencer Rivkin 0.912 behind him
15U Junior Electric Buggy: Cade Burnette TQ
15U Junior Nitro Buggy: Cade Burnette TQ
Int. Nitro Truck: Cade Burnette TQ
Pro Nitro Buggy: Dakotah Phend TQ
Qualifier 2: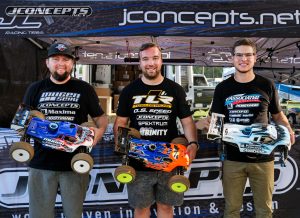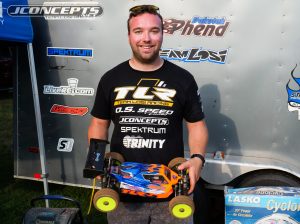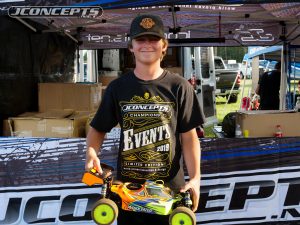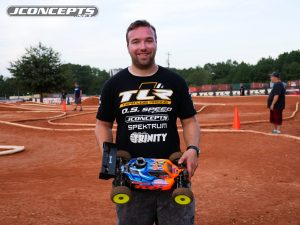 Pro Nitro Truck: Dakotah TQ, with Rivkin and Maifield right behind him
Pro E-Buggy: Dakotah Phend TQ
15U Junior Nitro Buggy: Cade Burnette TQ
Int. Electric Buggy: Cade Burnette TQ
Pro Nitro Buggy: Dakotah Phend TQ
Qualifier 3: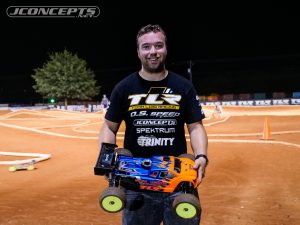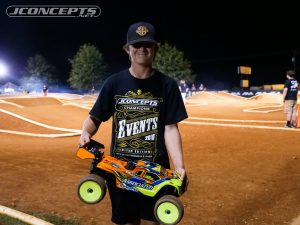 Pro Nitro Truck: Dakotah Phend TQ
Int. Nitro Truck: Cade Burnette TQ
Int. Electric Buggy: Cade Burnette TQ
15U Junior Nitro Buggy: Cade Burnette TQ
Pro E-Buggy: Dakotah Phend TQ
Qualifying Summary
Pro E-Buggy A-Main Results: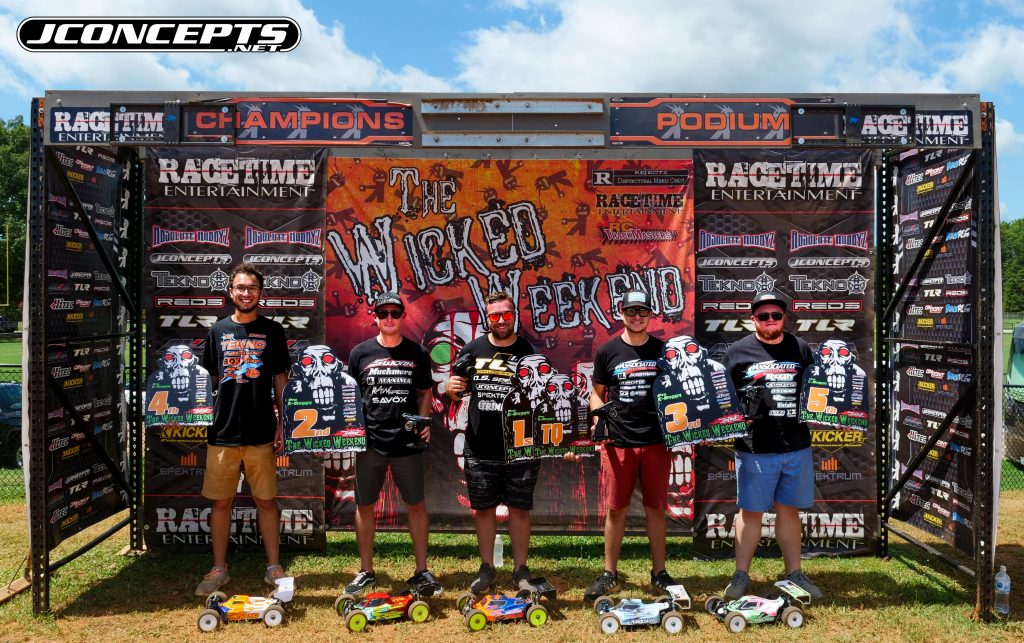 A1: Dakotah Phend
They did two rounds of Pro E-buggy. With Phend taking the win in A1 he was set up for a great position in A2. Phend led the race leaving Rivkin and Cavalieri to battle it out. With 8 minutes to go Phend ran one of the fastest laps of the entire weekend with a 28.8. At 7 minutes to go Cavalieri over jumped the triple allowing Rivkin to close the gap and bring on the pressure. Every lap for Phend had been sub 29 or better with only one 30 second lap the entire main. Cavalieri had a major fumble at 3:30 to go giving Phend more breathing room to lock in his #1 spot. 2 minutes left and it was a major battle between Cavalieri and Rivkin. Phend checked out for the win at this point, but it was still crucial for him to keep it clean to the finish. Phend finished as the only driver to reach 21 laps.
Final Results:
1- Dakotah Phend 3- Spencer Rivkin 5- Jackson Brunson
15U Junior Nitro Buggy: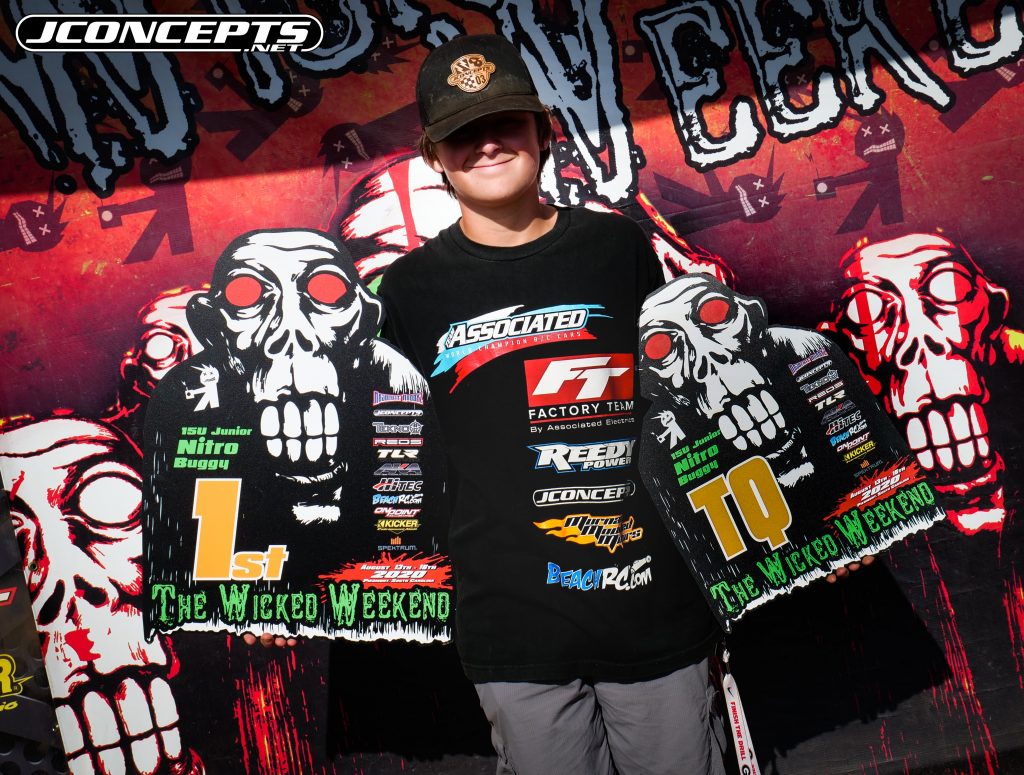 1- Cade Burnette
40+ Nitro Buggy A-Main: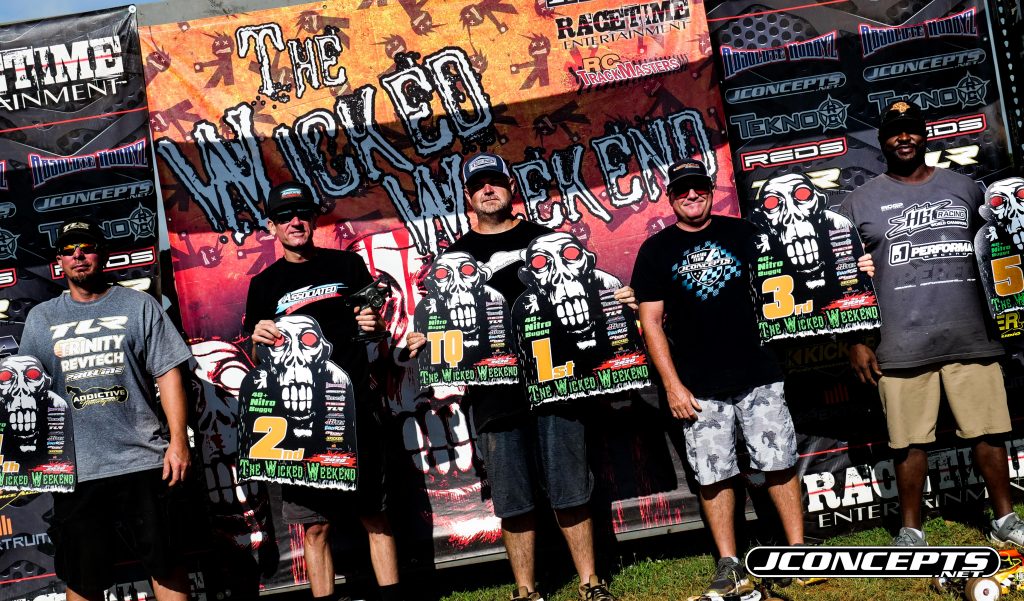 3-Kevin Bullock 5- Kawri Brown
Int. Nitro Truck A-Main: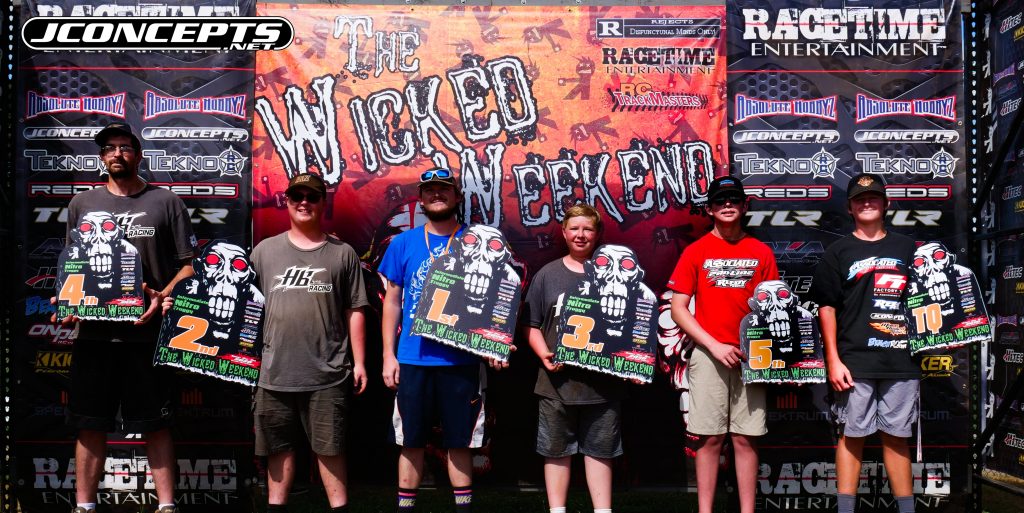 Top 4 guys using JConcepts Tires 2- Logan Cowick 4- Tim Hobbs TQ- Cade Burnette
Pro Nitro Truck A-Main:
The Pro Nitro Truck main started with Ryan Maifield leading. Phend and Rivkin were right behind him. With 21 minutes to go Rivkin took over the lead leaving Maifield and Phend in the 2 & 3 spots. Rivkin stretched his pit stop taking it later than the others. Maifield and Phend took the 1 & 2 spots back. Maifield ran a little wide with 14 minutes to go and Phend made the aggressive pass for 1st. At 8 minutes to go Phend increased his gap to a 10 second lead, but Maifield truly battled it out with him for the first 15-20 minutes of the race. Dakotah Phend took the win as the only driver to achieve 60 laps.
1- Dakotah Phend 2- Ryan Maifield 4- Spencer Rivkin
15U Junior Electric Buggy: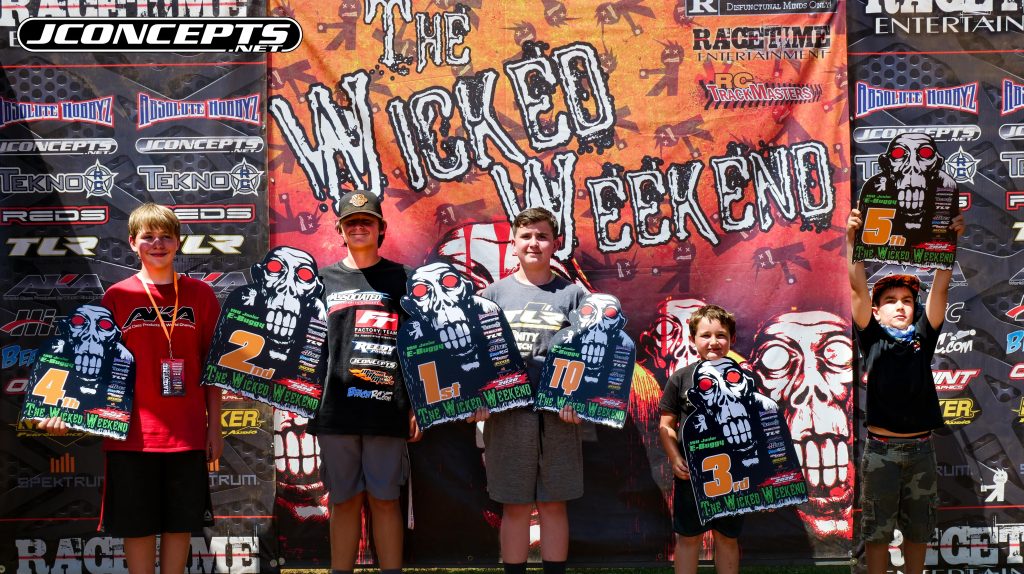 2- Cade Burnette
Pro Nitro Buggy: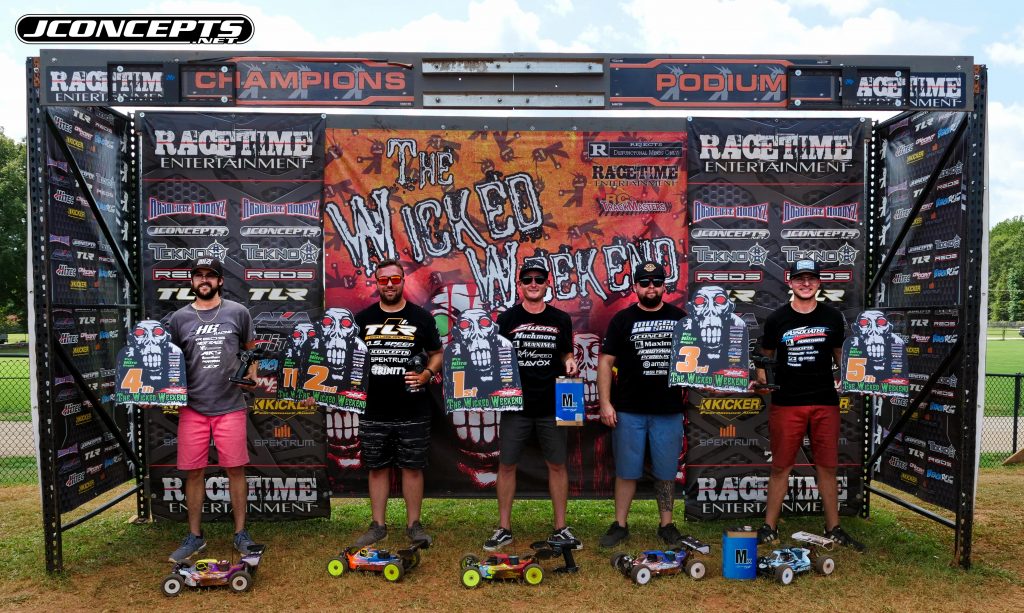 Dakotah Phend started in the #1 position aiming to grab the win so he could round out all of the pro classes. Phend and Cavalieri were neck and neck. Despite Phend's bobble at 26:30 he was still hanging on to the lead spot. With 23:30 minutes to go, a dead car got in the way but Phend made it by allowing it to only slow up Cavalieri. However, Cavalieri was still in the fight, determined to close the gap. It was going to come down to the pit stop to see who could get out faster. With both of their pit crews on their A-game they were able to make it through the pit stop holding on to the same position. Phend goes on to make a mistake jumping off the single. Cavalieri made the pass and with another mistake Maifield grabbed the 2nd position. Cavalieri got it wrong on the backside double and Phend was reeling in Maifield for the 2nd spot. Maifield made a mistake and Phend recovered the 2nd spot at 17 minutes to go. Maifield still in 3rd. Only a 2.2 Second gap at 10 minutes to go between Cavalieri and Phend. The gap closes further with it being 1.2 seconds and Cavalieri made a mistake allowing Phend to reel him in closer and closer. It was time for final pit stop with only 0.80 seconds between them. It was still anyone's game. Phend hit the pipe giving Cavalieri a little more breathing room. However, Phend was still able to secure the #2 spot. The top 5 guys were the only ones to achieve 60 laps in the Pro Nitro Buggy main.
2- Dakotah Phend 3- Ryan Maifield 5- Spencer Rivkin
40+ E-Buggy: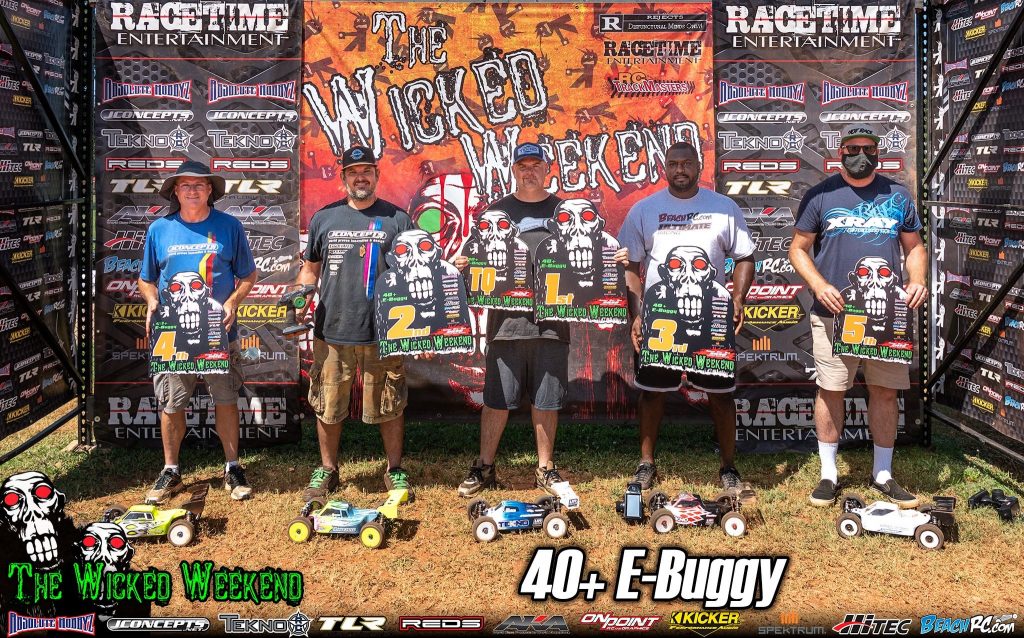 2- Dave Duncan 4- Carl Lebo
Int. Electric Buggy: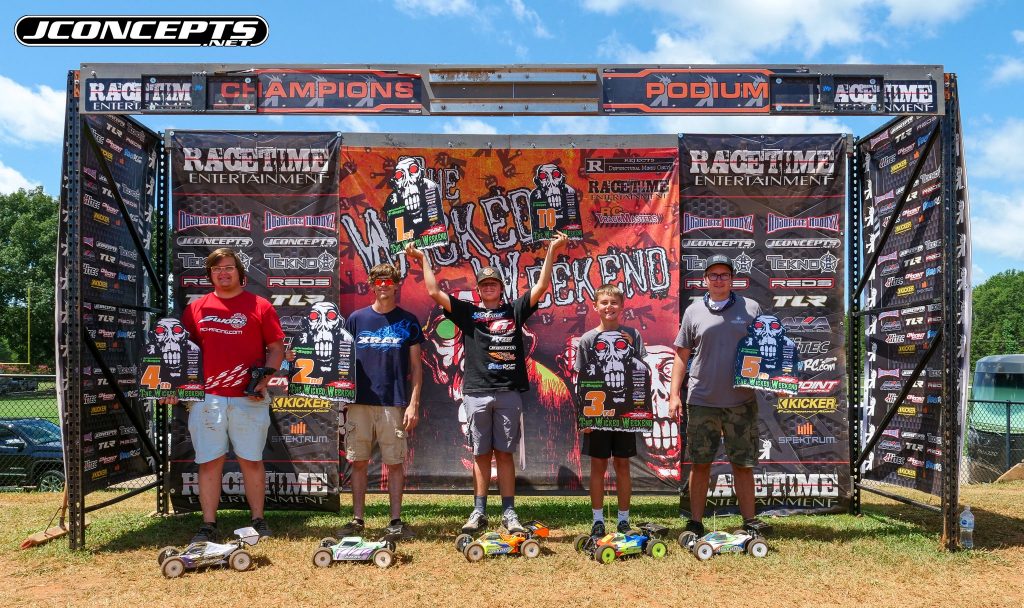 1- Cade Burnette
Int. Nitro Buggy: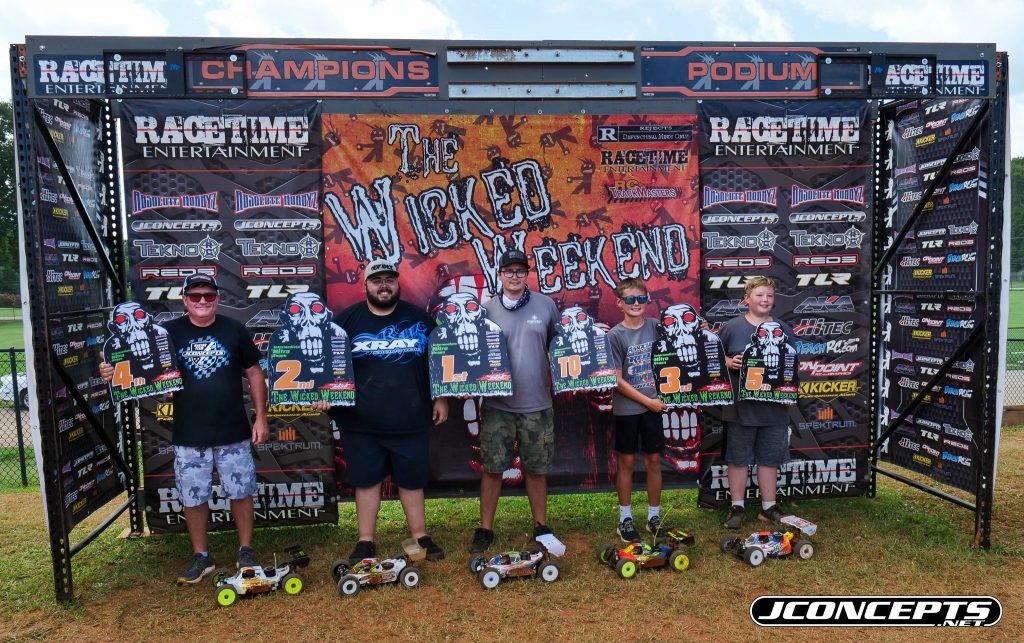 4- Kevin Bullock
Overall, the team had a great weekend, battled it out, and worked hard for their podium spots. A big thank you to Racetime Entertainment for putting on an amazing event and S&B Raceway for hosting. We look forward to seeing everyone trackside again soon!
Up Next, Mugen Challenge.
Winning Products:
Ellipse Tires
Bullet Wheels
Finnisher Body
Dirt Tech Inserts
F2I Wing
P1 Body