The Wicked Weekend 2014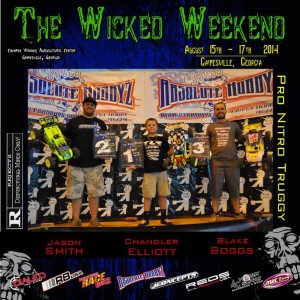 The Wicked Weekend, located at the Chicopee Woods Agricultural Center in Gainesville Georgia. With a massive driver's stand, huge track layout and a party atmosphere comparable to Psycho Nitro Blast. JConcepts was well represented at this race with Team Drivers making their way from all over the South East.
In Pro eBuggy, Shay Brand TQ'd all 4 rounds of qualifying and took the overall TQ. Shay went on to win A1 and A3, finishing 2nd in A2 which gave him the overall win in the Pro eBuggy class running JConcepts Hybrids in Super Soft Green Compound.
In Pro Truggy, it was a JConcepts sweep of the podium with Chandler Elliott taking the win, Jason Smith in second and Blake Boggs finishing third. Chandler would also podium the Pro Buggy Class taking Third.

Martin Harrison had a good weekend taking the overall win in Pro eTruggy Class and finishing second in the 4wd Open SCT class with his JConcepts equipped TLR vehicles.