The Week That Was… About A Week Ago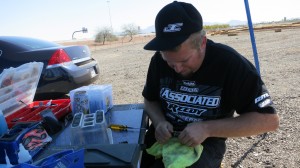 By: Jason Ruona –
I decided to spend another week in Arizona. It was a great opportunity to catch-up on some business and get a few test days in at the track.
Wednesday was the first real day at the track and we headed back out to SRS for a club race and some testing on the wet track. Typically the hot tire at SRS are Double Dees in the rear and Groovys in the front. With Cactus Champion Maifield in the house to cheer us on it was up to Kinwald, Denney and myself running and holding it down for team JC. We tested the newly released Hybrids and they had excellent forward bite. Very comparable to the Double Dees with the Hybrids, with slightly more forward bite and the Double Dees a touch more side-bite. For the main event Kinwald mounted up a fresh set of the prototype 2wd rear 3Ds and laid it down on everyone in the 10 minute A-main. We packed it up for the night and got ready for a busy Friday.

Friday morning I arrived at the Fear Farm in Phoenix to do a little 1/8th testing with Maifield. This was a great opportunity to get back out on the track where the Nitro Challenge took place roughly a month earlier. The track was still in great shape with a relatively smooth racing line and all the jumps were in perfect order. We let Maifield shake it down for about 4-5 minutes and then let him go for about an 8 minute run. 8 minutes, no crashes and we pulled the car and came back with a good baseline and an idea of where the track was at. We tested with the proven Hybrids in blue compound all afternoon. They really looked good but with the Arizona heat beating down, the track was really dry and it started to eat tires. No worries, I brought more tires for Mans to chew on.
With some car setup testing out of the way we turned our focus to the new Black Jacket tire and ran several runs on the new tire. Let me tell you, good things to say about the Black Jackets. Maifield – "I could just drive harder and the car would take it. I'm adding this to my arsenal of tires going into Neobuggy." I could discuss more details but I'll leave a little for the release.

With only the Fear Farm lights keeping us going we practiced into the night and finished up around 9pm. We had a great day. Burnt up some fuel and tires, and the car needs a total rebuild.
Saturday morning we were up early and preparing to go out to Firebird Raceway for the Lucas Oil Off-Road Series. We met up with Tanner Denney and headed out to the track. It was burning hot already and we were not even in the grandstands yet. We stopped for a couple glasses of the $5.00 lemonade and hung-out at the AE booth where we said hello to everyone and helped sell a few SC trucks.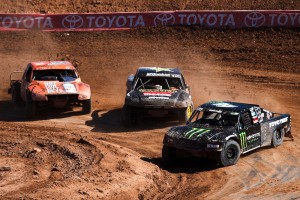 The Pro 4 main hit the track so it was time to pile into the stands and take in some Short Course action. Kyle LeDuc just destroyed everyone and no matter how many yellow flags they threw or the mandatory pit stop, Kyle took the win easily. The Team Associated / RC10.com supported truck was lights out all race. These trucks look so nice when they start the race but the body panels just fall off after any contact. It would be so much nicer if they could maintain the looks for the entire race. I see a lot of the field is running a Ford Raptor body now on the real truck. Didn't JConcepts make the Raptor SCT body for the R/C versions first? I feel so used….ha Just sayin….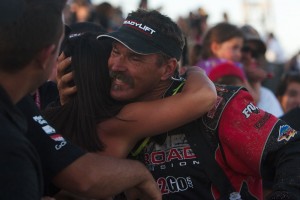 The Pro 2 main was won by the Readylift truck of Marty Hart which I believe was his first ever Pro 2 victory. It was a good race between the top 3 with Rob MacCachren and Robby Woods all going at it. Looking things over the Readylift truck is the Losi supported truck…hmmm. Even at the Lucas Oil events it's AE vs. Losi. It's a small AND competitive world!
I'm thinking to myself, wow I only came up in the grandstands to watch 2wd and 4wd? Subconsciously I chose to watch the 2wd and 4wd main. Wow! This really is like the R/C races.
Sunday would begin our last day in Arizona. We made the drive out to Tucson to take in the Competition Hobbies track and hobby shop. When people say its the nicest track they have ever been to, they aren't exaggerating. Off the top of my head you have to put it with the new Yatabe Arena track, West Coast Raceway, OCRC raceway and Outback raceway facilities as the nicest tracks I've been to. I've heard Mikes Hobby shop is awesome but I have not been there yet. That will be next week. If you are lucky enough to race at any of those tracks…you are in R/C heaven.
Moving on, inside of CH, as the guys say, I was greeted by many of our team drivers and Dirt, Brian Kinwald. Dirt has a permanent pit setup so he is right at home. He has shelving, large flat working surface and hooks to hang his Team Kinwald 0 of 500 edition transmitter bag on. It's awesome…! You can see Kinwald is right at home and pitting next to all his buddies all the time. It's a great setup for becoming the next big thing or maintaining your R/C skills. Kinwald had the vehicles ready to go and it seems he always has something new he wants to test. Going up for the first round he proved he's still the man on the track too. Kinwald laid it down with his trusty Blue V2 Bar Code combination as he drove with precision. I was able to video the entire race and it was a very typical Dirt run with very little mistakes and clean and smooth driving. The Ringleader, Richard Lake, took a comfortable 2nd in that heat and although driving a slighly different style he was very fast as well.
For round 2 we did a little testing with Kinwald but he was unable to improve his time, but retained his TQ position. It was time for a Hooters lunch run before returning back to the track for the mains. Richard Lake fired the mains off quickly and blew through many races on his way to the 2wd mod A-main. I was poised on the drivers stand trying to take in some club race video. Kinwald got a little loose on the back corner after jumping the step on and off section and Lake piled into him and cost him a bunch of spots. BK imediately pulled over and waited for Richard to get back going as an apology for the bad start. It wasn't long before Dirt was back in contention and in 3rd chasing the leaders.
Out front it was Charles Hicks and Sean Bray who were very close in speed and were slowing each other up as Kinwald had to make-up nearly half a track to get back into contention. A few mistakes by the leaders moved BK even closer and just like that coming onto the straight-away BK moved back into the lead. The 3 drivers were all very close but in the end BK took the victory and after all these years was still excited about it. Talking it out with BK afterwards he was unsure if he could come back after being down all that space but he hung in there and after some mistakes rightly took another club race victory.
After a quick trip back to Scottsdale and a great dinner it was time to catch some sleep before the flight on Monday. I'd like to thank all the drivers, hobby stores and race tracks who were always so accommodating and just a great group of people in the Arizona area for a great trip. Looking forward to the next one.