"THE Series" Round 2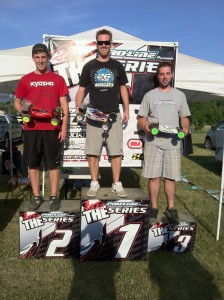 Race Reporter: Kai Goff
This past weekend I attended the 2nd round of "THE series" held in Litchfield, Michigan. Litchfield RC is one of the oldest tracks around in the state and I was really excited to go back there. The track has a throwback style to it, with the dirt being mostly top soil so it gets blown out really fast! The track crew did an amazing job all weekend with keeping the track as groomed as possible.
"THE series" is one of the newest and biggest series held in the region so most of the top drivers were in attendance. The race format was 3 qualifiers and a main. Qual points were used so your best 2 runs counted giving one throw out.

The first round of mod 2wd I was able to go out and dominate the field by taking tq for the round by over 7 seconds! My JC equipped Associated B4.1 W.E was locked in and this gave me a bunch of confidence going into the rest of the day. Round 2 didn't go as well as I had planned and I just made too many mistakes. In round 3 I was able to go out and take another round so this gave me the overall TQ!
The mains were about to start and mod 2wd was one of the last races to hit the track. I knew that the track was going to be really rough in spots by the time it was my race. It was going to take consistency to win the race. At the start of the tone I got a great jump and was able to gap myself from the rest of the field. With about a minute to go I caught a hole coming on the straight away causing my car to break loose. This gave Team Kyosho's Caleb VanDam a chance to catch up. He was able to put the pressure on with some fast laps, but in the end I was able to hold on for the win!
Just want to thank my sponsors, Team Associated, Reedy, LRP, JConcepts, Diggity Designs, Spy Optics, and Moore Hobbies. Also a big thanks to Litchfield's track crew for doing a great job with the track, and race director Kris Norlock for doing a great job announcing and keeping the program moving.
Products Used:
0212 B4.1 +8 Finnisher body
0122 B4.1 High clearance wing
3004 JConcepts Groovy front tires
3018 JConcepts Goose Bump rear tires
3347 B4.1 Mono hex front wheels
3348 B4.1 Mono hex rear wheels