The Decider – Rd 4 of the 2018 Spring Super Cup Recap!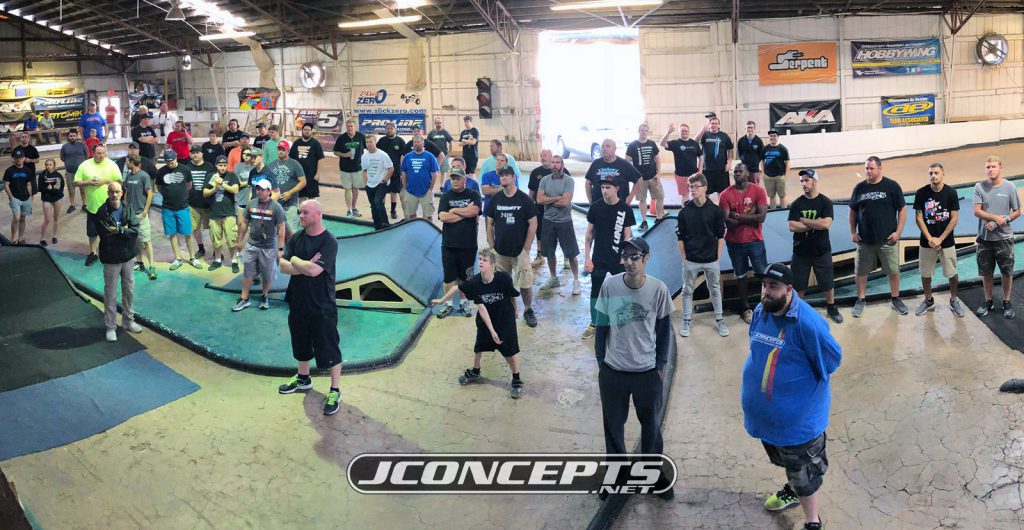 The 4th and final round of the 2018 JConcepts Spring Super Cup was held at Newred Hobbies in Ocala, Florida, that wrapped up a fantastic spring edition of the long-running Florida race series. With championship points on the line, the final round always becomes the most crucial race as overall results are decided by taking points from the best 3 of the 4 series races. Do well here, you get to drop your lowest score that might just boost you up a few spots on the overall.

Newred is a unique track that consists of Florida clay/dirt mix and sealed for low dust and high traction. The jumps are man-made consisting of wood construction and then carpeted over to provide grip and consistency. With the tire choice being a slick or semi-slick tire, the speed and intensity are off the charts. The finale layout was challenging requiring a degree of high technical skills and a car that could handle high-speed corners without traction rolling. All in all, the layout was fun and provided an awesome arena for the drivers to battle it out for the Spring Super Cup Championship titles.
Thanks to all of the wonderful racers who attended any of the JConcepts Super Cup races. You are what makes this series so awesome. Click on this link for the OVERALL RESULTS of the Spring Series.
Novice
Thanks to the novice racers at Newred for attending the round 4 of the Super Cup. It's fantastic to see a group of young racers excited to be at the track and driving awesome! Mike Shultz took the win with Reid Schaeffer 2nd and Bo Shultz 3rd.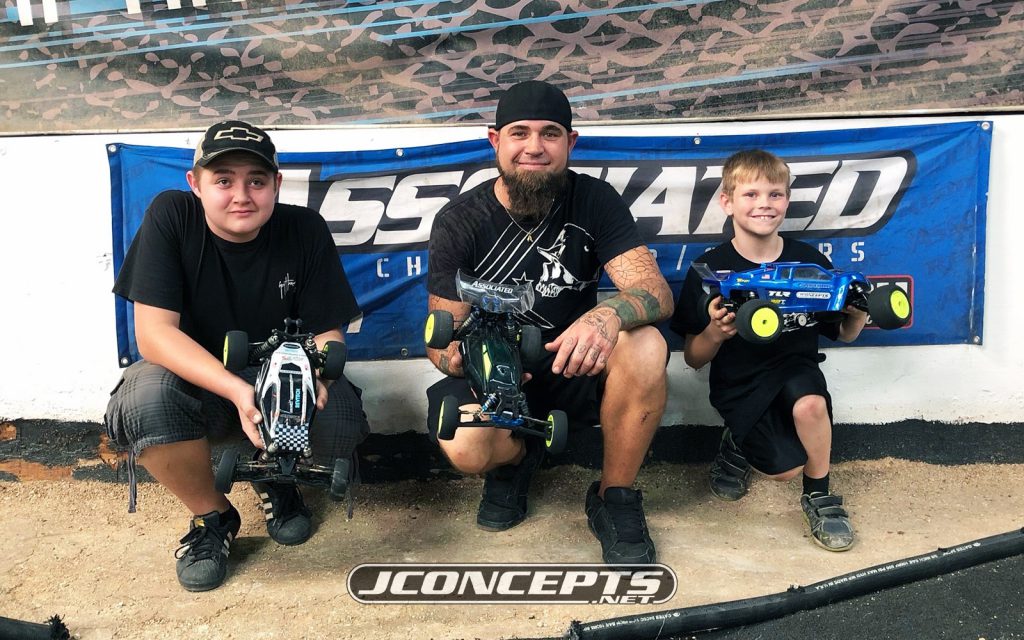 1st place – Mike Shultz
2nd place – Reid Schaeffer
3rd place – Bo Shultz
Independent Short Course
Independent classes mean no sponsors drivers, but that doesn't mean these guys are slow by any means. Putting on a great show in the Independent Stock Short Course class, Jeff Lynn would go home with the win, Tracey Proctor 2nd, and Thomas Sherman 3rd.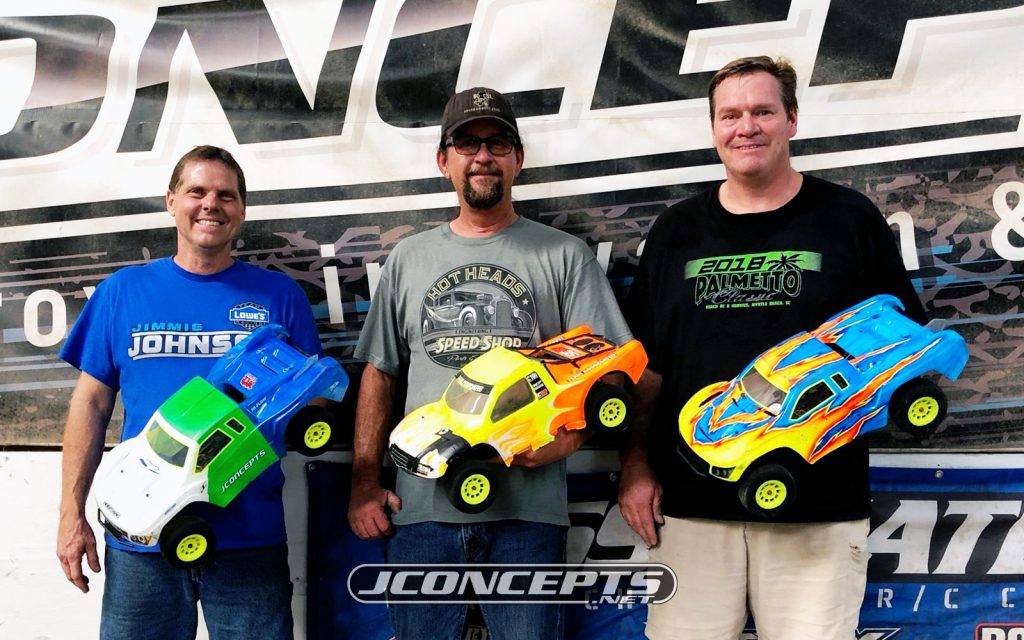 1st place – Jeff Lynn
2nd place – Tracey Proctor
3rd place – Thomas Sherman
Independent Stadium Truck
The top 4 drivers would break away to engage in an exciting battle of their own in the Independent Stadium Truck class. In the end, Kevin Castillo crossed the line in 1st, Thomas Andre finished 2nd, and Tracey Proctor 3rd overall.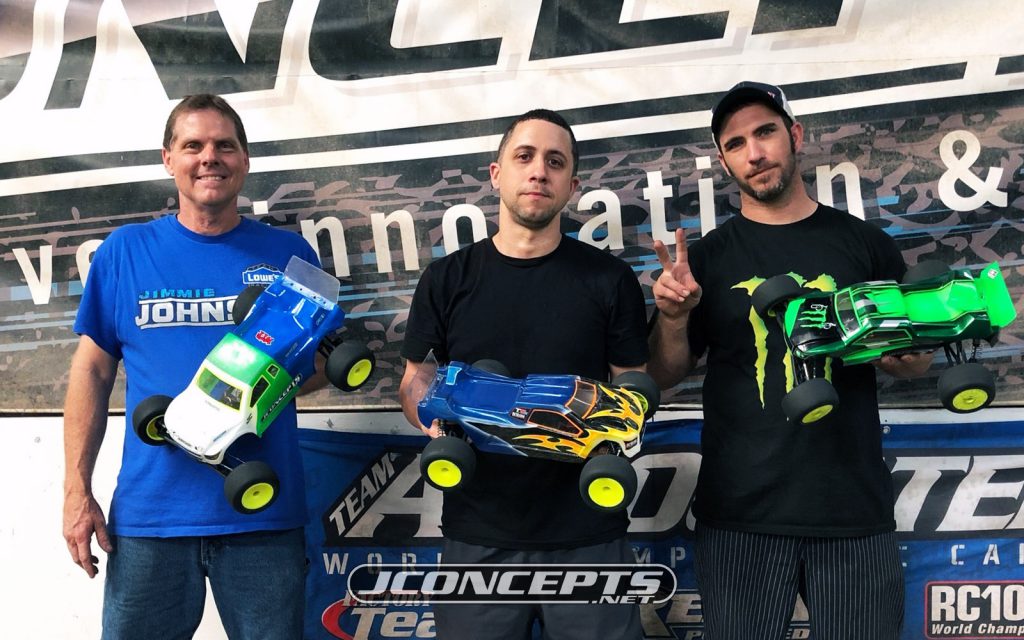 1st place – Kevin Castillo
2nd place – Thomas Andre
3rd place – Tracey Proctor
Independent 2wd 
Breaking away from the field, Thomas Andre won the Independent 2wd class with great driving and poise while Jeff Lynn finished 2nd. Only 1.6 seconds back from Jeff was Kevin Castillo, who made a mid-race comeback to power his way into 3rd.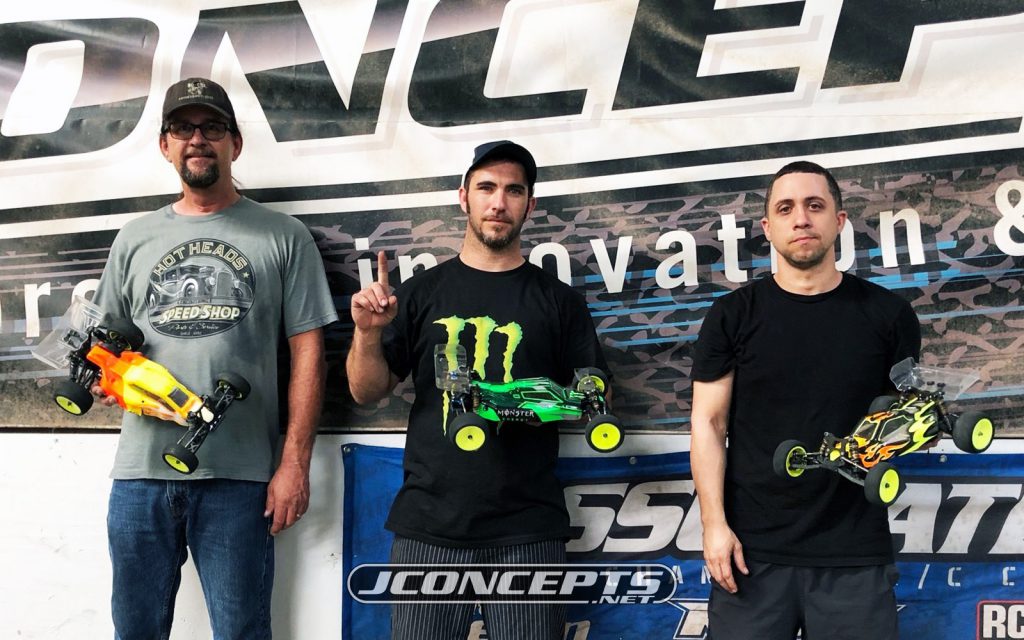 1st place – Thomas Andre
2nd place – Jeff Lynn
3rd place – Kevin Catillo
17.5 Expert 2wd
It was Trinity's Alan Wight who took the win in a highly contested field of 17.5 Expert 2wd drivers. JConcepts' own, Ryan Harris was able to mount a charge from 6th on the grid to finish 2nd. Mason McCombs rounded out the top 3 with a 3rd place finish.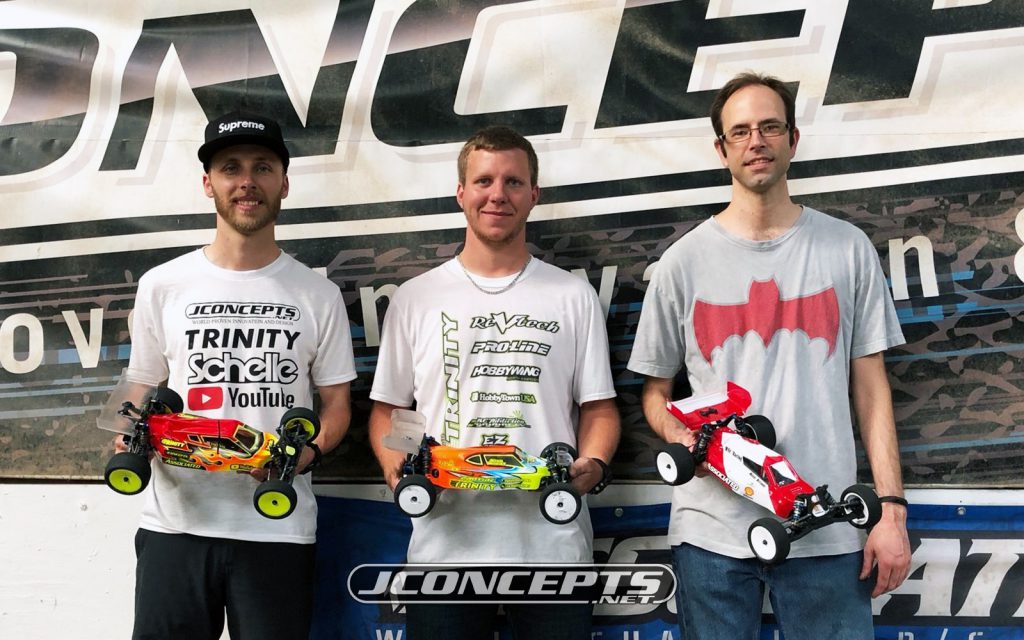 1st place – Alan Wight
2nd place – Ryan Harris
3rd place – Mason McCombs
13.5 4wd 
It was JConcepts' Jader Lopez taking top honors in 13.5 4wd class. From TQ to 1st, Jader had a perfect weekend while rockin' the F2 body on gold Octagons tires for the win. JConcepts' Ryan Harris took a wonderful 2nd place finish along with the talented Jake Shugarman finishing up in 3rd.
1st place – Jader Lopez
2nd place – Ryan Harris
3rd place – Jake Shugarman
13.5 Stadium Truck
Going 3 for 3 in podium finishes, Ryan Harris was able to take the top step on the podium in the 13.5 Stadium Truck class with Danny Wight 2nd and Rick Jacobs 3rd to round out the top 3.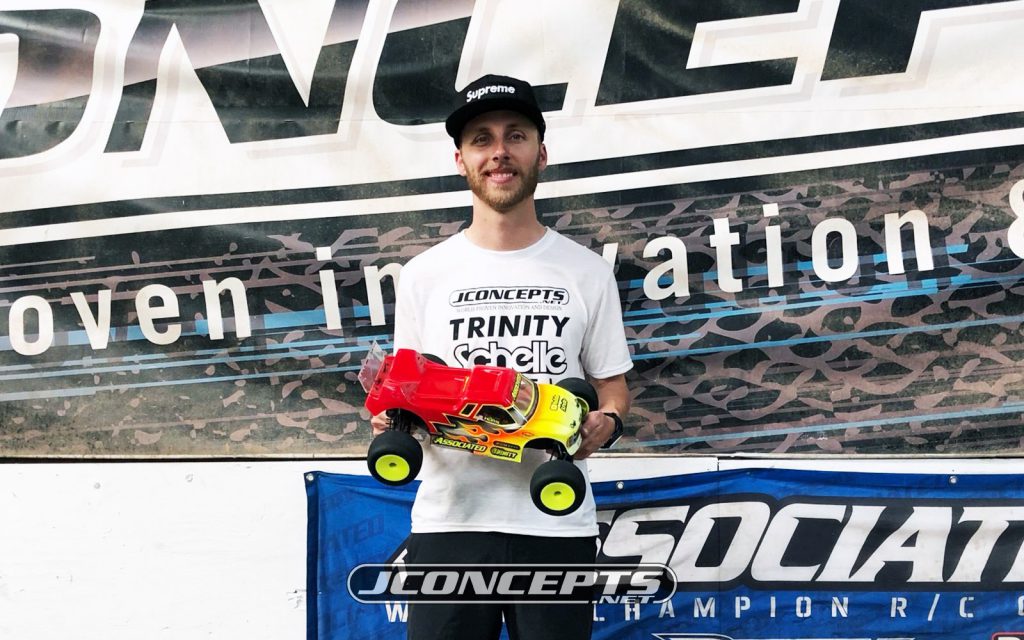 1st place – Ryan Harris
2nd place – Danny Wight
3rd place – Rick Jacobs
40+ 2wd Open
It was David Davis' day as he set the TQ time and took home the win in the 40+ 2wd Open class. John Prickett and Richard Schaeffer put up a good fight to finish 2nd and 3rd respectively. Unfortunately, David wasn't available for the podium photo.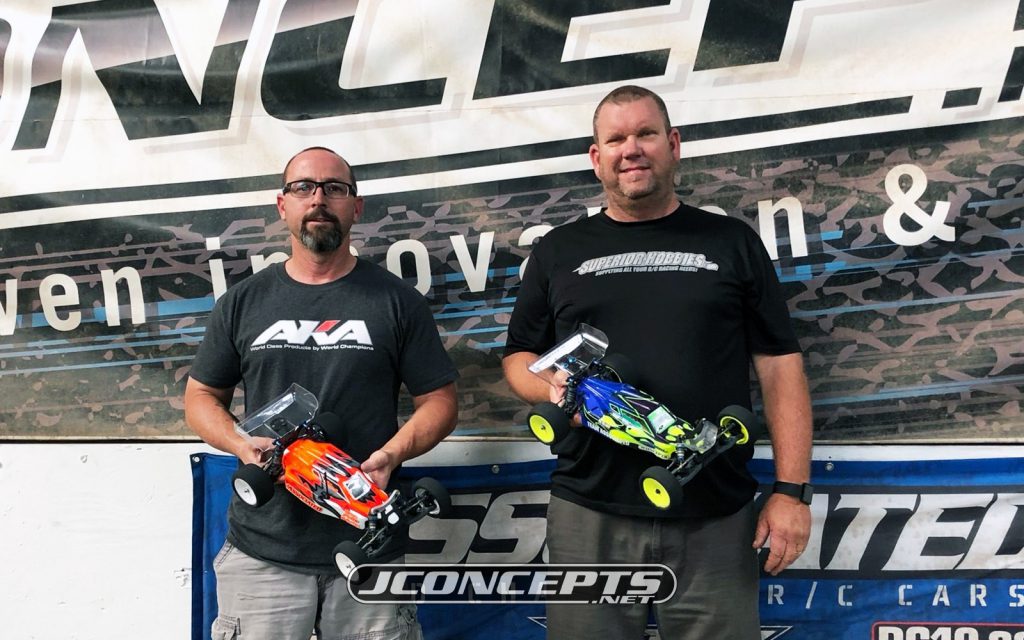 1st place – David Davis
2nd place – John Prickett
3rd place – Rich Schaeffer
4wd Modified
It was a fabulous day for TLR/JConcepts' JR Mitch in the 4wd Modified class, as JR powered his way to a terrific win from 5th on the grid by minimizing his mistakes. With smooth style and consistent driving, AE's Ryan Eckert moved up from 4th to finish 2nd and AE/JConcepts' Lee Sester rounded out the podium in 3rd.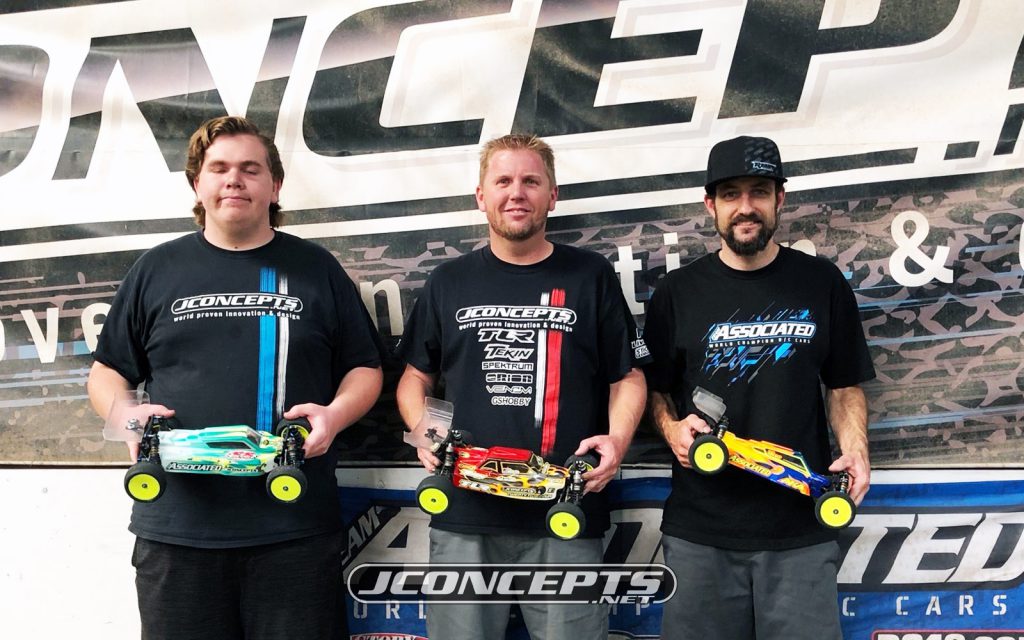 1st place – JR Mitch
2nd place – Ryan Eckert
3rd place – Lee Setser
2wd Modified
Taking his first 2wd Modified Super Cup win, AE/JConcepts' Jackson Brunson delivered one heck of a race and finished ahead of the field from 4th on the grid. AE/JConcepts' teammate, Lee Setser, showcased some serious speed to finish 2nd. Finding the last spot on the podium, TLR/JConcepts' JR Mitch had an exciting back and forth battle with Setser for 2nd, but come away with 3rd overall.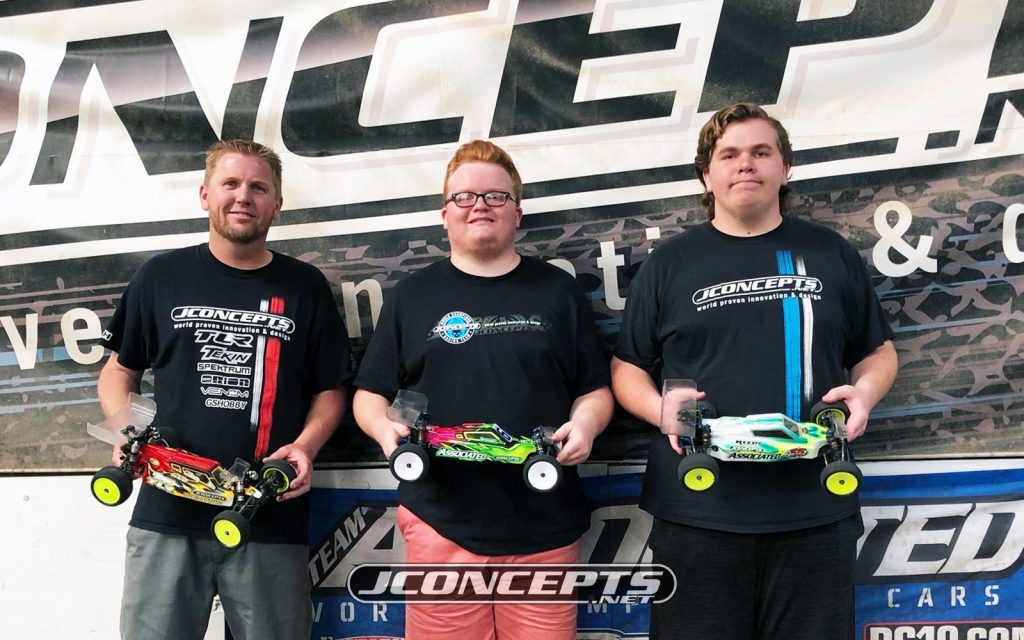 1st place – Jackson Brunson
2nd place – Lee Setser
3rd place – JR Mitch