The 2012 South Florida Short Course Nationals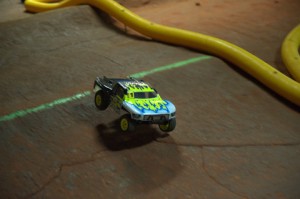 Event: 2012 South Florida Short Course Nationals
Date: October 6-7, 2012
Track: Bashers RC Raceway
Race Reporter: Felix Law
The Short Course Nationals hosted by Bashers RC Raceway in Palm Beach Gardens Florida was once again a successful event. Race director Mike Applegate & track owner Brian Buckley kept to the organized race schedule, with 3 rounds of qualifying they were able to finish on time. This 2 day event gave all participants a chance to dial in their setup. With 6 hours of open practices on Saturday, many drivers were able to get their moneys worth. The race was ran with a Bump up triple A main format. On Sunday, they were able to give all racers another chance to be in the final with the Bump up. By also adding a Stadium truck class, most racers weren't bored with the wait time with only running short course in this event.

In Stock Short Course, Riker Gatenby took the TQ spot running his JConcepts equip SC10 FT. 2nd place & 3rd were a close battle, Donvan Hughes was able stay ahead of David McElvy with just 1.4 seconds. In the A1 final, Donvan & David's battle continued while Riker was out of the battle due to a mistake from the beginning. Donvan was able to stay ahead of David with an intense battle separated by only .3 seconds. Donvan took the 1st Amain battle. But for the 2nd & 3rd Amain, Riker Learned from his mistake & stayed ahead of the pack to win both A mains. In the end, the final result is Riker Gatenby 1st , Donvan Hughes 2nd & David McElvy 3rd.
In Stock Stadium Truck, The battle was between Kyosho/JConcpets Driver Austin Venezia & Kyosho/MIP Driver Jonathan Paulk. Both driver were fast in qualifying, but Jonathan was able to take the TQ with the only 21 laps in this class. In the A Main, Jonathan took advantage of the TQ spot & gapped 1st without any challenge. But in the the 2nd & 3rd Amain, Austin's Dad made a couple changes to the truck and Austin was untouchable. Jonathan, only 1sec behind Austin in the 2nd final but the 3rd final, he was half a lap behind Austin. In the end, the youngster come out on top with JConcepts. Final Result is Austin Venezia 1st, Jonathan Paulk 2nd, Devin Worthington 3rd
In Mod Short Course, It was Team Kyosho's weekend. Three drivers from kyosho: Jader Lopez, Mike Applegate & Zack Genova were on fire. But TLR wasn't weak either, Factory driver JR Mitch, Chris Viesins & Glen Worthington. It was a Kyosho vs. TLR, epic battle during qualifiers. With the Home field advantage, Jader Lopez held onto TQ every round in Qualifying. Jader was able stay ahead of the battle in qualifying by 4 seconds away from the rest of the field. Final Results: Jader Lopez 1st, Zack Genova 2nd, Mike Applegate 3rd.
In Mod Truck, it was a battle between Zack Genova and Jader Lopez. In qualifying, Zack & Jader had an intense race for the top spot, separated by just .3 seconds. Zack Genova took the TQ spot. Mike Applegate's "A Game" hasn't stopped in Mod Short Course, He was able qualify 3rd in Mod Truck too. In the 1st A main, Mike was on fire with a perfect run, he was able to put 1 lap ahead of 2nd place. In the 2nd and 3rd A main, Zack Genova took charge to win both races. Jader Lopez was close behind, but wasn't able to match Zack's Consistence. The owner of Basher was able to make a impressive run finishing 3rd in both Amains. Final Result: Zack Genova 1st, Jader Lopez 2nd, Brian Buckley 3rd.
In Mod 4×4 Short Course, it is one of the most intense classes of the weekend. With everyone chasing after the track record & the only class that will have a chance to be in the consistence 12secs lap times. TLR driver JR Mitch & Chris Viesins were the drivers to watch out for. JR Mitch was able to set some quick times with his new TLR Ten SCTE. But, JConcepts driver Felix Law had a change in chassis for the weekend. Felix wasn't able to use his Traxxas 4×4, he had to bring out his old TLR SCTE for this event. He was able to match JR mitch's lap times and able to set the new track record of 12.3 seconds. Even with this lap time, Felix wasn't able to match JR mitch's overall time. 23 laps 5:03.6, Felix missed the TQ by 1.2 seconds. Chris Viesins was able to qualify 3rd with consistent 23 laps pace as well. In the 4×4 A main, JR Mitch was not able to attend Sunday's mains but the TLR/ JConcepts team was still on top at this event. In the 1st A main, battles were intense between Chris Viesins & Felix Law. Felix was leading the main, but due to traffic, Chris Viesins took over the lead. With 1 min to go of the 1st A main, Chris got into a traffic problem & lost the Lead to Felix. Felix was able take 1st while chris finish 2nd. In the 2nd A Main, Felix once again lead the race, but this time, the challenge was by RC hobbies' owner Sean Kersten. His Durango ride was on fire & able to take the lead from Felix, but Felix once again able to catch up & battle his way to take the win. In the 3rd A main, Felix Law never looked back & able to set a better time than TQ. With 1 lap over 2nd Sean Kersten & Jona Lazar. Final Result: Felix Law 1st, Sean Kersten 2nd, Chris Viesins 3rd.
We want to thank Brian Buckley for a great track and facility and the entire Bashers track crew. Also thanks goes out to Mike Applegate for another smoothly run program.
JConcepts Products Used:
Felix Law:
3352- Hazard Wheels
3049-01 Pressure Points
0222 Hi Flow SCT Body
Chris Viesin/ JR Mitch:
3352 Hazard Wheels
3044-02 Bar Codes SC Tires
3061-02 3DS SC Tires
0222 Hi Flow SCT Body
Austin Venezia:
0235 Finnisher body
3062-01 Pressure Points
0243 F250 SCT Body
Photos Courtesy Of Jason Venezia