The 2011 Southern Nationals Is Fast Approaching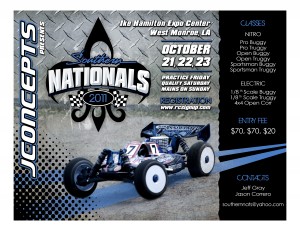 The 2011 Southern Nationals is fast approaching. Race date is October 21-23, 2011
The 2nd annual event will take place in one of the most amazing indoor facilities ever used for an R/C event at the Ike Hamilton Expo Center in West Monroe, LA. A newly built race track will be constructed especially for the annual event. The facility is equipped with 150 full service RV hookups, pit stalls with lockable gate, hotel on site as well as a full row of restaurants within one-mile of facility.

The Southern Nationals strives to be one of the more spectacular events in the world attaching racers from across the United States. For the 2nd annual event, the competition should be more fierce than ever, in what has turned out to be the race to be at in the Mid-South. The 2010 event held at this exact location attracted the largest turnout ever for an event in the area making it a desirable location. West Monroe, Louisiana is conveniently split in directions between 2 airports. To the West, Shreveport Airport in Louisiana and to the East, Jackson Mississippi Airport. Make reservations now for the 2011 Southern Nationals.
Racers will receive a JConcepts t-shirt with their first entry and have access to a select amount of top-shelf prizes throughout the weekend courtesy of event sponsors.
2011 Southern Nationals – location address
The Ike Hamilton Expo Center
501 Mane Street
West Monroe, Louisiana
Host Hotels –
Shoneys Inn
310 Thomas Road West Monroe, LA 71291
1-318-325-5780
$52 per night for Double beds
No king beds available 2 miles from arena.
Quality Inn & Suites
503 Constitution Drive
West Monroe, LA
1-318-387-2711
$60 per night for King & Double beds 1 mile from arena.