Team Update – September, Week 4
We can't believe the year is going by so fast as we've already jumped through summer and now heading into fall. 2018 has already been a monumental racing season for JConcepts and as a team, together, have accomplished more than we've ever imagined. From coast to coast and from one country to the next, JConcepts is represented by some of the best people in the industry on all levels including the local racing scene to the pro ranks. Thanks to the team for all of the heart, hard work, and dedication and let's keep it up as we head towards the indoor racing season together!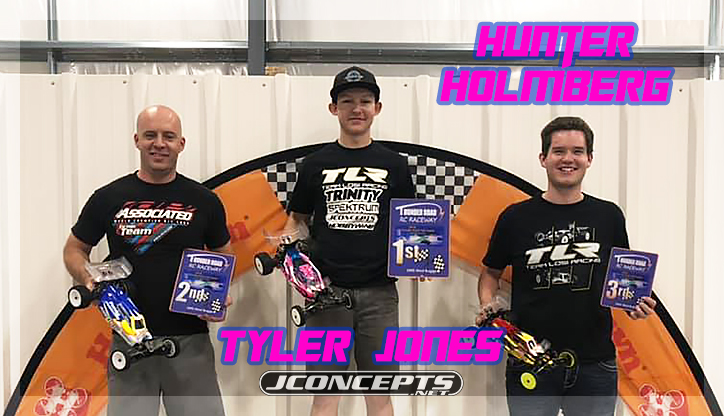 Up on the podium at center and to the right are two really talented JConcepts drivers, better known as Tyler Jones and Hunter Holmberg. These guys really bring it with their speed and dedication and it's great to see these two TLR and JConcepts teammates on the box at any race. Both Tyler and Hunter rocked the Swagger and Pin Downs at the Thunder Road Fall Classic last weekend where Tyler TQ and won and Hunter took home 3rd! C'mon homeslice!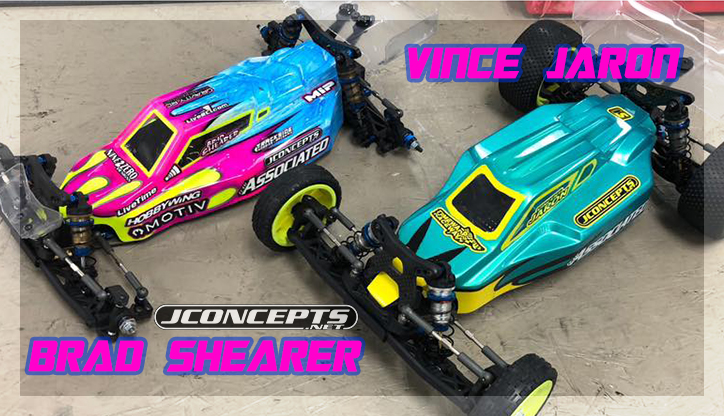 Thanks to Vince Jaron and Brad Shearer for representing JConcepts at the Brian Koch Memorial race held at Windy City R/C. The tire of choice for the carpet by both drivers were Swaggers and Pin Downs and had great success. Both Brad and Vince went 1-2 during the memorial race and Windy City R/C was able to raise over $3,000 to benefit the Koch family. Great race and a great cause!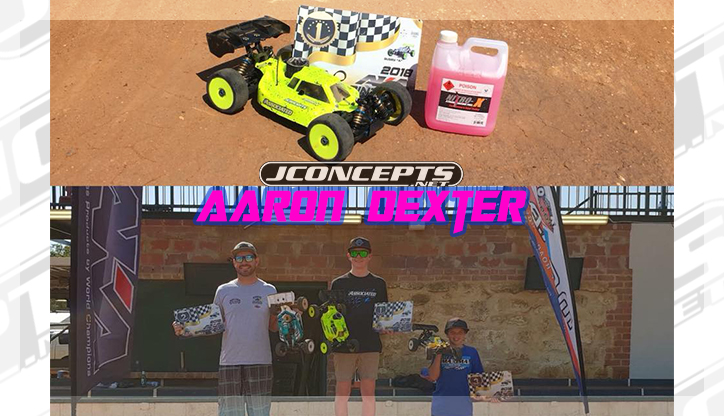 Our Australian star is really starting to make headlines with his recent results. Taking a remarkable TQ and win during the 60 minute A-final, Aaron Dexter took it down at the AKA Sprint Cup held at MORBC in Perth, Australia. Previously showcasing the JConcepts S3 body, Aaron has been liking the Silencer performance and it shows. Opting to run the harder R2 compound in the main and blue compound in qualifying, Aaron was able to outmatch the competition and took home the win. Right on Aaron, right on.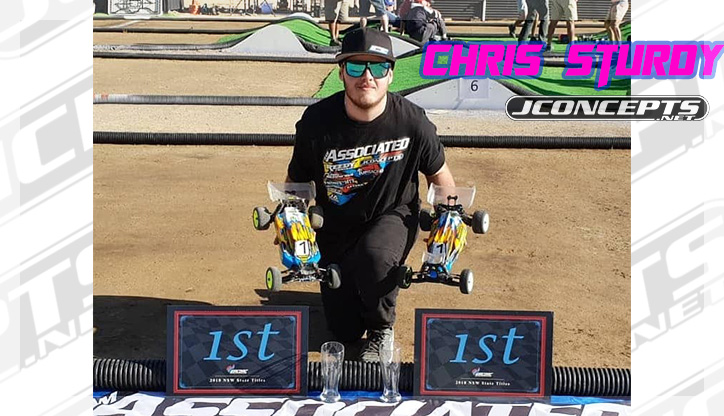 It's always awesome hearing from our other Australian sensation, Christopher Sturdy, who's always putting in full effort to get the best results and the results are coming in! Here's what Chris had to say about his adventures last week, "Over the weekend we traveled to the small town of Glen Innes to compete at the New South Wales Titles. The track was quite difficult due to the way the jumps were built so you really had to take it easy and not attack the track too much. This was a controlled tire event which was Suburb M3s with Open cell foams and Transistors M3 open cell for 4wd front. As the track was coated in molasses tires only lasted 4 minutes and the soft cell foams offered no support making setups tricky. For the 2wd front, we opted straight away for Dirt-Webs in blue with Dirt-Tech foams and never looked back with em. For aerodynamics I ran the P2 body on the 2wd, really loving this body, steering is great and the fin really allows you to keep the buggy stable over jumps and through corners. Lastly, my setup is topped off with Aero rear wing 4mm forward and shock tower mounted front wing was the best combo. For 4wd I ran the F2 body with an Aero rear wing 6mm forward and the front scoop on the nose. 6 straight titles for the year now heading into Nationals in just over 2 weeks. Thanks to Jconcepts for all the support and the sweet products that perform great and look the best by far." Awesome job Chris and thanks for everything you do!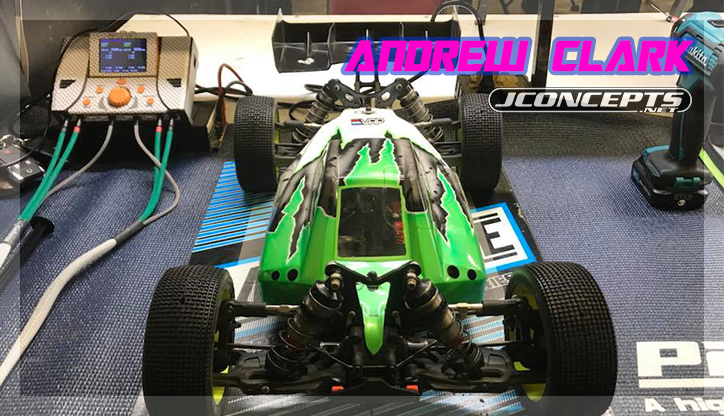 Andrew Clark sent in a quick race report and this is how his weekend of racing went from his point of view, "Last minute decision to race the final round of Indy RC World's Sunday Sportsman Series. Ran Open Ebuggy and qualified 2nd and finished 1st after a good battle with AE's Quincy Hughes. The track was kept watered and blue Stalkers got better and better as the day went on, finally running the fastest laps of the day in the A-main with the same set of tires I ran all throughout qualifying!" That's one serious result on a serious set of tires! Great job and thanks, Andrew!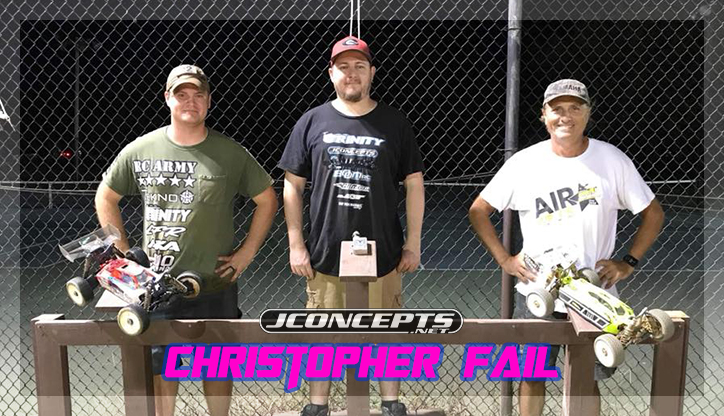 Sometimes it's just your day as Christopher Fail took a borrowed car for last weekend's Saturday club race and went on to qualify 2nd and win the main by a lap. Using JConcepts blue Reflex tires and green Triple Dees for the colder evening temps, Chris was for the entire Ebuggy final. Terrific job Chris!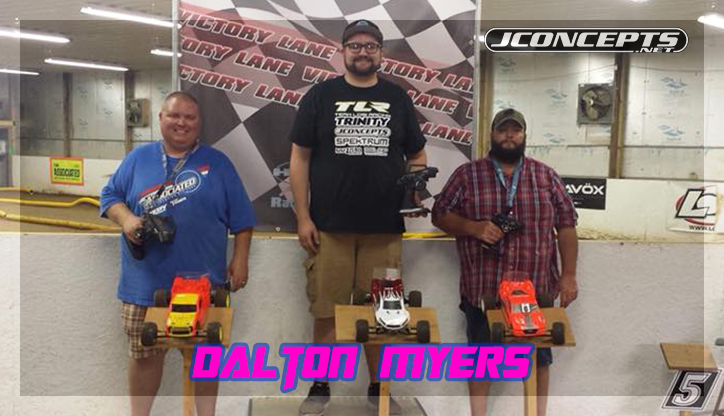 Having a good, regular RC schedule can help out a lot, even if it's just practice. Last week, Dalton practiced at the Factory to keep the skills sharp, but the weekend before Dalton raced at PnT Hobbies' End of Summer Series Race and took TQ and won the 17.5 Stadium Truck class. Not only that, he went on and finished 2nd in 17.5 2wd buggy. Not a bad race weekend at all!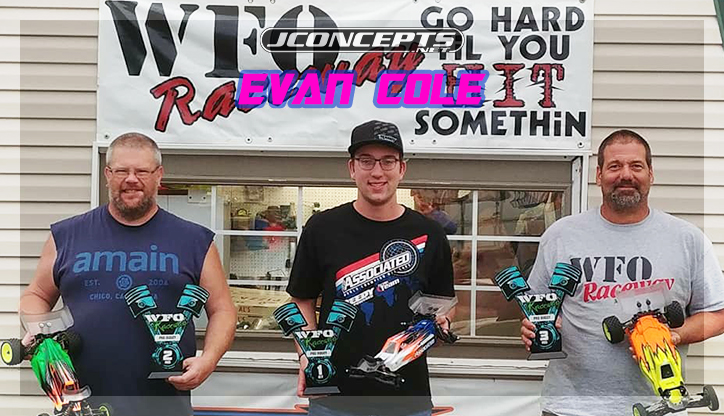 Yet another great finish for Evan Cole as he closes out the Piston Cup Championship Series on top and took the overall in the 2wd division. Evan placed 2nd in the final race and that was enough to secure him the overall cup win. Evan did it with the F2 body and S-Type rear wing and lower Aero front wing to provide him the downforce and car feel to get the job done.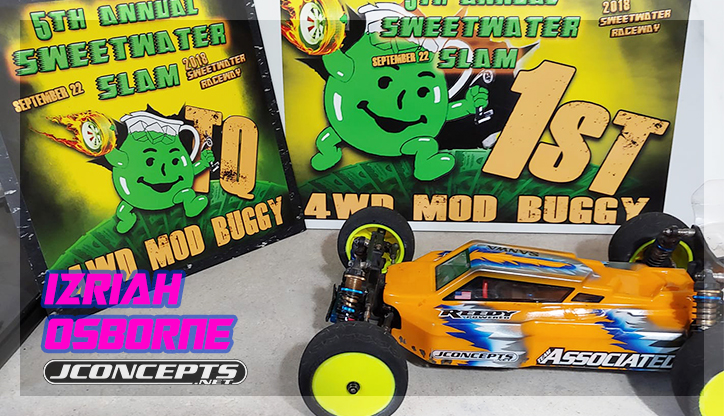 Having recently joined the team for the rest of 2018, Tennesse's Izriah Osborne attended the 5th Annual Sweetwater Slam and astonishingly, hasn't really needed any time to get adjusted to the JConcepts tire line. Izriah grabbed the TQ and took the win on gold compound Octagons. Gotta say, the F2 body and Aero Wing package is looking good on Izriah's car!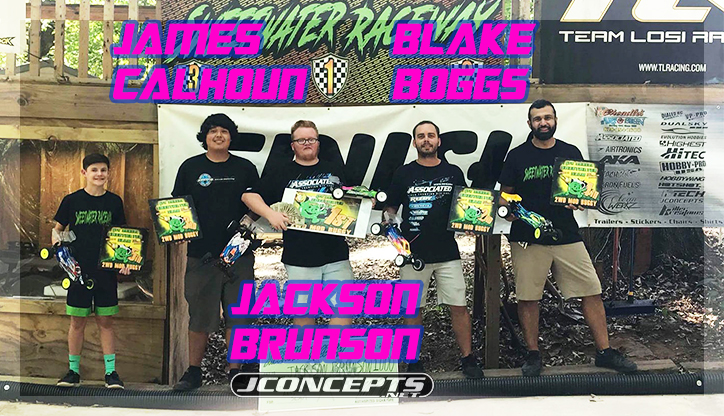 It was a great race at the 5th Annual Sweetwater Slam located in Georgia as a few of the JConcepts team drivers were dicing it up for the $1,000 2wd Modified prize money. AE/JConcepts' Jackson Brunson was able to get it down taking home the big check with Blake Boggs and James Calhoun also rounding out the podium going 2nd and 3rd. Thanks to these guys for repping JConcepts at the Sweetwater Slam and to Jackson Brunson on his $$$ win!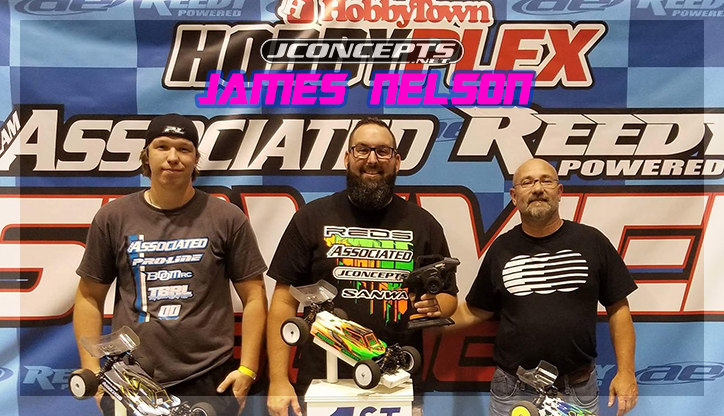 Congrats to JConcepts James Nelson on his awesome 13.5 4wd win at the Team Associated/Reedy Summer Series hosted by Hobbyplex. James delivered a clutch performance during the 8 minute main and finished just 3.8 seconds ahead of 2nd place, Bradley Peterson. It's good to see new faces to our Team Updates and thanks to James for sending in the report.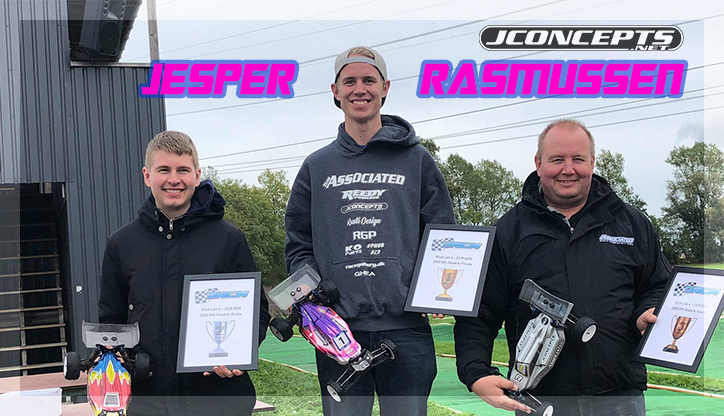 JConcepts' Jesper Rasmussen is really starting to come into his own. With great finishes at the Euros and EOS as of late, Jesper is on the cusp of greatness. Partaking in his local track's club race, Jesper earned the TQ and win, but what's most impressive is that he pulled double duty as official timekeeper as well. Which meant, keeping his cars dialed on the changing conditions of dry and wet weather turf racing took a lot of work!
Kendall Welch and Kyle Holmberg both attended the MNRC Round 6 Points Series race in Foley, Minnesota on Sept. 14th – 16th where O2 Reflexes were the tire of choice in Ebuggy as Kendall brought home the win in the class with Kyle finishing 3rd. In the 1/8th Nitro Buggy class, Kendall had a solid showing to finish 2nd on the day with O2 Diamond Bars for the 30-minute final. Great job by or Midwest crew!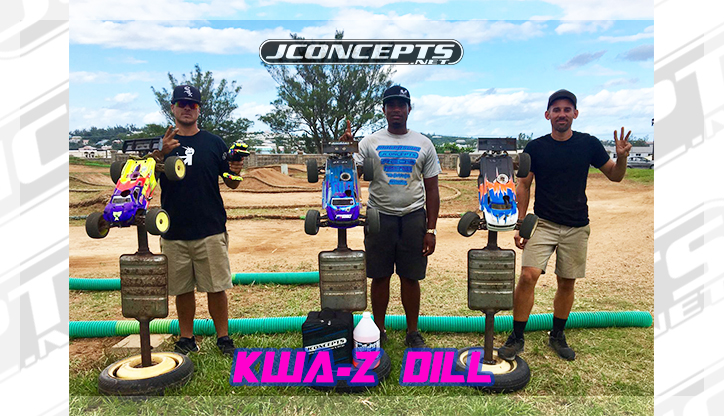 Bermuda's fastest is looking quick these days as Kwa-z Dill attended the BNRA Dust Them-Off Race, which was Kwa-z's first race of 2018/2019. In the Pro Nitro Truggy class, it was smooth sailing on blue Triple Dees with Kwa-z getting the win without issues. However, some mechanical gremlins would get the best of our rising Bermuda star that required a quick fix and a strong finish to grab 3rd.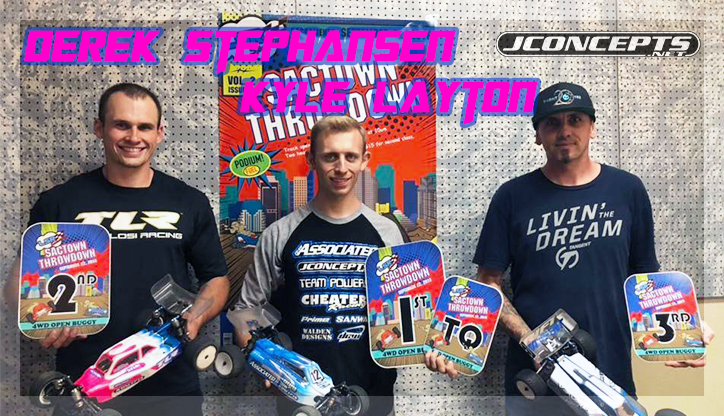 What a great weekend for the JConcepts NorCal crew as Kyle Layton, Derek Stephansen, and Nathan Bernal were all able to race the Sactown Throwdown hosted by LSR Speedway. Bernal grabbed the win in 2wd Modified with Kyle 2nd and Derek 3rd. In 4wd it was Kyle taking victory with Derek finishing 2nd and in Modified Stadium truck, Derek was able to steal the show and grabbed 1st. Derek noted that the tire of choice in buggy was Ellipse rears with Dirt Web fronts and Dirt Webs in stadium truck.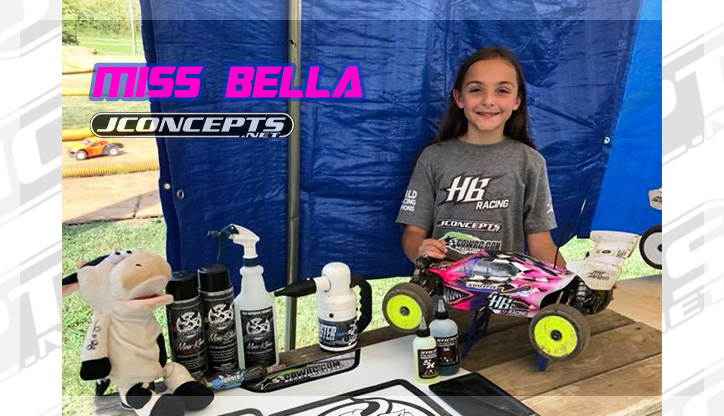 Always delighted to hear and follow along with Miss Bella's racing results as this was what she had to say about her awesome Etruggy race from 2 weekends ago, "I raced my etruggy this race as well and it actually felt great! I was very fast with it. It was handling a little too loose so I tried blue sticky kicks on my green triple d tires and that gave me the right amount of grip! I qualified 6th and finished in 4th. I really wanted a place on that podium but 1st-3rd were ballistic fast and almost a lap ahead of me. Once I moved into the 4th place position I maintained that position the remainder of the race. I drove clean and fast and was very proud of myself. The best part of all…..



I beat my Dad in a race for the very first time!!" Thanks Miss Bella and can't wait to hear from you at your next race!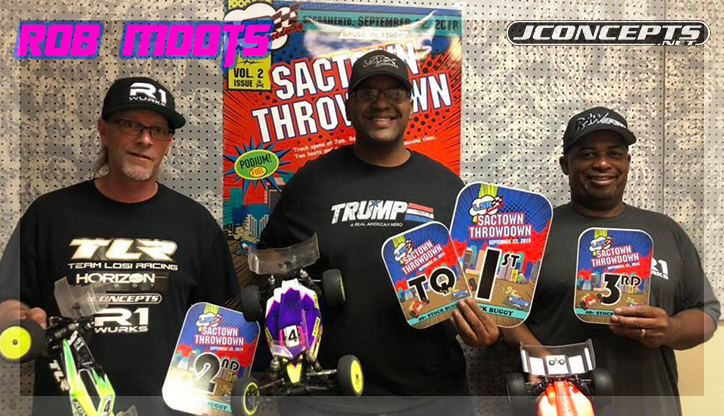 Sometimes, you have to keep your head in it and try to take the win from bumping from the B! Last weekend, Rob Moots had to bump up from the B main to go for the win in Expert 17.5 2wd Buggy. Not a bad finish for Rob as he finished 4th overall just missing the podium. All is good as Rob won in the 40+ 2wd class at the SacTown Throwdown.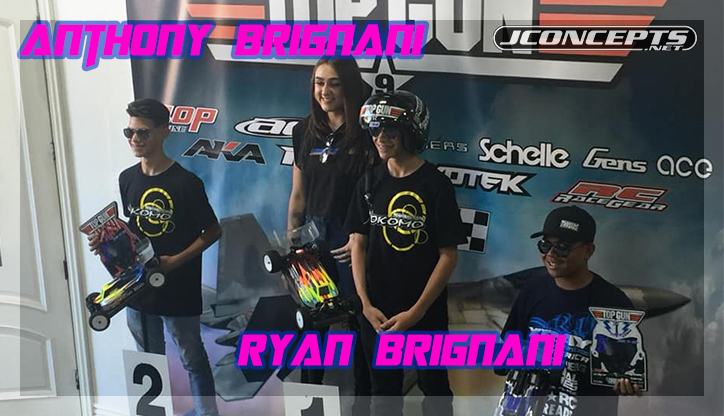 Ryan and Anthony Brignani both attended the Nor-Cal Hobbies 2018 Top Gun off-road race where both of the Brignani's did awesome and finished out the 13.5 4wd class going 1-2 with Ryan taking the win for JConcepts. These two have come a long way since joining the team and can't wait to see what the future has in store for these two fast cats.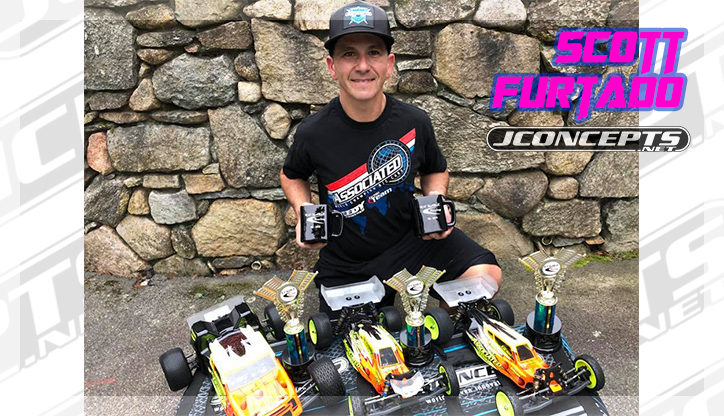 Always fast and always dangerous, Scott Furtado put his skills to the test last weekend as he grabbed the TQ and win in both 17.5 2wd Buggy and in the 13.5 Stadium Truck class using Swaggers and Pin Downs to get him on the top step. Scott also finished up 2nd in 2wd Modified at the 2nd Annual "The One" race at RC Karcz in Providence, RI, closing out a one killer wekeend of racing.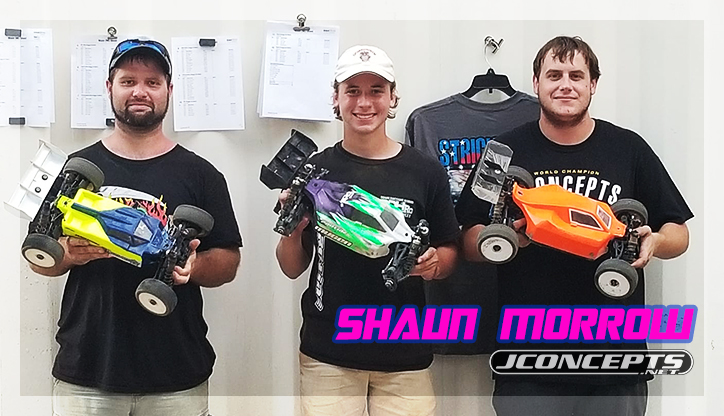 Not a bad result for your one of his first Ebuggy races as JConcepts's driver and employee, Shaun Morrow, got in some Ebuggy action at the Force Series in Daytona Beach, Florida. Shaun was sporting the JConcepts Hybrid wing and S3 body on his ride to bring home 2nd place. Great work buddy!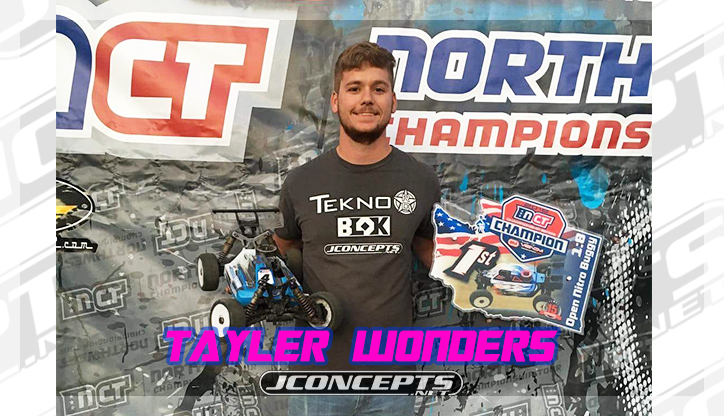 Winning a point series is never easy as it takes commitment and consistency and not just speed. JConcepts' Tayler Wonders was able to finish as the overall series champion in Open Nitro Buggy class after 6 awesome rounds of the NCT or Northwest Championship Tour in 2018. Congrats to Tayler on a job well-done and on his deserving win!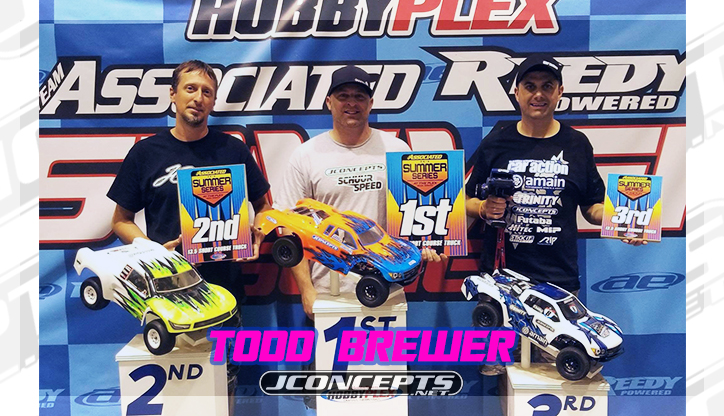 It was a fantastic race for team driver, Todd Brewer, at the 2018 Team Associated/Reedy Summer Series at Hobbyplex as Todd took the TQ and win in the 13.5 SCT class at the final round. This ultimately gave Todd enough points to be crowned the overall series champion in 13.5 SCT. Awesome and soon it will be, defending class champion.