Team Thursday – September Wk4
It was an action-packed week last week for the JConcepts race team with a lot of great results from all over the globe. These guys and gals really know how to have a great time enjoying their racing experiences while getting some awesome results. As we approach the fall and winter race season, drivers are starting to wrap up their outdoor racing and will slowly start transitioning to the indoor tracks. But for now, bring on the 1/8th scales and the beautiful weather!!
Many of our team drivers were able to attend the East Coast Race Against Cancer at LCRC and the talented and fast Adam Johnson was one of them. Not only was Adam able to make one of the mains, he made both mains and finished 4th in Ebuggy and 7th in Nitro! Great job Adam and thanks for representing JConcepts at a race with a great cause!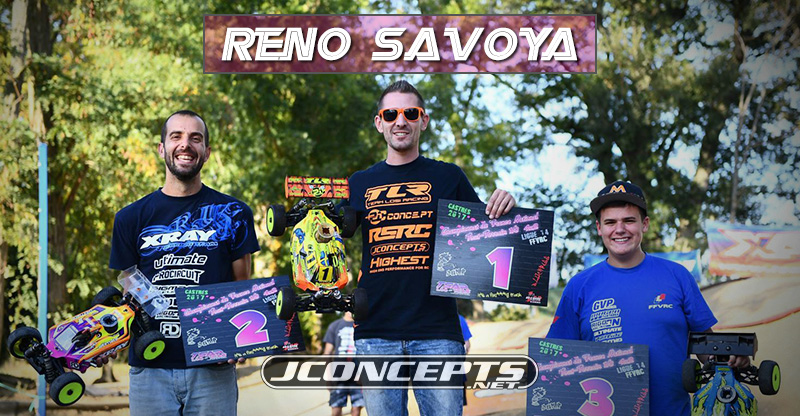 Adding to his long list of amazing accomplishments, last week Reno Savoya tacked on another French National 1/8th scale Nitro Buggy title to that list. With a perfect weekend, Reno was able to take the TQ and overall on JConcepts' most successful tire pattern, the Reflex. For the longer main event, Reno elected to go with JConcepts' long wear R2 compound to provide him with the grip needed to perform at the top level. Congratulations Reno and let's keep the momentum going!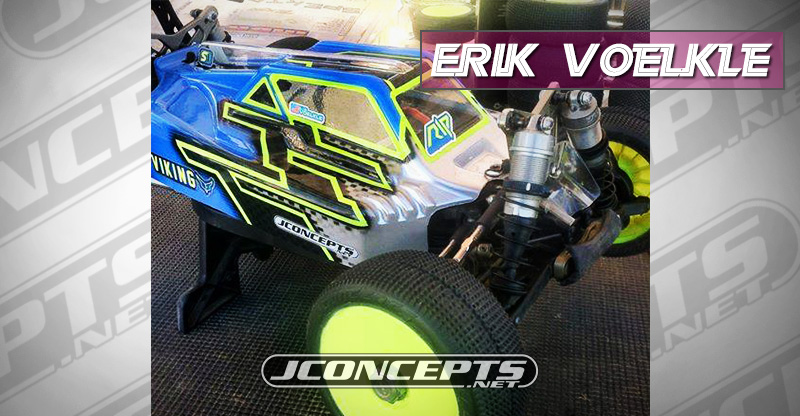 Erik Voelkle was another one of our racers that attended the East Coast Race Against Cancer hosted by LCRC and had a blast. Erik was able to put in a solid run just missing the podium in 4wd SCT finishing 4th overall while challenging his skills in the Expert Ebuggy class. Erik's TLR package was outfitted with the new TLR 8ight-E 4.0 body and front scoop and wow…. it looks awesome.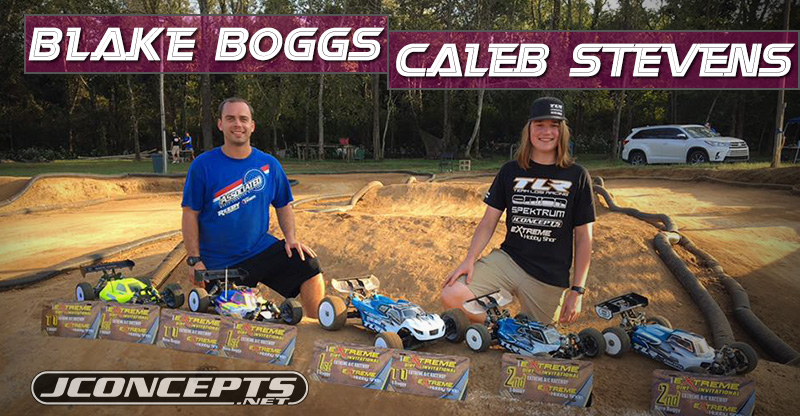 JConcepts' Blake Boggs and Caleb Stevens were the all-stars of the Extreme RC's Extreme Dirt Invitational race where the two drivers took home a lot of hardware. Blake Boggs was able to take TQ and wins in both Nitro Buggy and Ebuggy for a clean sweep of the buggy classes. Caleb took home 2nd in Nitro Buggy and Ebuggy but went on to take the win in Nitro Truggy making it an amazing weekend for the speedy youngster from Tennessee.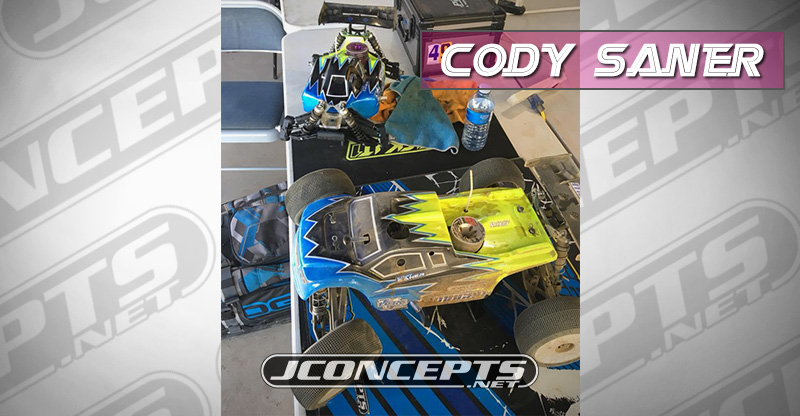 Pennsylvania's Cody Saner was also able to race the East Coast Race Against Cancer hosted by LCRC and had a great time for an even better cause. Thanks to Cody and to everyone who raced the ECRAC race in efforts to raise money to fight cancer. Cody was able to make the main Nitro Truggy and finish 8th overall.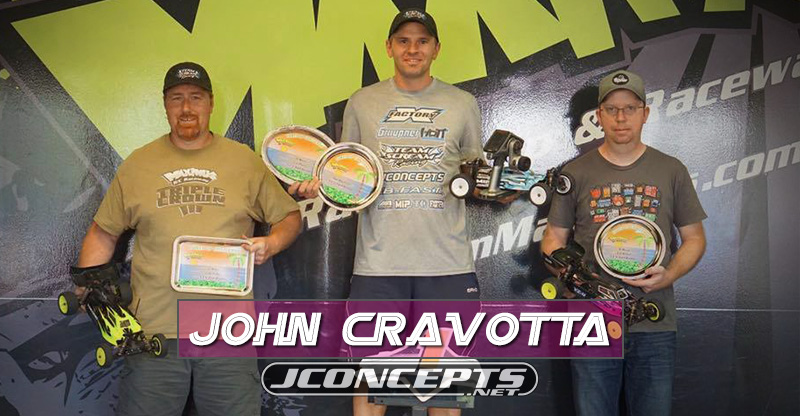 John Cravotta has had a lot of success over the years and shows no sign of slowing down. As the owner of Team Scream, John is busy on all fronts and great to see John at the track racing and doing so well. Attending the Turfs Up Challenge at Maximus RC, John was able to TQ and win 13.5 4wd buggy and finish 3rd in modified buggy class using the JConcepts Swaggers and Pin Downs.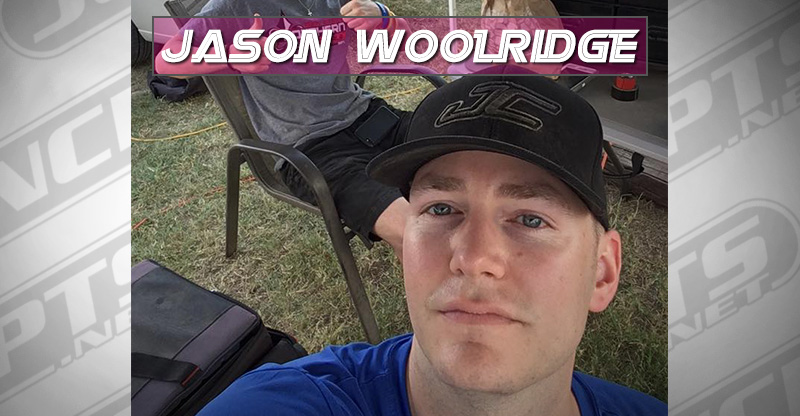 Sometimes you just have electronic gremlins that really put a downer on your racing and last weekend, Jason Woolridge wasn't able to solve his gremlin problems, but never gave up and with the help of some great friends was back on the track. Although the mains didn't go his way, Jason was able to help and cheer on his friends!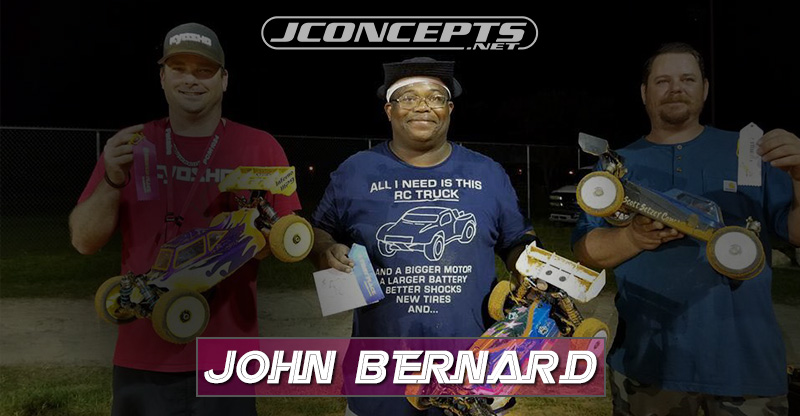 John Bernard had an unstoppable weekend as he was able to get some track time at Newberry RC Park where he took the TQ and win in 4wd SCT, Ebuggy, and Etruggy! His t-shirt says it all and we're glad to see John going fast on the track! His winning combination of tires choices were Sub Cultures on SC and Ebuggy while going with Chasers on the truggy. Excellent!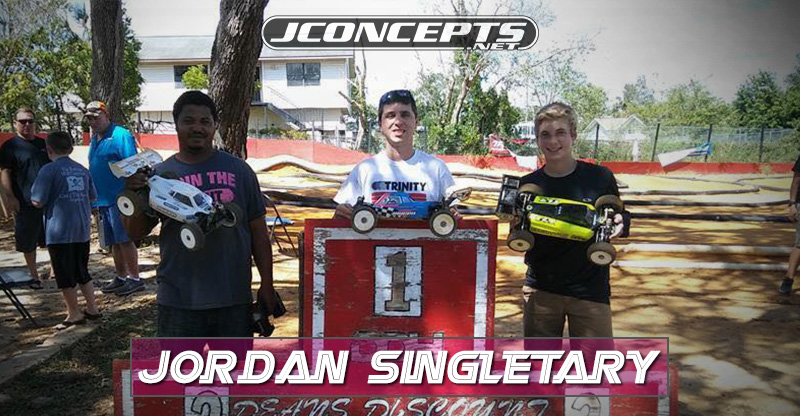 Styled with the World Championship winning JConcepts Silencer body matched with JConcepts' most popular 1/8th scale tire, the Reflex, Jordan Singletary was charging full speed at Dean's Discount Hobbies and Raceway. Jordan took 1st in Ebuggy showcasing his speed and consistency. Look for Jordan to take it to the next level coming this winter at a track near you!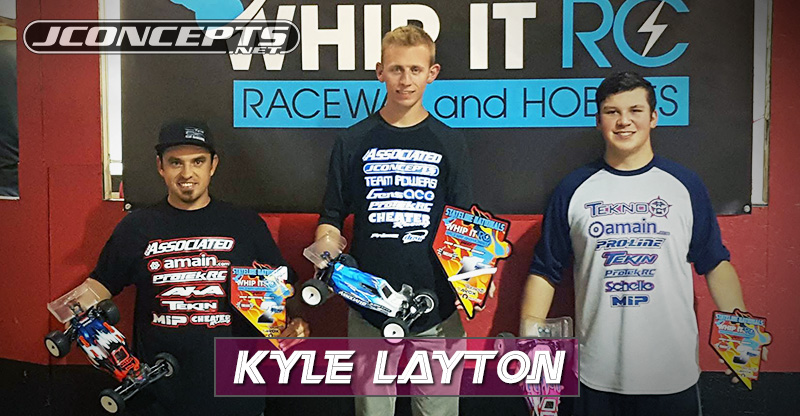 Always fast, always dangerous, Kyle Layton attended the Whip it RC, Stateline Nationals in Reno, NV and showed his tremendous speed. Kyle used the F2 bodies on his 2wd and 4wd along with a combination of Dirt Webs and Octagons to get the TQ and win in 2wd Modified and 2nd overall in 4wd Mod. Kyle is having an awesome year and his results are showing. Getting to that next level will be the hardest step of all, but Kyle is definitely ready!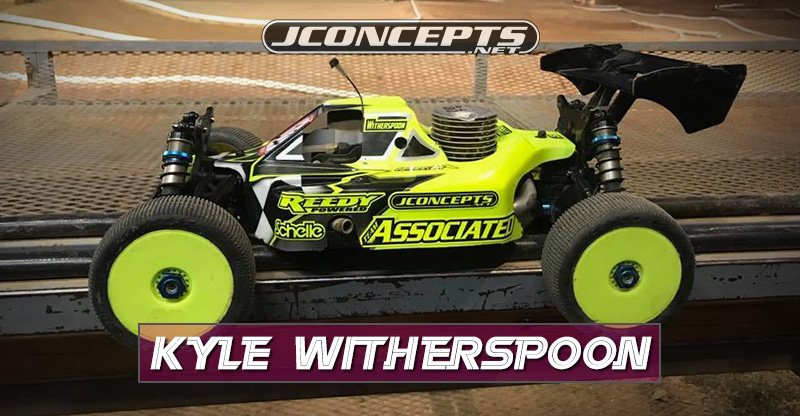 Although it isn't often, Kyle Witherspoon was able to get out and run some 1/8th scale nitro buggy. Accustomed to racing at Hobby Action, it is awesome to see Kyle pushing his limits whether its 1/10th or 1/8th. By finishing 5th in Nitro Buggy on blue Reflexes, that's considered a win! Great job Kyle.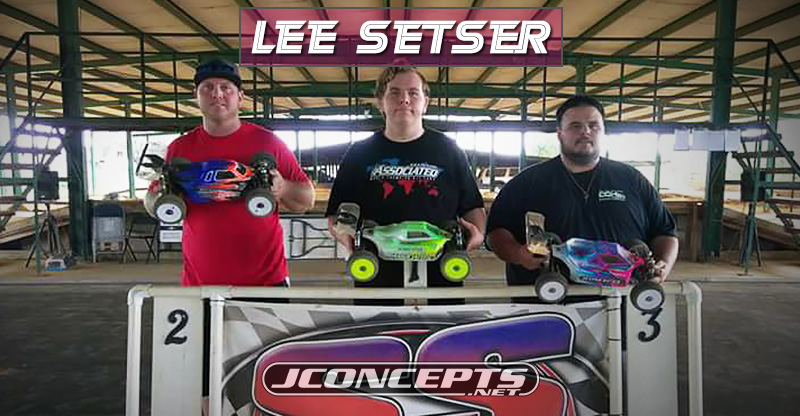 With his awesome performance at the Wicked Weekend a few weeks back, Lee Setser is still amped up for 1/8th scale. Using blue compound Lil Chasers, Bullet wheels, and Hybrid Wing, Lee set the pace in Ebuggy and went on to win the Amain at SS Raceway's club race.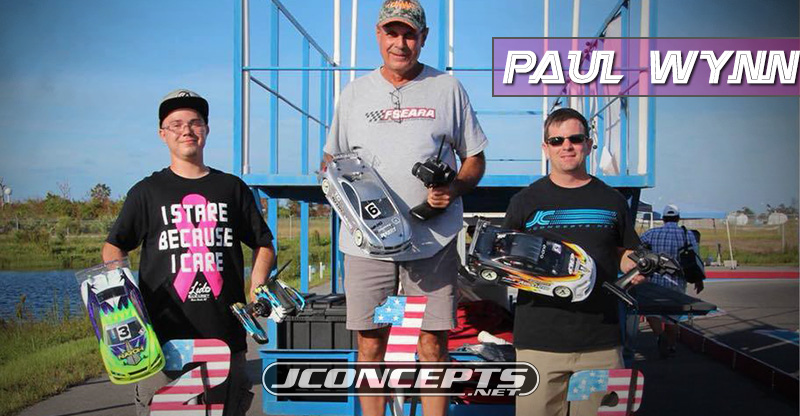 It's been 9 years since Paul Wynn raced onroad and last weekend, he was able to get in some onroad action and go full circle. Showcasing the new JConcepts A-One onroad body, Paul was able to qualify 5th overall in the Mod Touring class and finished 3rd on the box! It was a great debut for the new body and the return of onroad Paul! Don't call it a comeback!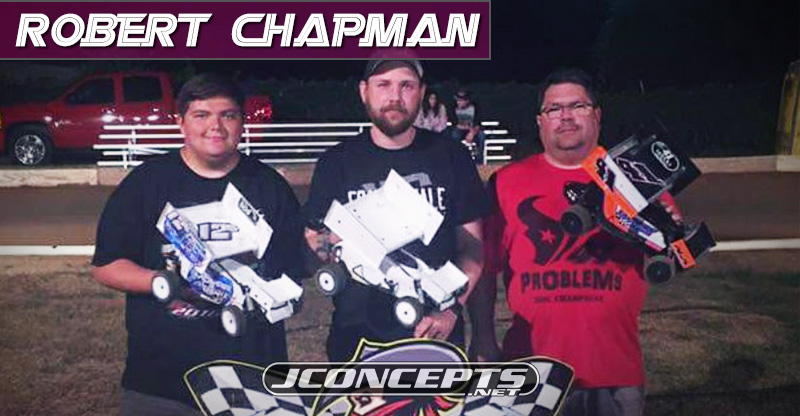 JConcepts supports all kinds of racing. Whether its 1/8th, 1/10th, nitro, electric, onroad, or oval… we love it all. Thanks to Robert Chapman for representing JConcepts at the oval track at Wild Bill's RC Raceway by taking 2nd in the Outlaw Sprint class. Robert's tire of choice was Hybrids on the rear and Dirt Webs up front!
Ryan Derenne was able to get in some track time at the Fall Kickoff Race at Dirt Heaven Hobby and Raceway where he was able to light it up in stadium truck with a TQ and win. Aiding him in his truck victory was gold Dirt Webs and the Hi-Flow body. Making the show in the highly contested 2wd modified class, Ryan would qualify 6th and finish a respectable 6th.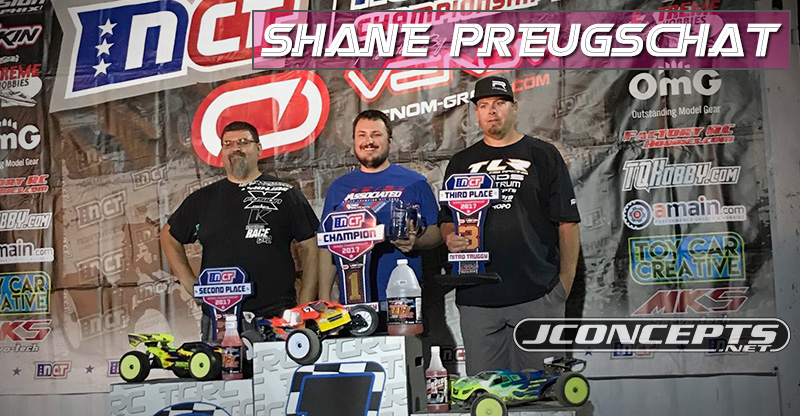 Getting news from all over the country is a big deal for us as it shows the amazing diversity of the JConcepts tires. Finishing off a wonderful outdoor season at the Northwest Championship Tour, JConcepts' Shane Preugschat was able to find himself 3rd overall in the point series in the Nitro Truggy class. Thanks to Shane for representing us at the NCT!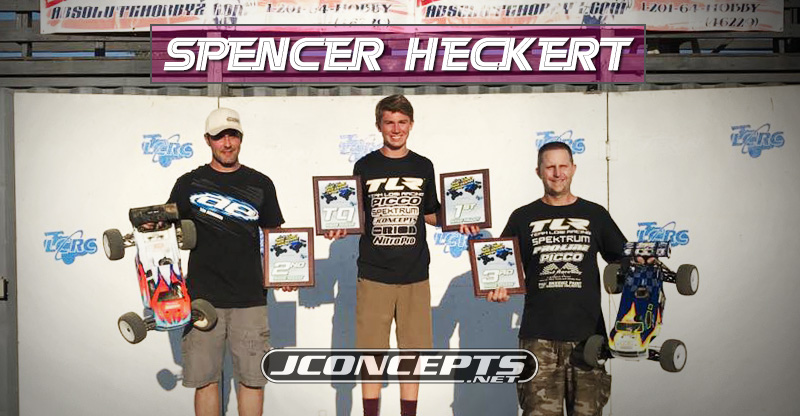 Making a name for himself in the nitro world is TLR/JConcepts' Spencer Heckert. With great results like this, Spencer is slowly working his way up the ladder while having a great time at the rack. Spencer was able to TQ and win the Nitro Truggy class at the East Coast Race Against Cancer battling very stiff competition. Adding to his fantastic weekend, Spencer also finished 2nd in the Nitro Buggy class right behind Bornhorst. Way to go Fluffy!!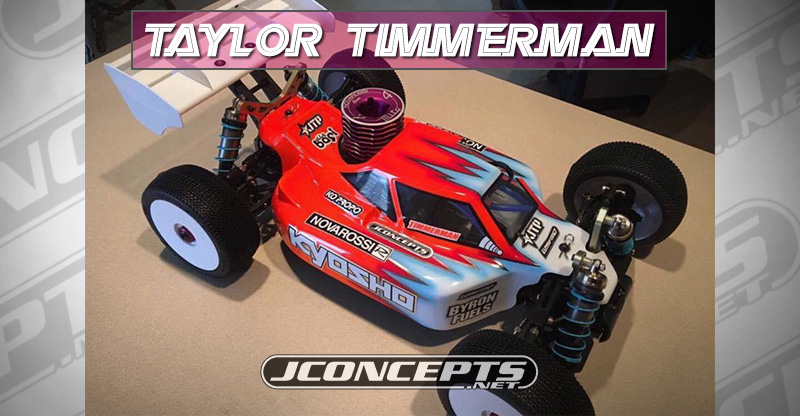 Sometimes you just have one of those dominating weekends and Taylor Timmerman had one of those at the 2017 Roast and Race at LRT Raceway in Waterloo, IA. Taking every round of qualifying in the Nitro Buggy class, Taylor was able to build a big lead over the field to take a well-deserved win on blue Triple Dees. For the main, Taylor went with the R2 Reflex tires and saw great success.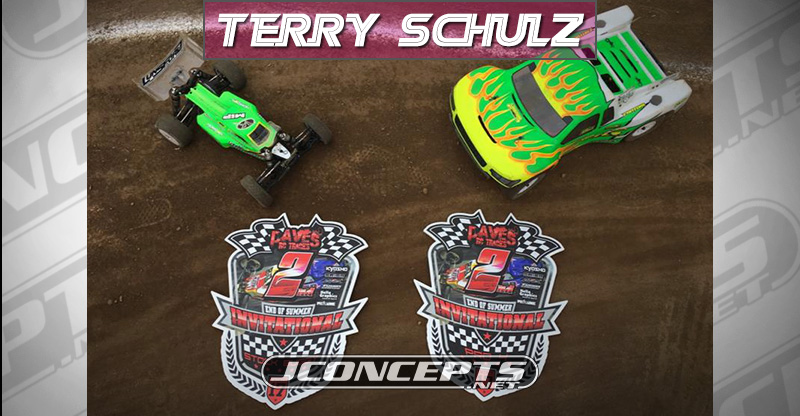 Northwest's Terry Schulz made a statement at the Northwest Invitational hosted by Dave's RC Tracks in Hubbard, Oregon. Terry finished 2nd on the podium both 17.5 Stock Buggy and Pro4 classes while also finishing in a respectable 11th overall in the 4wd Invitational. Nice work Terry Schulz!