Team Thursday's JConcepts' Team Update – April Week 4!
April was an extremely busy month of racing for the JConcepts race team and capping off an already terrific month, the team closed out on a high note with the most recorded entries of any week filled with amazing race results. It's just awesome to see these guys and gals so motivated and great to see them succeed on and off the track. Thanks to the best team in the RC industry for a killer, record setting April.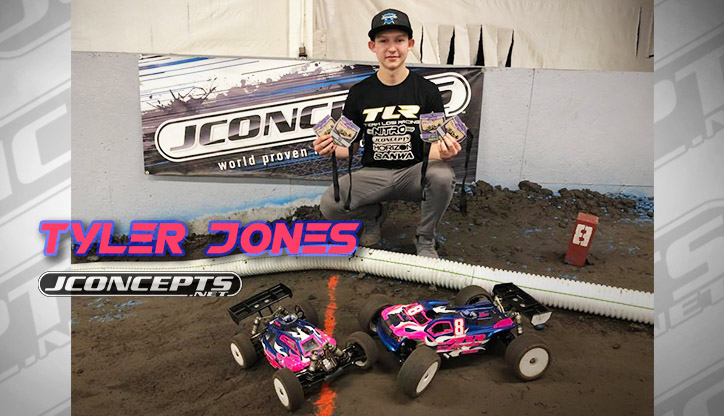 If you know Tyler Jones, then you know he's one of the nicest guys at the track. The bonus is that he's extremely fast and really knows how to drive at the limit. During Ohio RC Factory's FRL finals, Tyler went on to TQ and win both the Nitro Buggy and Truggy classes using green compound Reflexes and Rehabs. Giving Tyler the aero performance and styling he's looking for, Tyler runs the S2 and Finnisher bodies for his TLR rides.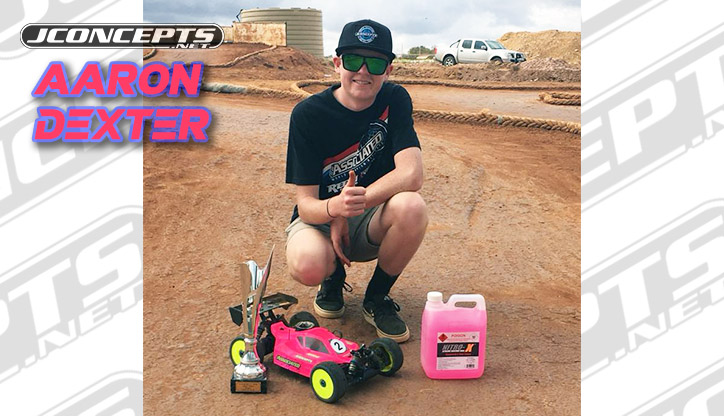 This was sent in by our Australian team driver, Aaron Dexter, "The West Australian State Championships were held last weekend in Geraldton, some 500km North of Perth. I would have to be on my A-game to get the better of reigning champ Josh Pain. The sun came out and the track groove came up for the 45 minute A-main, hard packed, blue groove, rutted and a bit bumpy. This was my chance to use the new R2 Stalker treads and they were awesome. I got away from P2 with Josh but we came together rounding the top left of the track, which put me back in the bunch a bit. I worked hard to get back through the field and had to settle for 2nd in the end. It was a super fun weekend and definitely pleased to come home in 2nd. Also, first time using the S3 body for my RC8B3.1, love it." Thanks for the awesome report Aaron and glad you loved the Stalkers and S3 body! Keep killing it!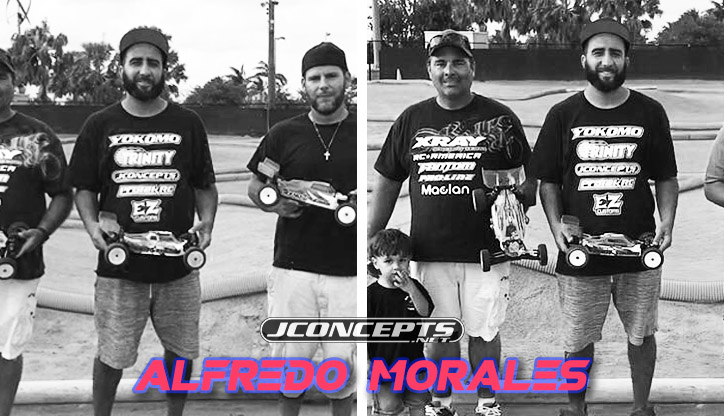 Hard working and dedicated, Alfredo Morales is really starting to come into his own at Mills Pond Speedway with a TQ and win in 4wd Open and followed up with a win in 2wd as well using green compound Dirt Webs on his 4wd and green Reflex tires on his 2wd. Both cars used the lightweight variants of the S1 and F2 to help get his performance where it needed to be to take double wins. Soooo nice!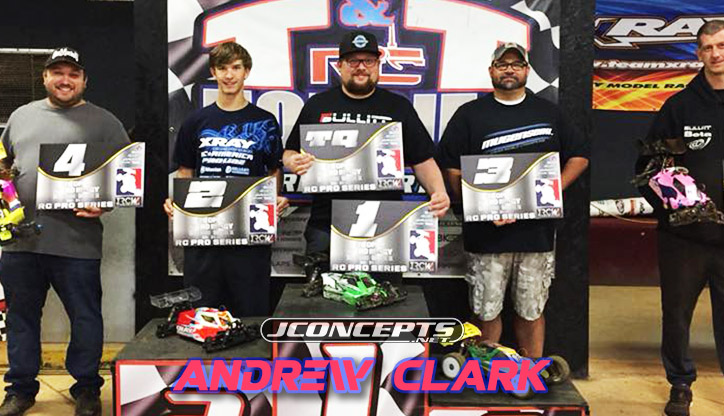 The feedback on the JConcepts Kosmos tires has been excellent. Used by Andrew Clark during round 1 of the RC Pro Series hosted by T&T Speedway in Shreveport, Louisiana, Andrew claimed the TQ spot and went on to win the Open Nitro Buggy class. Topping off a great weekend, Andrew also finished 2nd in the Open Ebuggy class as well! Great job Andrew and we're glad you love the Kosmos tires!
Pacific Northwest speedster, Austin Azure is starting to find his groove now having had some time on the JConcepts tires as Austin made the switch to JConcepts for 2018. Taking a well-deserved win at the NCT in Pasco, Washington, Austin absolutely killed it using green Rehab tires to claim his first win of the NCT race series. Congrats Austin, great work!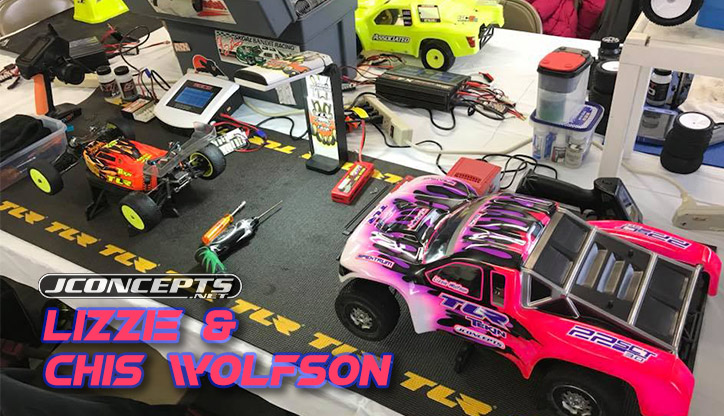 Last week, Chris Wolfson and his 6-year-old daughter Lizzie, did some club racing at The Raceway in Beaver. Chris was able to TQ 2wd Mod and Short Course, but had to leave before the mains as it was getting late for Lizzie. Sure, Chris could have potentially won some races that night, but family is most important and this is the true definition of team effort!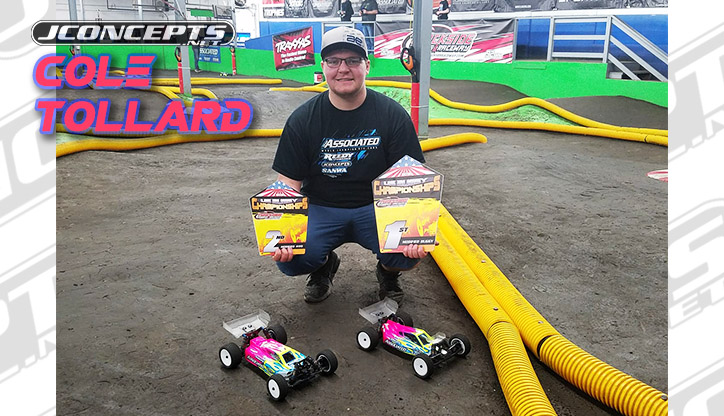 One of the fastest guys around, Cole Tollard was able to take the win in 2wd Modified at the US Buggy Champs hosted by Trackside Hobbies against some very talented drivers. It was an impressive win in 2wd followed up by an almost nearly impressive showing in 4wd Modified as Cole was able to bring home 2nd. Nice job buddy.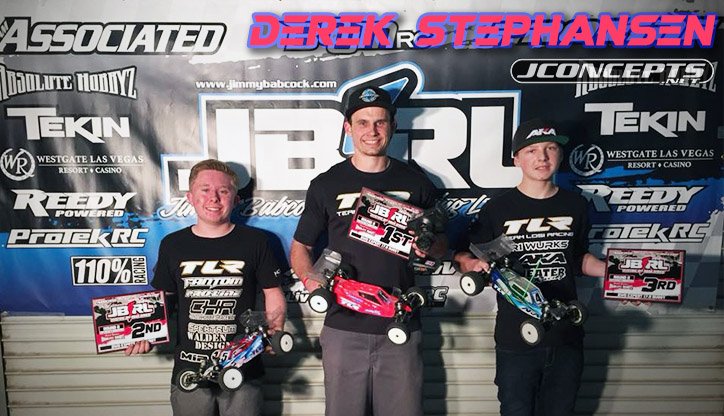 In preparations for the Stock Nationals at OCRC, Derek Stephansen is putting in the work to get himself as fast as he can for the biggest stock race in the world. Racing round 2 last weekend at Rainman Hobbies and Raceway, Derek took the win in 17.5 Expert 2wd using gold Octagons, F2 body, and Aero wing package on his TLR 22 4.0. Derek also placed 2nd in the 13.5 4wd class and 3rd in 13.5 Stadium Truck! Good luck at the Stock Nats Derek and give em hell!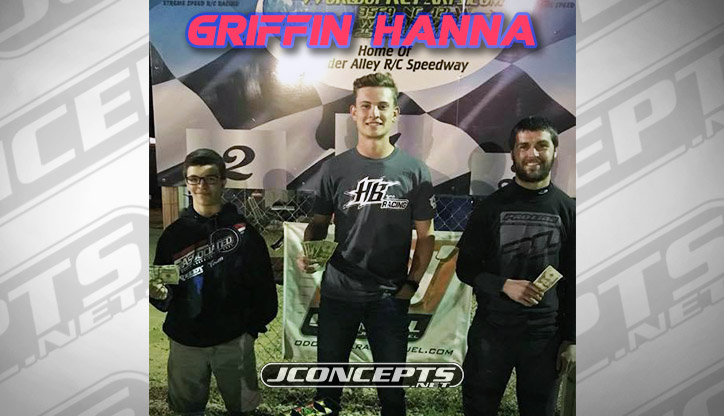 Perhaps the most naturally talented driver on the east coast, Griffin Hanna slayed it last weekend at Thunder Alley Raceway where he managed to set the TQ and took the win in the A-Main. Things are starting to come together for Griffin and we can't wait to see what the future has in store for him.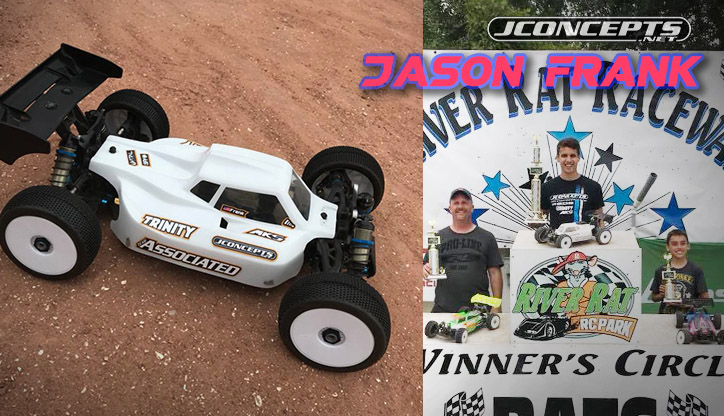 Thanks to Jason Frank for the heads up and personal opinion on the Finisher body for the RC8B3.1E. Judging by the results, it looks like Jason digs the 'tried and true' Finnisher body as he was able to TQ and win the Open Ebuggy class at River Rat RC.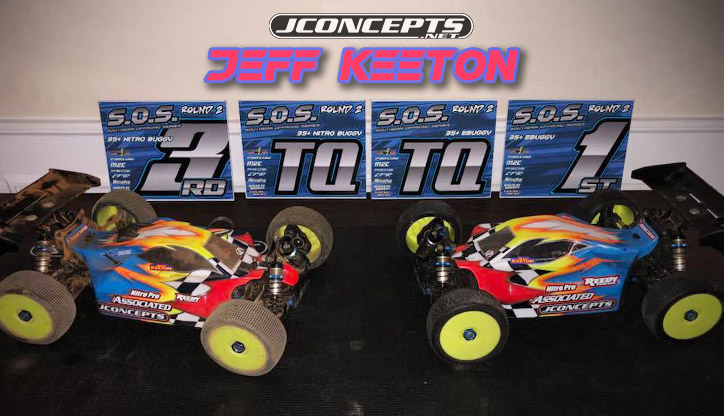 The veteran and long time JConcepts team driver, Jeff Keeton, took home some serious hardware and nearly had a perfect weekend at the 2nd round of the S.O.S. race series in Augusta, Georgia. Jeff competed in the 35+ Nitro class and 35+ Ebuggy class where he set the TQ pace and won the Ebuggy class and finished 3rd with the nitro buggy. Jeff's still got it ladies and gentlemen!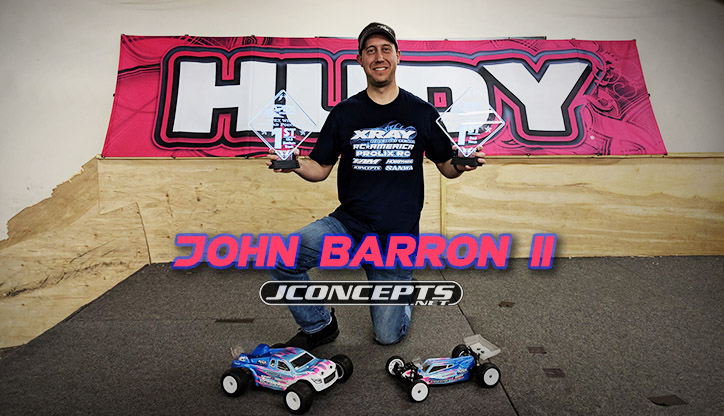 From the man himself, John Barron II sent us an update that we'd like to post directly in quotes. It's awesome to get reports like these, "The Off-road points series wrapped up and I was able to take the win in stock buggy and 13.5 stadium truck. JC Swaggers in the front and Pin Down in the rear of each vehicle were locked in. I ran the S2 body on my XB2 and the JC T5M body on my XT2. Thanks for the support thought the whole series!" Congrats on both titles champ… a truly amazing accomplishment!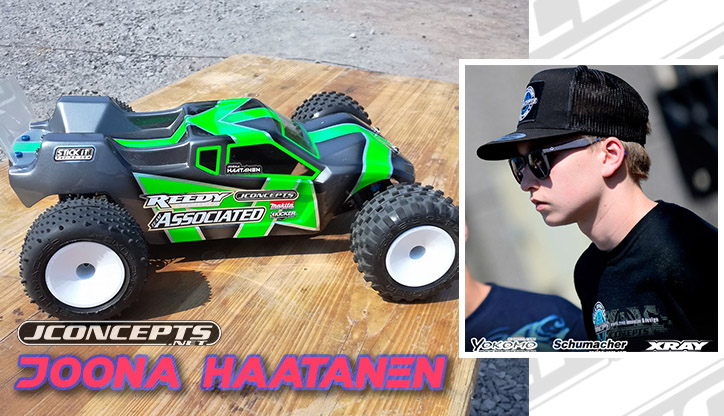 The Finnish Phenom strikes again! It's been a long, tough road in the EOS with ups and downs, but last weekend at the final round of the EOS in Germany, Joona really was a threat for the win in all classes! The super talented 15-year-old was able to take the TQ and win in Stadium Truck using the new T6.1, 3rd in 2wd Modified, and dug deep for a hard-fought 5th in 4wd against Europe's best. We have a feeling that Joona is going to have a breakout EOS season next year.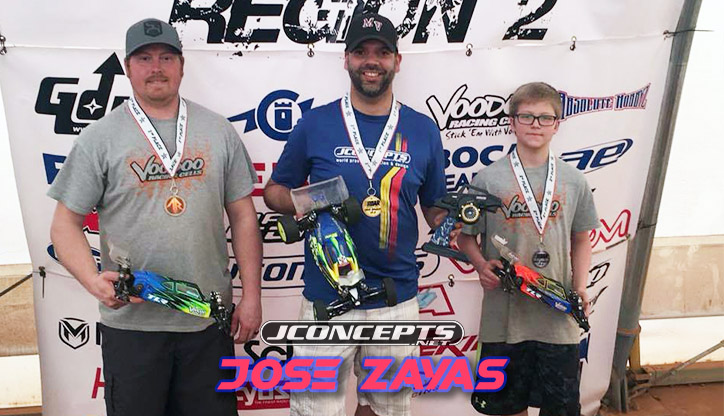 It was a great weekend for Jose Zayas at the ROAR Region 2 1/10th Series where Jose ran 3 classes! On the plate was 2wd Mod, 17.5 2wd buggy, and Modified Truck and Jose came away with triple TQ's and a clean sweep of all 3 classes! Jose ran green Dirt Webs on all vehicles and we couldn't be happier for you Jose!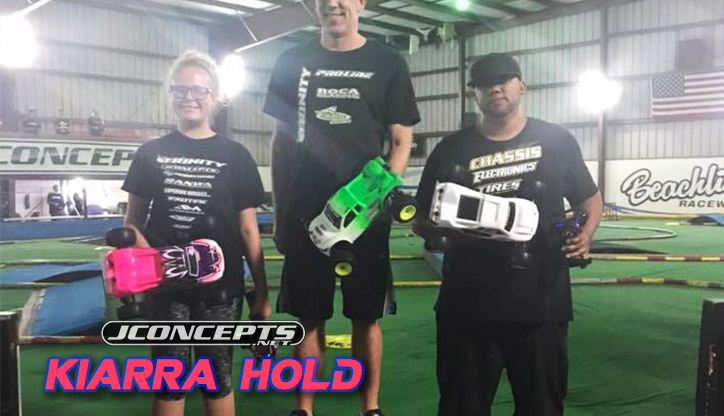 Every time you see Kiarra Hold at the track, she just keeps getting faster and faster. While at round 3 of the Turf Wars, Kiarra made the A-Main in the 4wd Modified, but unfortunately retired from the race. However, she finished 2nd in Stadium Truck rockin' the Swaggers and Pin Downs. It's only a matter of time before we start seeing Kiarra on the top step!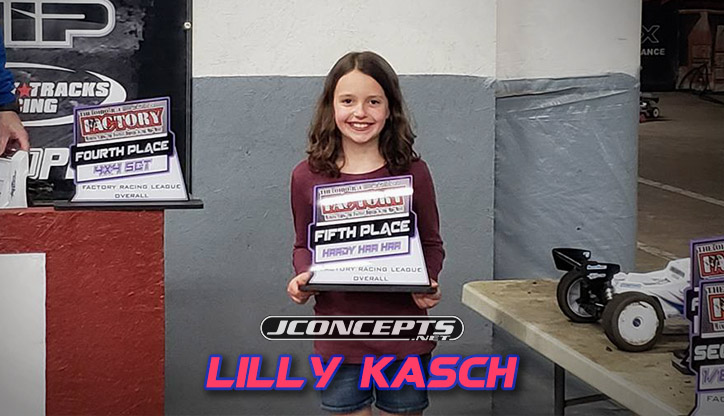 This update came in from team driver, Adam Kasch and we couldn't help but post the update 'as is' with Adam stating, "Lilly and I raced in The Ohio RC Factory Big Car FRL Winter Series Finale Yesterday. Lilly finished in 4th place in SCT. She got a little faster each qual, so I slowly turned up the speed on her truck. She had a good time and even though she wasn't in contention for any awards, Curt Schlichter gave her a funny trophy. Thanks for providing a good place to race and supporting novice drivers." Great job Lily, that's how you do it!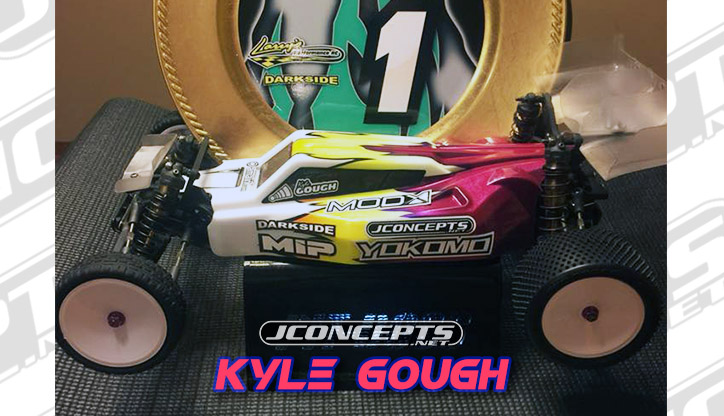 The talented Kyle Gough attended the Pit Boss Challenge at Larry's Performance RC in Shelby Township, MI last weekend and was able to bring home the win 17.5 2wd buggy. Adding to the already long list of wins for the Swaggers and Pin Downs, Kyle did the remarkable by starting mid-pack and working his way up to 1st which is always impressive to get the win from mid-pack or back. Nice job!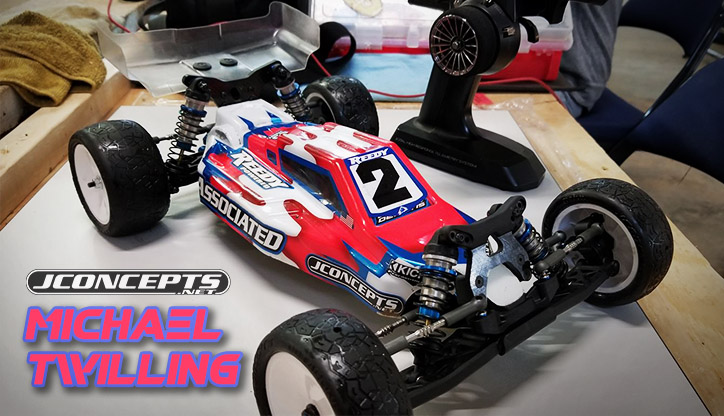 It's always good to hear from Michael Twilling because you know the results are going to be awesome! Michael raced at the 1st Annual Spring Challenge hosted by Shifty's Raceway in Tulsa, Oklahoma, where he placed himself 2nd overall starting 10th on the grid! Michael also made the podium in 4wd finishing 3rd overall with both cars using gold compound Octagons! Wicked job sir!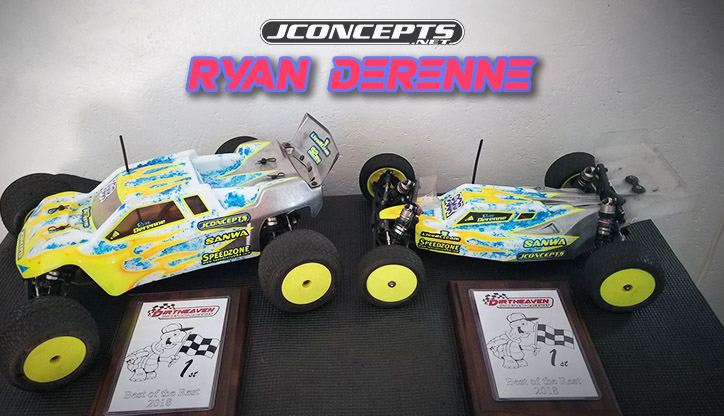 Every once in awhile, you get special moments like the one Ryan Derenne had last weekend as he stated, "Yesterday I raced the Best of the Rest Race at Dirt Heaven Hobby and Raceway. I had an awesome day, the race was fun and fast. With my TLR cars, I took Tq in both classes Mod stadium truck and 13.5 40+ buggy. In mod truck, I would dominate the race going tone to tone for the win and the gold Dirt webs were perfect. In 13.5 40+ buggy, it was an awesome race as I would again lead from the start and finished lapping the field. My gold Dirt Webs were so dialed. This by far was my best race this year and in a long time. Thanks again for the support." Thanks for sending in the race report Ryan and you're welcome!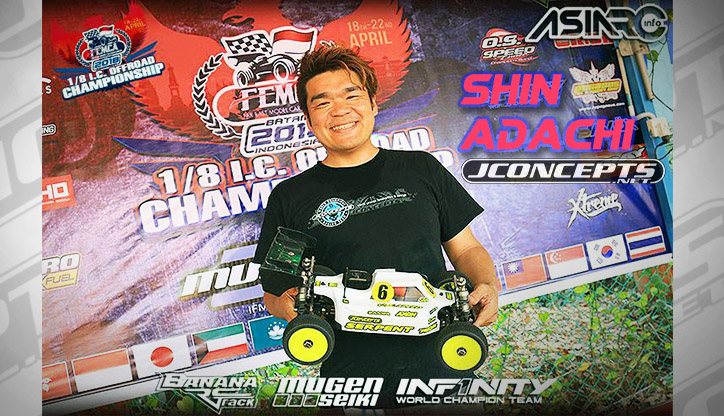 With over 30 years of racing experience under his belt, Shin Adachi made the switch to JConcepts for 2018 and we're excited to have Shin onboard. While at the 2018 1/8th FEMCA nitro race in Indonesia, Shin was able to place himself in the top 5 finishing 5th using orange compound Triple Dees, Bullet wheels, Silencer body and a front scoop. Great job Shin, let's keep it up!