Team Talk – Paul Wynn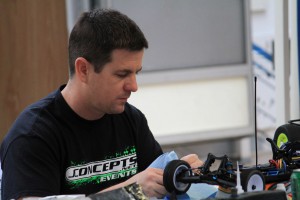 This is the first of JConcepts' weekly "Team Talk". We spend some time talking with JConcepts Team Drivers to learn a little more about them, their racing background, race day rituals and more.
This week we speak with Paul Wynn, Racer, Designer and Lead R&D at JConcepts…
---

What was your first R/C car?
My dad had a Tamiya Subaru Brat (frog) that I messed around with until I got my first kit, which was a Marui Hunter off-road buggy. It seemed like one step above a Tyco…LOL We quickly upgraded to an RC10.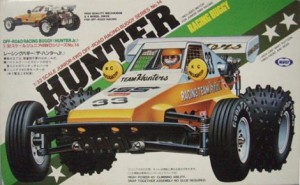 When did you start racing?

The middle/end of 1986
What's your favorite class?

Currently 2wd mod buggy, but 200mm nitro sedan overall.
What race do you look forward to the most every year?
The Off-road Reedy Race of Champions.
What R/C accomplishment are you most proud of?

As a driver: Making the A-main at the 1/12th scale IFMAR World Championships (1996). Overall, I would say turning my passion into a career and working in the industry (JConcepts).   
If you could only keep one R/C item what would it be?
That's a tough one; probably my A-main trophy from the World Championships.  
What song best describes your racing?

I don't really know. How about Ludacris – "Move Bitch" (Get out the way)…Ha
Do you have any race day rituals or superstitions?
Nothing too exciting; I just like to make sure my pits are setup the same from race to race. I like to have my tools, charger, setup board, pit bag, etc all in the same spot if at all possible, it's really uncomfortable when you have to change things up for crowded indoor pits.
When you're not at the track what do you like to do for fun?

IMAX movies with my wife and Orlando Magic games whenever possible.
You know you are addicted to R/C when this happens…..

You turn R/C into your career.
If you could have one main event back from your past what would it be?

I'm sure there are plenty; hindsight is always 20/20. It was either 1991 or 1992 ROAR Off-road Nationals and I qualified 3rd behind Rick Vehlow and Mark Pavadis in mod truck running Jammin' step-pins. Cliff Lett introduced me to Tim Clark from Proline and they offered me some prototype extra soft XTR Proline tires for the mains. Of course I put them on my truck for the mains without ever trying them…Ha Needless to say they were not as good as what I was already running and I struggled. I should have stuck with what got me there and gave it my best shot.
How long have you been racing for JConcepts?
This year will be 8 years.
What's your favorite source for R/C news?
RedRc.net
What's your favorite JConcepts product?
The 1/10th buggy Finnisher body line. Guess I may be a little bias though…LOL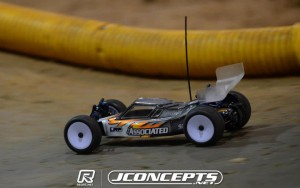 We want to thank you for taking the time to answer some questions. If you'd like go ahead and give a shout out to your sponsors.
Special thank you to Jason and JConcepts, Team Associated, Reedy, MIP, Stickit1, P1brand, and TSR Products.