Team Talk – Paul Sinclair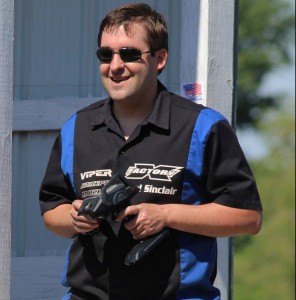 We spend some time talking with JConcepts Team Drivers to learn a little more about them, their racing background, their influences and more.
This week we speak with X Factory/JConcepts driver Paul Sinclair…

---
How did you get started in radio control, and how long have you been racing?
I received some model rockets for Christmas one year, and quickly used up the equipment that had come with the kit. Amazingly the rocket survived, and I needed more engines to continue the fun, which led to a trip to Hobby Stop West in early 1996. I picked up the January issue of RC Car Action while waiting in line (it had a tank on the front with a working flame thrower!), and was quickly hooked.
I had had several toy-level RC cars as a kid, but after discovering the hobby side of things I received my first competitive RC Car, the brand-new Losi XX4, for Christmas in 1996. I began racing (4wd modified, no novice class for me!) in the summer of 1997 at the local outdoor track, so I guess it's been more than 18 years now!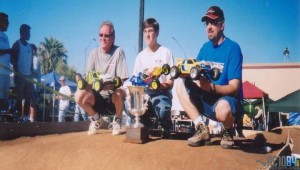 How long have you been racing for JConcepts?
When JConcepts was first started years ago with the BJ4 4wd buggy, they were a direct competitor to X Factory, with our X – 5 single-belt conversion for the xx4. It would have been hard to imagine me running for Jason's company back then!
I signed with JConcepts in 2011. By then their line of tires, bodies, and awesome accessories well-complimented X Factory's own cars and parts, and I've had a lot of success while running JC logos on my cars.
What's your favorite class to race? And why?
My favorite class to run harkens back to my first races, and X Factory's roots, with 4wd buggy. It's impossible not to smile while running a well-handling 4wd buggy, and the way they respond to being driven hard is just sublime. As much as I drive my 2wd buggy – I believe it's the best way to practice, and as an engineer offers the most to learn – I would almost always rather be on the track with a dialed 4-wheeler.
What race do you look forward to the most every year? What makes that your favorite?
The best race each year for me was always the JConcepts Clash, back when it was held in Florida. I know there were occasional weather issues, but getting to leave behind the cold Ohio winter each December was a blessing, and the atmosphere at the Clash was always laid back while featuring really good competition.
Without the Clash, I'm not really sure I have a favorite race. The CRCRC Midwinter Championship every year in Columbus is my "home" big race; the Cactus Classic each March has the same weather advantage the Clash did, while adding amazing competition and spring training baseball. I guess I've been racing long enough that each race has its ups and downs, and I can look forward to them all.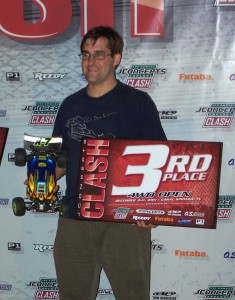 What R/C accomplishment are you most proud of?
Being almost solely responsible for the modern mid-motor "revolution" is probably tops on my list of accomplishments. For me it really validities our design ideas at X Factory RC, and helps give me confidence to go out on a limb and try other things.
As for racing accomplishments, certainly the major race achievements X Factory has had in its history are up there: Greg Hodapp winning the ROAR Nationals in 2005, Ellis Stafford winning the UK National series in 2008 and 2009, and more recently Alex Krieg TQ'ing 17.5 buggy at the Cactus Classic.
Finally, personally I'm very proud of finishing 52nd in 4wd at the IFMAR Worlds in 2005, and more recently finishing 9th in 2wd modified at the CRCRC Midwinter Championship in 2014.
Who are some of the people that have helped you the most in RC?
Without a doubt I wouldn't be where I am now, and X Factory wouldn't exist, without my father, Chazz Sinclair. He's the one who took me racing in my teenage years, waking up at 5:00am to drive down to Columbus each Sunday during the winter. He's also the one who started X Factory while I was away at college, and built the company enough that it could support me full-time after I finished my Masters in 2009.

Another person who was instrumental in my RC career is Bill Bridges. Bill, who passed away in 2013, was a long time Team Losi driver while working at the local hobby store. He was the one who removed my stripped screws, cut my motors when racing burned them up, and generally taught me nearly all the early skills you develop in RC racing. When Chazz and I were debating starting X Factory, Bill was incredibly supportive and gave us more help than it's possible to give credit for.
Finally, of course a huge thanks to everyone who has supported and cheered for X Factory through the years. You asked about my proudest accomplishments; honestly the coolest thing for me at the track, above any race finish of my own, is to see someone else going fast and having fun with one of our products.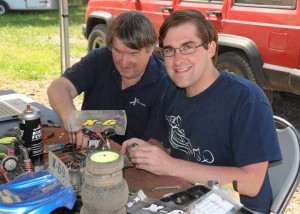 You are known as one the originators of the modern mid motor buggy, how does it feel to see most racers finally embrace the mid motor concept?
There are great feelings of validation and confidence surrounding it. To know that your ideas and developments changed an entire industry is kind of a heady experience. It gives me confidence to keep trying things that might be considered outside the box – that I can approach things in a new way or with a different perspective and use something other people might have dismissed to go faster. It also taught me the value of a systems-approach to design; that is, that each part of the car must work together, and you can sometimes find unique solutions to problems in unexpected places – like flipping the motor's rotation direction to increase weight transfer and forward traction.
What are your thoughts on this year's IFMAR Worlds being held on Astro turf?
You know, I've had several people ask me this question, and it's a complex topic. 

In general, I'm not a fan of the decision, but not because I don't like Astroturf. Rather, I think that when the facility was chosen, it was understood to have a long history of great indoor dirt racing (including the IFMAR worlds I think 20 years ago), and the decision to change to Astroturf after the fact seems very strange.

I have no issues with grass, carpet, Astroturf, or other alternative surfaces. I've never liked that the World championship was limited to "natural dirt surfaces". I'd love to see a World championship on grass in the UK, or carpet/Astroturf in some of the EOS venues, etc. We should choose a championship venue based on the bloc rotation, on the track and facility, and based on the location's draw as a destination racers want to attend – then let that venue put on the best possible event on their normal, everyday, standard racing surface. Each club, track, and venue in RC is a living, breathing entity that makes up our sport – they should be fairly represented on RC Racing's biggest stage.

I think there's a bigger issue at the heart of all this – why do we insist that our racing surfaces be these pristine, ultra-regulated and super-consistent un-natural things? What happened to, as many people desire, "real" off-road? Chazz and I made an X Factory VideoCast video about this very topic, and I think it comes down to the way we qualify for races. Because the time of your run matters so much (rather than your position against the people on the track with you), racers demand a perfectly consistent track each heat, so their competition doesn't go faster just because of the track surface. I think a change in qualifying format is needed if we wish to get away from these crazy high bite, might-as-well-run-a-rally-car type surfaces.
When you're not at the track what do you like to do for fun?
I really try to stay active – I love competition, on or off the track. Volleyball is my favorite sport to compete in, and I usually play in 4-6 leagues a year. I'm also on a very competitive adult kickball team. I'm a huge fan of Major League Baseball (go Detroit Tigers!), and I'll play computer games, bar trivia, and generally hang out with a good social group outside of RC.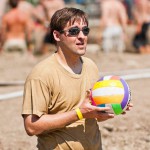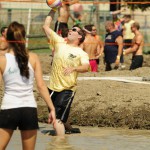 What's your favorite JConcepts product? And why?
Hard Choice! My favorite product lately is probably the JConcepts Brian Kinwald Dirt Brush. Kinwald was an idol of mine growing up, and has developed into a great friend over the last 8 years, and I've always loved how dialed his toolbox is. The Dirt Brush is like so much of what he does – it seems so over the top at first, but then you use it and wonder how you ever put traction stuff on your tires before.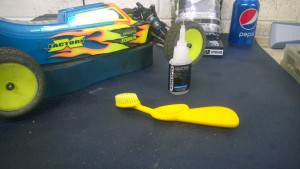 What's your favorite source for R/C news?
I use several sources for my RC news. Being a part of the industry I've made so many friends, of course, and several of them work at various news outlets. So in no particular order, I tend to rely most on LiveRC, RedRC, and RC Car Action.
We want to thank you for taking the time to answer some questions. If you'd like go ahead and give a shout out to your sponsors.
Thanks for giving me the opportunity! My sponsors include X Factory and JConcepts, of course, as well as Team Maclan electronics, ProTek RC batteries and accessories, Stick-it 1 Racing Graphics, LukeDawg Paint, B-Fast Performance Diff Parts, Lunsofrd, and MIP.