Team Talk – Matt Olson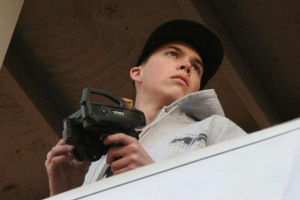 We spend some time talking with JConcepts Team Drivers to learn a little more about them, their racing background, race day rituals and more.
This week we speak with MIP/JConcepts driver Matt Olson…

---

How did you get started in RC? And how long after did you start racing?
I got my first taste for RC around the age of eight when my dad would take me to the local park to drive around his 4wd Yokomo buggy; I found the experience absolutely thrilling and was hooked. A few months later my brother had bought a brand new Losi XX-T stadium truck with an Airtronics Radio system, Tekin Speed Control, Tekin Charger and Deans discharge station/car stand at what was the original SoCal Raceway. Another few months went by and my brother had lost interest in RC and so the XX-T was benched for the foreseeable future. I mustered up the courage to ask how much he would want for all of his RC stuff and he told me $250! Fair deal, but for a 10-year-old that was a small fortune being that I would receive a $10 weekly allowance and on the side would collect and turn in cans for money; it all amounted to my entire life's work hahaha, but I was determined to get the truck so gathered up all I had at the time and bought my very first RC. Later that year I found out where SoCal had moved too and that was my second home for many years. That facility spring boarded me into a passion for RC, which it is still going strong 14 years later.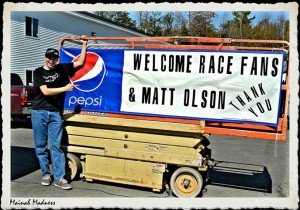 When did you decide to start taking RC more seriously?
To be honest I have always had the same attitude from when I first started, I don't think I take it any more seriously than when I first started driving in that park all those years ago. That may attest to my longer span within the hobby as I don't take it so seriously as to burn myself out, but not too laxed where I don't care about it anymore. I'm in that goldilocks zone as far as how I approach RC.
When did you start racing for JConcepts?
I started racing for JConcepts in 2009 and have been with them ever since. Man that has been over 6 years, time really does fly, can't thank Jason, Allison, and John enough for all the support over the years.
What race/event do you look forward to the most every year, and why?
I actually have two race events that I have my heart set on every year; the first of which is the Canadian Off-road Champs (Tent Race) in Ottawa, Canada, held at Sutton Aviation Raceway; and the other is in Maine with all the Granite Leisure Time guys for the King of the Dirt Challenge. Both of these races are very different in nature but have the same passion for RC. The Tent Race has great competition, a fantastic facility where you pit out of an airplane hangar and you race next to an air strip, and the right amount of night life! The GLT King of the Dirt race is held on a REAL outdoor track with a loamy surface, bumps, ruts, like what offroad racing used to be; sure it's not going to draw in the Maifield's or Cavalieri's of the world, but it will draw in the fast locals with the monster trucks, revos, short course trucks, and E buggies. Both events are run by some of the best in the industry and are there to help the hobby grow as much as they can. Be sure to check out both events in the years to come, you won't regret it.
When did you realize that you could turn your hobby into a career?
When I came into this hobby I never had the intention of being part of the "Industry" as many call it. Over the years I have made education my number one goal and everything has fallen almost in my lap believe it or not. There is so much competition these days right out of college for those upper level jobs but many graduates don't have any experience in the related field that they are going into. Since I have been fortunate enough to go down a path of both education and RC at the same time, it has given me an edge to get into an RC company and be valuable for the company right off the bat. Anyone out there looking to work for an RC company make sure to get a good education and have good knowledge of RC to be successful in the long run.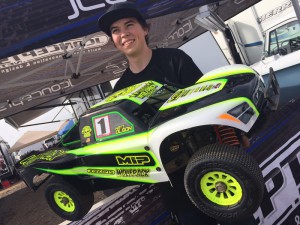 You seem to be racing more 1/5th scale lately, how do you like it compared to 10th scale and what are some of the major differences?
A class of its own is a good way to put it; they are probably the closest you can get to actually driving a full size rig. They are a blast to drive, working on them is much like working on a real car, and the fellow racers are true hobbyists. Compared to that of 10th scale the driving style is completely different as you have to muscle around a 40 pound car, the 5th scale crowd is much more relaxed, and you get a lot more run time overall as they have 10 minute qualifiers and 25-45 minute mains.
When you're not at the track what do you like to do for fun? Any other hobbies people don't know about?
When I am not at the track which is not very often due to the nature of my job I like to go wheeling with my real truck, trail riding on my dirt bike, camping, or trap shooting with my dad. Anything outdoors is a blast.
What about RC racing annoys or bothers you?
What bothers me is when racers take racing RC a bit too seriously. On more than one occasion I have witnessed drivers throwing fits, equipment being thrown, and friendships destroyed. I understand the passion that all of us have for this hobby, but sometimes it can be taken a bit far.
Do you have any race day superstitions? 
More so superstitions about the prepping of my equipment, I have to be sure that everything is kept up to perfect working order and if any part of the car is not checked over it will bother me.
What's your favorite source for RC news?
My favorite source for RC News is spread out between a few; Velocity RC Magazine, RC Car Action, RC Driver, RedRC.net, RCinsider.com, LiveRC.com, and Neobuggy.net. To be successful at my job I have to know what is going on in the world of RC other than what's in my backyard. These types of news outlets give me knowledge about everything. Thank you everyone!
Apple or Android?
Android of course.
What's your favorite JConcepts product and why?
My favorite product would have to be the newly released 5th Scale Reflex tire. I'm excited about this tire as it has shown a decrease in lap times, less overall wear, and allows for the car to be more stable overall. It's great to see JConcepts getting into the 1/5 scale world!
We want to thank you for taking the time to answer some questions. If you would like go ahead and give a shout out to your sponsors.
I'd like to first and foremost thank JConcpets for all the support over the years and for the opportunity to come on here and give the guys a glimpse into my RC world. I would also like to thank my employer and main sponsor MIP for all the support as they provide me with the best possible hop ups and tools a driver could ask for. Special thanks to all my other sponsors including Tekin, Airtronics, Lunsford, Bartolone Racing, Wolfpack Racing, Tekno RC, Hitec, Moore Speed Batteries, Imagine It Graphics, ADI, OC Baja, Mattox Designs, DDM, Team Hoonage, Horizon, HPI, Team Associated, and Velocity RC Magazine.