Tanner Denney takes Reedy Race of Champions by storm.
Event: 2011 Reedy International Race of Champions
Date: January 28-20, 2011
Location: West Coast R/C Raceway – La Mirada, CA
Tanner Denney takes Reedy Race of Champions by storm, Punishes with JConcepts and wins 4wd open class.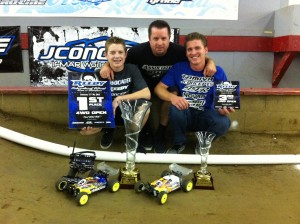 JConcepts and Team Associated driver Tanner Denney driving his B44.1 buggy has won the 4wd open class at the prestigious Reedy Race of Champions. After 4 rounds of qualifying Denny sat in the 2nd position on the starting grid but was hungry for more.
A dual 10 minute A-main format set the stage for exciting main events with A-2 carrying more weight than A-1 putting even more pressure on the leaders. Tanner found himself in the lead in A-main # 1 and fought a difficult race against TQ Josh Numan but eventually finished in the 2nd position.
A-main # 2 would be different, Tanner made a small adjustment in driving style and looked noticeably more comfortable as he took the lead from Numan and drove comfortable and fast. With many lap-times in the low 21 second range and dipping into the 20's on occasion, Denney had a brilliant drive going. Finishing off the final laps in the lead, Denney felt some pressure from Numan who was just 2 seconds behind. However, Denney would not falter and maintained his lead all the way to the finish line capturing the coveted open title and with it, a ticket to the Invitational class in 2012. Tanner's B44.1 was decked out with JConcepts Bar Codes in gold compound, Punisher body and 6″ HD rear wing.
Many JConcepts drivers joined Tanner in the A-main, however it was Jake Thayer finishing in 3rd after a great finish in A-2, giving JConcepts a 1st and 3rd finish in the 4wd Open class.
Congratulations to all the winners, West Coast R/C Raceway, Scott Ernst productions and Brent Thielke on a successful Reedy Race of Champions.