Tanner Denney Takes KBRL Round 4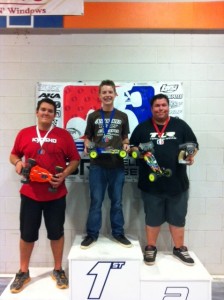 Round 4 of the KBRL Series was ran at Competition Hobbies in Arizona. With 185 entries & 24 heats, racers settled in for a long day of racing. The one day race had 2 rounds of rocket round qualifying and 1 single 10 min Main.

JConcepts driver Tanner Denney TQ'd both rounds of qualifying with his JConcepts equipped B4.1 Buggy. Tanner, running Rips up front, Bar Codes in the rear and topped off with a Finnisher body and Hi-Clearance wing got off to a good start in the Main Event and never looked back, Tanner lead every lap! In the stock 2wd class it was the Young Gun Justin Miller Taking home the win as well!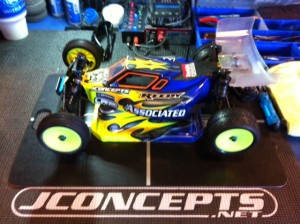 The following day Competition Hobbies held their 2nd annual Toys for Tots race. Entry fees for each class was a toy for a great cause. With 90 racers showing up even after the long day of racing the day before.
In 2wd Mod Buggy it was Tanner Denney on the pole, with 2nd place qualifyer Ryan Maifield looking for the win. As A-1 started, the first two and a half minutes the battle was on between Tanner Denney, Ryan Maifield, and Charles Hicks. As Maifield tried to make a pass at the end of the straight-away Tanner Denney closed the door and Ryan ended up catching a pipe and flipping over which allowed Charles Hicks into second with Tanner still maintaining the lead. Tanner ended up having a comfortable lead to take home A1 with Charles Hicks 2nd, and Sean Bray 3rd. Ryan Maifield ended up in 4th. In A2 Tanner Denney crashed on lap 1 allowing the whole field to pass him with Ryan Maifield and Charles Hicks to battle it out. As the race went on it was a 3 way battle between Ryan Maifield still leading, Charles Hicks in 2nd and Tanner Denney in 3rd. As everyone battled it out Ryan Maifield came home with a nice lead with Charles Hicks in 2nd and Tanner Denney 3rd. As the points rolled in after the 2 A-Mains it was Tanner Denney taking home the win, with a 1st & 3rd, Charles Hicks would come home Second with 2 Second place finishes and taking home 3rd would be Ryan Maifield with a 4th & 1st!
A big thanks to Richard Lake for putting on a great race for a great cause.