Super Cup Championship Series – Round 2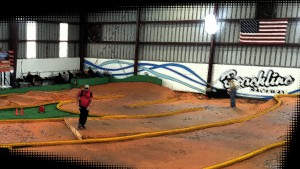 Round 2 of JConcepts Super Cup Championship Series was scheduled to be run in the beautiful Florida sunshine outdoors at Coral Springs. The unpredictable Florida weather was calling for some rain on our parade, so a last minute decision was made on a venue change for a roof and 4 walls. Newly opened Beachline Raceway stepped in to help with the event. 182 entries would fill the 21 heats of racing with Florida's premier 10th scale racers.
JConcepts team driver Alan Wight would race to the first win of the evening in Expert Stock Buggy after setting TQ in qualifying. Alan's Team Associated B5M on JConcepts Dirt Web tires were flawless leading every lap of the 5 min Amain. Don Haywood stayed with Alan for 2nd looking for a way past and a faster line to the top but would finish 2nd overall. Daniel Castaneda would finish 3rd as Ryan Rios just beat Ruffy Rios back to the line for 4th.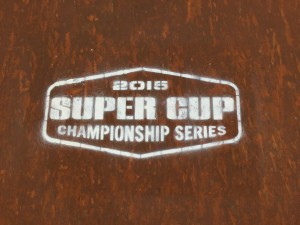 Independent Stock 2wd had top qualifier Joe Barbera and Mitchell Schafer do battle for 10 of the 15 laps, until Schafer fell back with troubles while working with lap traffic. Super Cup veteran Jeff Lynn pushed to catch Barbera for 1st but time had ran down and settled in the 2nd place position. Kelly Vanassche was running 7th on lap 11, but would finish 3rd overall followed closely by Jordan Singletary 4th and Danny Wight 5th.
Modified 2wd was one of the most exciting on the evening. Former World Champion Billy Easton set TQ, but was unable to pull away from the pack as a host of national champions and top racers gave chase. Jason Ruona pressured Easton for the first few laps until Chris Viesins wanted a crack at the lead. Ruona re-took 2nd on lap 12 and fell back on the next pass by the line to Paul Wynn. As the top 5 crossed the line for the final lap, it was Easton, Wynn, Viesins, Ruona and Ryan Eckert. A final mad dash through the last corner ended up with a pile up. Marhalls /racers struggled to separate the group as more cars drove into the blocked lanes. As the dust settled it was a drag race back to the line down the back stretch. Jason Ruona would win the race back, Easton took 2nd, Viesins 3rd, Wynn 4th. The top 4 would finish 7 tenths of a second apart in a race almost to close to call.
Ruffy Rios was perfect on the day with a TQ and strong run for the win in 40 and Over 2wd Open Buggy. Rich Schafer took 2nd with Billy Bruce 3rd. Brian Watts was 4th and Danny Wight 5th.
With a dominant display, Tilar Pollock put on a clinic in 2wd Stock Truck leading every lap of the Amain. Dan "Dollar Bill" Borkowicz earned 2nd place from Joe Barbera who finished 3rd. Erik Everett edged out Matt Keeple for 4th back to the line.
Kyosho team driver Ryan Eckert set TQ for 2wd Modified Truck; But Daimon Borkowicz would challenge Eckert from the start for the top spot. Daimon and his JConcepts equipped Team Associated CT4.2 took the lead after many changes for the final time on lap ten. Eckert was a close 2nd with Paul Wynn 3rd, Chris Viesins 4th and Jader Lopez 5th.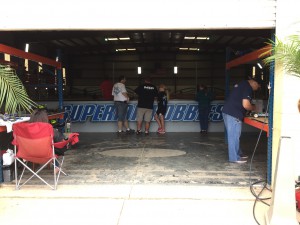 Chris Viesins with his TLR 22-4 rolling on JConcepts Dirt Webs proved to be unstoppable in 4wd Modified Buggy as he set TQ and lead every one of the 18 laps around the large indoor complex. The race for 2nd was fierce and intense. 4 different drivers would hold the spot in the first 5 laps. Alan Wight found the consistency needed to secure 2nd place on the day. Racers were still battling like it was the worlds title on the line for 3rd. Jason Ruona settled in 2/3rds through and held off charges from Damion Borkowicz 4th and Billy Easton 5th.
Daniel Castaneda started P1 in 13.5 4WD Blinky Buggy, but 2nd and 3rd place qualifiers Owen Watts and Jim Anderson would look to play the spoilers. On lap 15, it looked as Daniel was going to be able to hold off the duo, however as lap 16 was drawing to a close Jim Anderson was slipped past Daniel for the win with Owen Watts only half a second back. Castaneda finished 3rd along with Tim Watts 4th and Aaron Sikes 5th.
The 4wd Mod Short Course class had Trey Roberts with another amazing run, Trey would start 6th but raced his way up to a 2nd place finish. Local racer, Mark Soliman sitting TQ, would go on to win the main. Cameron Nunez climbed the scoreboard as well for a 3rd place run. Janos Lazar took 4th and David Iler finished 5th.
Thank you to all the racers for understanding the last minute venue change. Coral Springs RC Track was primed and ready to welcome us down and we look forward to racing outdoors on one of Florida's oldest and prestigious race tracks for Round 3. To everyone at Beachline Raceway, everything was spot on for each of the racers as you very quickly prepared with only 24 hours notice. The Action was intense for all the mains with bump up and super close racing proving once again why you are Florida's best.
Round 3 will be hosted by Coral Springs on Saturday March 28th. Register now on RCSignup.com. Keep up to date with all last minute changes on the Super Cup Facebook page.