Super Cup Championship Series – 2014 Season Opener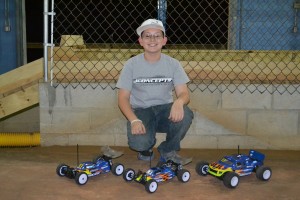 JConcepts on top again for the 2014 Super Cup Championship season opener hosted by Space Coast RC located in Cocoa, FL.
It was a packed house of 201 entries for the start of JConcepts Super Cup Championship Series spring session at Space Coast RC in Cocoa, FL, on January 18th and 19th. There was a line of racers at the door 8am Saturday morning.. With lines at the drivers stand, a controlled practice was put in place until 2pm when the track closed and was prepped for one round of qualifying, as the 2013 Awards Banquet was 7:30pm that evening. The track reopened at 8am Sunday morning for a quick controlled practice, with round 2 of qualifying resuming at 9:30am. The track conditions were hard packed and high bite, the layout was technical but every racer stepped up to the challenge with great close, intense racing over the 2 days.

The first of 2 new classes for Super Cup 2014 was the Independent 17.5 2wd buggy, a class designed for the up and coming racers of Radio Control. 32 non-sponsored racers filled 4 heats for qualifying and Don Haywood's 15/5:18.055 was the top time. Matt Bradford Jr. pulled off a win in the D main and he Robbie Michaels both bumped up to the next main. Danny Wight and Robbie placed 1st and 2nd if the C main. The B main was close with Kris James and George Mercado making the finishes for the A-Main showdown. Don Haywood pulled out to a quick lead and stayed in the top spot for the win. Bryan Thomas took 2nd place, with Kris James 3rd by just over half a second. Matt Bradford and John Manikis rounded out the top 5.
JConcepts team driver Riker Gatenby paced the 23 car field in qualifying of Pro Stock 2wd Buggy with a time of 15/5:09.925. Austin Craig and George Mercardo started and finished 1-2 of the C main for spots in the B. Gene Hickerson's led every lap of the B main with Kevin Abbott's Losi took the final bump for the showdown. The full field of 10 racers lined up for the 5 minute battle. At the tone, fellow JConcepts team driver Billy Bruce made the pass for the lead and stayed in the top spot for all of the 14 laps. Landen Lewis finished 2nd, Jovan Cruz placed 3rd, Riker Gatenby 4th and Gene Hickerson 5th.
In Modified 2wd Buggy, Daimon Borkowicz reigned supreme as he and his JConcepts equipped C4.2 TQ'd the 26 car field with a 16/5:16.596 time. Daniel Castaneda and Janos Lazar bumped up to the B main that found Ryan Johnson and Dave Duncan taking the final 2 bump ups for Modified Buggy's A main. It was a JConcepts threesome up front as Daimon held off the charge from JR Mitch, 2nd, and Jason Ruona, 3rd, for the 5 minute A main, the 3 racers would finish less than 3 seconds apart after 15 laps around the SCRC track. Jeremy Harris stayed close for a 4th place finish and Chris Viesins came home 5th.
With the rerelease of the RC10 a much talked about class was formed, the RC10 Vintage Buggy Class. A large crowd formed around the track to watch the buggy that set a standard for off-road racing in the 80's. Jeremy Harris wheeled his original 30 year old RC10 to TQ qualifying with a time of 14/5:11.990. Jeremy continued to show that his once retired shelf queen still had it for the win. Jason Ruona drove his beautiful RC10 Classic to 2nd place as Dave Duncan was 3rd and Walter Cruz in the retro paint job was 4th.
The ultra-fast Modified 4wd Buggy top qualifier JConcepts driver Daimon Borkowicz's 16/5:05.696 locked him in to P1. Shane Williams and Dan Witkoski bumped out of the C main to the B main as Walter Cruz and Austin Venezia raced into the A main. JConcepts team drivers dominated the A main taking the top 6 spots as Daimon drove his B44.2 to lead the 10 car field for all of the 16 laps. Jason Ruona and his B44.2 finished up 2nd, Brett Kingsbury 3rd, JR Mitch was 4th and Felix Law 5th.
40 and over Modified Buggy's top qualifier Billy Bruce and his JConcepts equipped Kyosho RB6 laid down 15 laps in 5:17.064. Billy was able to hold the top spot for many laps but Rich Schafer had the right stuff as he moved to the lead and on to the win. Billy was 2nd and Danny Beers was 3rd, Andy Sova held off Jonathon Paulk for 4th as Jonathon took 5th.
For Pro 2 Stock Short Course, Landen Lewis took the TQ and win. Peyton MacDonald took home the runner up spot, with Riker Gatenby 3rd, Robert Molina 4th and Brian Lewis 5th.
In Pro 2 Modified, JConcepts driver Felix Law found the power needed to start 1st in the Amain with a time of 14/5:17.372 out of his SC10.2. Matt Heron ran 2nd as Glenn Carlson and Rob Arnold finished 3rd and 4th.
In 4wd Modified Short Course, JR Mitch's Losi, running JConcepts tires and accessories, put down 15 laps in 5:08.103 for the number one starting spot. The Dan's (Borkowicz/Witkoski) finished 1-2 in the B, as they raced into the A main. JConcepts teammates JR Mitch and Chris Viesins drove away with their 1st and 2nd place finishes and Gene Hickerson was 3rd, Alan Wight 4th and from the B main, Dan Borkowicz rounded out the top 5.
The T4.2 driven by JConcepts team Driver, Peyton MacDonald, TQ'd Stock Truck with a time of 14/5:07.305. 7 trucks battled in the B main for the last 2 positions of the A main show. Brian Lewis and Brandon Denmark would fill those final spots at the end of the 5 minute B main. Peyton MacDonald led every one of the 15 laps and teammate Riker Gatenby took 2nd. Landen Lewis was 3rd, Robert Molina 4th, and Brandon Denmark 5th.
Modified Truck was the most exciting main of the night, long time racer Paul Wynn made a return to Stadium truck. After qualifying was completed Daimon Borkowicz sat atop of the leader board with a time of 15/5:08.149. When the start tone sounded Daimon had all he could handle with Paul aggressively looking inside and outside for a way around for 1st. Paul noticed a chance for a pass as he rounded the inside sweeper and he increased his speed on the second set of doubles and pulled off the jump pass over the top of Daimon. Unfortunately, Paul carried to much speed through the next corner that was right after his awesome pass and ran wide. Daimon showed his skills as he ran tight back through the corner taking over the lead. Paul continued to look for a place to pass, but Daimon never gave Paul another opportunity for a pass and Daimon completed his trifecta with 3 TQ's and 3 wins for the first round of Super Cup. Paul finished finish 2nd, Jonathon Paulk 3rd, Glenn Carlson 4th and Matt Bradford 5th.
Thank you to our sponsors, Associated, Reedy, Airtronics, LRP, TLR, MIP, JConcepts; and all the racers of the JConcepts Super Cup Championship Series for round 1 of the Spring Session. Thank you Angel and Space Coast R/C crew for an amazing race facility with consistent track conditions. We look forward to seeing everyone again at Round 2 in Coral Springs on Saturday February 15th.
Race Report By: Lance MacDonald