Super Cup Championship Series – 2012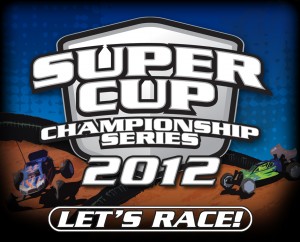 Welcome to the 2012 Super Cup Championship Series!
It is with great pleasure and honor to be back on board as Race Director for the 2012 Season. Having been in the sport of R/C racing for over 25 years and running events for over 8 years, I strive to run a fun, professional, family oriented race program.
To help assist me in providing a great season of racing I will have the help from Rich Muller and Matt Mosieur. Rich will be this seasons score / points keeper and Matt Mosieur has set up locations / dates for the 2012 season. Matt will also be providing colorful entertainment at select events.
Looking forward to a great racing season!
Fred Reep – SCCS Director

Super Cup Championship Series mission statement:
The goal for all Super Cup Events is to offer the best awards, announcing, and courses available, while giving enthusiasts an opportunity to see all sides of radio control excitement. Not only will participants see and experience great action, but they will have unparalleled access to Factory representatives. Expert announcing and direction completes the event, adding colorful commentary and a professional feel to the race program. These elements combine to produce a race experience unlike that of any seen elsewhere.
2012 Super Cup Competition committee:
Fred Reep – Super Cup Director – supercupdirector@gmail.com
Rich Muller – Super Cup Score / Points Keeper – supercupscoring@gmail.com
Matt Mosieur – Super Cup Location / Date / Entertainment Management – supercupdates@gmail.com
Please review attachment of all the new updated rules and classes for the 2012 Super Cup Championship Series and remember:
The important thing is these events exist based on fun and passion.
Let's Race!