Summer Indoor Nationals – Travel Day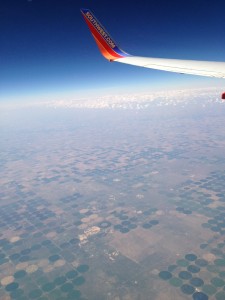 Good news to start the day as I'm looking through the mail. Allison won a class action law suit against Google and she was awarded 5 cents. Yes, 5 cents. Next time we are at the NewRed Hobbies food court, the bubble gum is on me!
I'm packed up, loaded and off to the Summer Indoor Nationals at Outback Raceway in Chico, CA. This will be my 3rd visit to this track in support of the Indoor National Series. A lot of buzz this year with the hopes of a great turnout and competitive event on our 3rd stop of the season.

Steven Hartson has been on a roll all year so far and has won 2wd and 4wd at the first 2 events of the series. Can anyone beat Steven this weekend? Tyler Vik won 2wd last year while Josh Numan won 4wd so the competition will be close all weekend. We ran green compound Bar Codes at the first 2 events. What will we run this weekend? Gold is what we ran 2 years ago on the wet track so I'm anticipating similar this year. On the wet track Tanner Denney was very quick almost winning 2 years ago, will he compete for the win? Stand-by for track photos and some pit coverage tomorrow morning.
I haven't raced since May at the Super Cup makeup race at Lake Park. Will I remember what I'm doing? I'm arriving today in Sacramento and meeting up with Tanner Denney at the airport. He will have waited for 3 hours when I arrive. Hey, that's just how it works out buddy…ha
I'm really starting to dislike air travel. Here's the story. Southwest uses the A,B and C boarding process which eliminates assigned seating. Depending on when you check-in you are assigned a group to sit in with A being first on to get the best selection of seat. I'm seeing an ever
increased number of people saving seats. One family member gets on early and saves the next 5 seats for their family. First I passed a women who had saved 5 seats in the middle of the plane and then I run into the head honcho toward the back who saved another 5. He actually stood in the aisle to direct everyone else to an open seat not conflicting with his own. Really? As the flight attendants chat and perform their duties I have the "Boss Man" directing traffic while reserving his favorites. Talk about the ultimate "me first" attitude. So I mentioned in my most sarcastic
voice…saved seats? Embarrassingly knowing he was wrong he looked away and said…saved.
So as I move past the "Boss Man" I took my usual last seat against the bulkhead. I really like saying bulkhead, reminds me of R/C… I'm thinking, ok it's not too bad. Then the 3rd or 4th largest man on the plane comes down the walkway with his son and I was like, oh no… His son is about 5 years old and I'm thinking well if he puts the kid in the middle and takes the aisle then I'm home free. Then! He asks the kid where he wants to sit and the kid says, "I want to sit in the aisle." Dad sits in the middle and I've been rubbing elbows with Mr. Philidelphia Eagles for the last 4 hours. I've tried everything not to touch, I'm boxed in against the window and a Goodyear tire. To quote some of the fast R/C dudes…these people are Soo Hurting!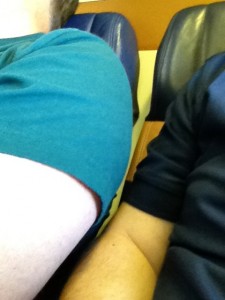 A lot of this whining is for fun…but come on! My options are a more expensive airline that charges you for baggage, purchase a $10 advanced priority board first pass or just quit traveling.
I don't know what to do. I'm wearing the Dr. Dre Beats noise cancellation earphones and I can hear the seat savers still playing peak a boo with their kids. I guess I just need to suck it up?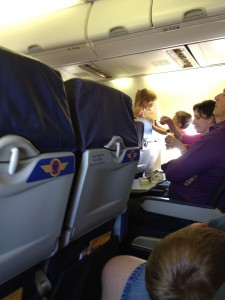 Just landed in Denver and almost everyone has moved on. We have a new set of challenges as someone attempts to carry-on a wood bench and store in the overhead. I'm continuing on to Sacramento, want me to save you a seat?