Spring Super Cup – rd 4 Coral Springs Infomania!
With the final round of the JConcepts Spring Super Cup Championship Series going down this weekend at Coral Springs R/C Track, round 4 could be monumental in the overall point standings. To get the most info and best preparation for the event, we contacted track designer and local fast guy, Daniel Chavez, on what to expect for this weekend's final round of awesomeness. With what Daniel had to say, this is going to be an incredible event you won't want to miss!
Click here to sign-up and save yourself some time the hassle of standing in line. Thanks to Daniel for the write-up below filled with fantastic racing info and what to expect this weekend. Also, huge thanks to the crew at Coral Springs R/C Tracks for an already impressive job with the track and facility!
Weather
For those traveling a long way to attend the final round of Super Cup, you are in luck.  The weather forecast looks absolutely beautiful.  Sunny with only a 20% chance of rain on Friday and a 10% chance of rain on Saturday with temperatures in the high 80s. Racing outdoors in Sunny Florida weather is my favorite condition to race in.  Sunny weather and warm temps is the perfect recipe for some fast outdoor racing.
Tires and Track Conditions
With the change to the qual point format, it is really important to make the right tire choice for every round because every round counts.  Coral Springs R/C track has been around for a while and those that have been here before know how drastically the track can change.  For those who have never raced at Coral Springs, round 2 of qualifying has the potential to be 2 laps faster than round 1.  Typically in the morning, the track is still cool and may be a little greasy and just about any tread pattern in Super Soft (except slicks) should do the trick.  Racers getting on the track first thing on Friday or Saturday should not expect to be on any kind of race pace. I recommend just learning the layout and make sure you can get around the track.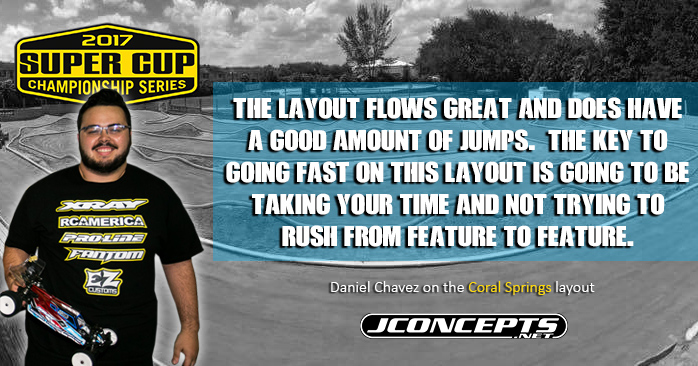 As of late, the Coral Springs Track crew and I have really been dialing in our track prep.  Keeping the moisture in and the dust down is priority number one.  Not only will it help the race program move along faster, but it will be a more enjoyable experience for the racers.  Once the Sun starts to bake the track, the traction should come up drastically.  Stock classes should be fine moving to a soft compound tire, but modified cars, especially 4WD, should consider moving to a harder compound and again just about every tread pattern should work, an indoor BAR style tire will probably be the ticket.
With Super Cup setting record entry numbers, there is a possibility we could be running in the dark.  When the sun goes down, a large amount of moisture will roll in.  The traction will not disappear, but the conditions will be somewhere in the middle between a fresh track and a super-hot grooved track.  Soft and super soft tires should keep your cars planted at night.
If you're interested in a video link….click here to check out a lap at Coral Springs R/C Track.
Layout
This is the first layout that I have designed and was given permission by the Track President to go ahead and use it as our Super Cup layout. The goal was to create a layout that had the perfect balance of smooth high-speed sections slower technical sections.  The layout flows great and does have a good amount of jumps.  The key to going fast on this layout is going to be taking your time and not trying to rush from feature to feature.  I hope everyone enjoys it, so far I have heard nothing but positive feedback from the local racers.
Special Thanks
First, I want to thank Thomas Tran at JConcepts for giving me the opportunity to do this write-up and I hope everyone can now know what to expect for this weekend.  I want to thank the entire Coral Springs R/C Track crew including Mike Honcho, Pak Lee, Jared Cooper, Loren K., Fred Rodriquez, and all the volunteers that came out and worked extremely hard to get this layout done and looking incredible for the final round of the JConcepts Super Cup Championship Series. I look forward to seeing everyone at the track and hope we can continue setting record entry numbers this weekend at Coral Springs.