Spring Indoor Nationals – Day 2 Practice
Checking in from Carrolton, TX from the Spring Indoor Nationals. Things are looking good today on a practice only day. 10 up and 10 down as they say as we rotate between SCT classes and 1/10th classes. In this format it helps to keep the SCT trucks from getting hit by the buggies. No, wait its the buggies that get it from the SCT trucks right?
The track started to dry out a little today which makes things a little tougher to drive. What was basically punch and go for the club race has turned into a smoother driving style. A slight re-adjustment was needed to driving style and some tire tweaks and we were back in business. It's been tough for me to get under a 21 flat lap-time. Hartson is dropping 20's every lap and seems to have put the buggy on the trailer. I don't know how I'm going to beat Hartson when each lap I'm giving up a half second. Oh wait, Steven runs for us.

I'll let him worry about the winning part but I'll see if I can cut into that established cushion he has. Darn fast kids.

Before we knew it was lunch time and we made a lunch run to Tilted Kilt which was awesome. Hamburgers and water made for an exciting lunch which I'm sure the ladies were impressed with. What is not to like about 4 R/C guys getting a couple hamburgers and few waters?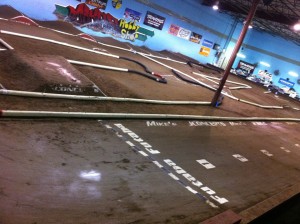 After lunch the day went by really fast and everyone was trying different tires to find the right combination. I seemed to prefer the Bar Codes in green compound while Rips in the front also in Green compound. We will see how they work Saturday morning on the relatively wet track. Looking forward to a great weekend.
Stay tuned.