Spring Indoor Nationals
Event: JConcepts Spring Indoor Nationals
Race #2 of the JConcepts Indoor National Series
Dates: April 15-17, 2011
Venue: OCRC Huntington Beach, CA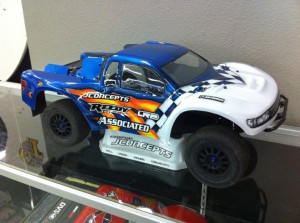 So as I reminisce about the rest of my weekend here at the airport I have to pick things up from Friday where it was another practice / airport pick-up day. Dave and I rolled into the track around 10:00am and Denny O let us in to get setup. It wasn't long and the entire crew was here and ready for another long day of practice plus a club race.
I got setup and took my time getting out there to practice. Dave was like a machine being out on the track at all times. 2wd check, 4wd…..not ready yet. 2wd short course check…..4×4 short course check.

I took off with Dave to the airport to pick-up Tanner and then got some In-and-Out for lunch. We hit the track and Tanner was off and running…check
I started feeling guilty that I hadn't ran my 4wd buggy yet. What was holding me back was the motor not being soldered in yet so I was being lazy. Finally I borrowed Denny O's iron and the Hawg was ready to roll. I ran it once and it was good and put it back onto the trailer. The gold Bar Codes Jon prepared at the shop were money and just needed a little break-in.
Before I knew it they were taking signups for the club race and I signed up for 3 classes. That's a lot running! Dave and I ran one round of everything and we headed out to get some food and sleep for Saturdays qualifiers.
We packed the building early on Saturday morning and got a few more runs in before qualifying started. Things started a little rough for me in 2wd sct, 2wd mod and 4×4 sct and I ran into some small problems. All the vehicles were good so I just needed to clean-up my driving a little.
Moving onto round 2 I had my tire program in check with gold Bar Codes on everything. The amount of wear on the tires started to determine just about everything when it came to corner speed and traction. The OCRC surface is different from years past and with it being a lot dryer I could use a driving style more suited to my comfort zone.
I picked up a couple decent runs in round 2 but I was looking forward to a re-sort for round 3 which would help with a cleaner track. I finally got the 2wd sct run I was capable of and moved into 3rd overall and after a good run by Kinwald and Cody Turner I dropped to 5th but was sitting in good position for the main.
Round 3 of 2wd buggy was great because Kinwald left 1st and I left 2nd which allowed me to pace myself against someone with similar speed. We found a great rhythm with Kinwald leading and I followed closely just trying for a good run. I made a few mistakes in the run and finished 2 seconds back which made me 10th overall. I wasn't happy with the placement but we had bump-ups and my equipment was working so well I was confident.
4wd buggy was amazing in round 3. I started 4th and kept a nice pace going with Hartson first, Josh Numan 2nd and myself in 3rd. The guys were throwing down amazing lap-times and I held my own until the end where some small mistakes dropped me to 4th.
Round 3 re-sort had set the stage for a great battle in 4×4 sct. Colby Poh started things with Chris Jarosz 2nd and myself 3rd. My first few laps I always spent adjusting to the 4×4 and picked up speed at the end. Colby and Jarosz were leading early then a mistake by Jarosz put me in contention. I punched it and drove as hard as I could the last 5 laps and came away with a string of 17.9 lap-times and a TQ run in the process. I was pumped on how the truck was working.
We cleaned up our pits and headed to dinner at Islands. NBA playoffs were on TV and we watched the Mavs vs. Portland. Most at our table lobbied to turn-on Super Cross but they wouldn't budge so that had to wait until later.
We moved on to Chilis by our hotel where our server Kelly was nice enough to turn-on Super Cross. Just in time for the feature main and Bubba got a great start and checked out.
The track doesn't open until 12:00pm on Sunday so we made a trip to Huntington Beach and then a stop for lunch. We arrived to the track at 12:30 to find everyone practicing and getting ready for the mains.
Things starting happening quickly and I was up in the 2wd B main. Brent and I got a great start and we were 1-2 just a few minutes in. Brent made a mistake over the triple jump and I was leading with BT right behind. Setting up for the small double BT got into me which caused me to case the double and make a mistake. Everyone else was now right on us and it was a battle. Tanner put a block pass on me coming down the hill and now I dropped to 3rd. BT made a mistake and Tanner took the lead and was gone. BT, myself and Cody Turner were now battling for 2nd and Cody prevailed in the end and earned the bump.
The 2wd SCT main was up and my truck felt dialed. I quickly moved into 4th and then into 3rd while Kinwald gave me some room to chase the leaders. Root and Truhe were battling it out for the lead and I moved into 2nd. Root recovered and got back around me and chased Truhe who was trying to check out. Cody Turner and I were battling and he jumped inside on the small double and my truck was left headed in the wrong direction. I dropped back to 5th where I would stay until the finish.
4×4 SCT was up and I took advantage of the TQ position and got a great start. Jarosz moved into 2nd and applied some pressure but he made a mistake on the step-up and now I had some breathing room. I took that opportunity to cruise a little and conserve battery for the 10 minute main. My truck felt very good in the main and I was confident if I needed to go faster that I could so I wasn't concerned about the gap to 2nd. My Double Dees in the front and Bar Code rears were perfectly broken in now and the truck was on rails. I was able to cruise to the finish taking the win and Jarosz worked his way back into 2nd for a 1-2 finish for the unreleased SC10 4×4.
My last main of the day was my favorite class to drive at the track. 4wd buggy started with Hartson and Numan 1st and 2nd and I moved into 3rd pretty quickly. BT and I had a really good race for 3rd while Hartson led and Numan applied pressure. Hartson's buggy started to make a weird noise and sounded like the motor moved and now Numan was checked out. BT and I battled for 2nd and I was able to make a block pass on Brent with only a few turns to go and take the position.
All in all my favorite event so far at OCRC and it's a pleasure coming out and racing with these guys every year. The camaraderie with the drivers and facility is amazing. Hats off to the OCRC guys for allowing me to come out and enjoy such an amazing week.