Southern Super League Round 1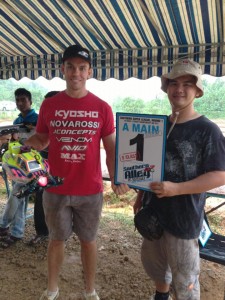 Ben Panic starts off the year with a win in Malaysia.
Event: Southern Super League Round 1
Track: Southern Alley Raceway Johor Bahru, Malaysia
Date: 21st January 2013
The first round of the Southern Super League was run this past weekend with drivers from Singapore and Malaysia competing in the first race of the year. Qualifying kicked off at 8 am and due to rain only 2 rounds were run. The top 3 drivers were separated by less than a second and David Aw (Hong Nor/RB/AKA) just nudged out JConcepts Team Driver Ben Panic for the TQ.

The main was all set to go and with the weather playing its part, drivers were hopeful it would hold for the duration of the final. The buzzer sounded and the field shot off with David Aw just leading Ben Panic (Kyosho/Novarossi/JConcepts). Ben found a gap by the fourth corner and proceeded to lay down some consistent quick laps with the Kyosho on rails for the first 20 minutes. David was battling with Kelvin Yong (Kyosho/Novarossi) and Didier Perrin (Mugen/Novarossi/AKA) was making a push for the front as he became more comfortable with the new MBX7.
As the drivers got in to their second pit stops it began to rain, just a drizzle to start with which added to the already sticky conditions. It did not slow the front-runners as Didier had made his way in to second almost a lap down on Ben. As the track got greasier the MBX7 which had lacked steering in the dry became a faster car. Didier hunted down Ben and the race would be on to the finish. These two were no more than 5 seconds apart for the last 15 minutes and the lead changed on each fuel stop. Didier had a couple of laps on third place so the win would certainly come from these two.
With the last minutes of the race approaching and the rain getting heavier consistency would pay dividends for the Kyosho driver, Ben had an error free last few minutes and took the win from Didier. In third was BH Gan driving a Hong Nor just ahead of the hard charging Serpent driver CK Lee. The cars were unrecognizable at the end. Totally covered in mud and leaving all the drivers with plenty of wrenching to do to clean them up.
JConcepts Winning Products
#0229 – JConcepts Finnisher Body
#3048-07 – JConcepts Hybrids Black Compound
#3048-02 – JConcepts Hybrid Green Compound
#3302 – JConcepts Mono Wheels
#2074 – JConcepts Wheel Nuts Black
#2043M – JConcepts Tire Glue