Southern Super League Malaysia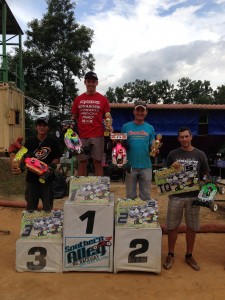 Ben Panic wins the 2013 Super League Series with JConcepts.
Southern Super League Round 5
Southern Alley Raceway, Malaysia
1st September 2013
Race Reporter: Ben Panic
The final round of the Southern Super League was held this past weekend. It would be the deciding round with two drivers tied on points going in to the final round for the championship. It would be a battle of the Japanese manufacturers for the title with Ben Panic wheeling his Kyosho MP9 Tki3 and Didier Perrin with his Mugen MBX7. Drivers ran three rounds of qualification, then moving in to finals A/B/C style. Lower finals were run for 20 minutes with the main being a 45-minute affair.

Qualifying would see the tightest of battles this year. Ben Panic (Kyosho/Novarossi/JConcepts) took round 1 and set the time to beat with a faultless drive. It took until the final round but Didier Perrin (Mugen/Novarossi/Aka) managed to take the TQ edging out Ben by 0.25 sec with a perfect run. Rounding out the top 3 was BH Gan (HongNor/RB/AKA)
With the track blowing out hard due to no rain the championship contenders starting on the front row had to be pleased that they would have a clear track for the opening minutes – the buzzer sounded and the race began. Didier led the first couple of laps then Ben passed him, it went back and forwards between these two as they navigated the holes and ever changing jumps.
Through the first and second round of fuel stops they were never more than 4 seconds apart. It made for some great racing; the dusty surface challenged both drivers as they looked for faster lines and an opportunity to make a break. With Didier in the lead at the 21-minute mark and Ben just behind disaster struck. Didier's car lost electrical power and he was out. It was unfortunate as the guys were battling so hard, nothing could be done as his power wire had snapped leaving him with no electrical power. The next 24 minutes wound down and with Ben over a lap up on the rest of the field he controlled the race and closed out the win and wrapped up the championship. Finishing in second for round 5 was BH Gan followed by Lai Kok Heng (Agama/Alpha/Beta) in third.
In the semi pro class Ben's teammate from Max Racing YC Chong wrapped up the overall championship with his Arrow powered Mugen MBX7. It was another meeting run well by race director Jonest Wong and well done to Shaidi and the track crew for another new layout for the final race of the year.