South Florida Winter Series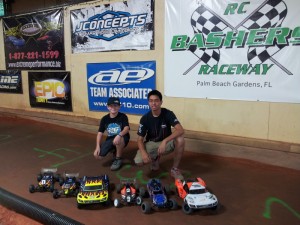 JConcepts team drivers Daimon Borkowicz & Felix Law have perfect finishes in 4 of the biggest classes at the South FL Winter Series.
2012 South Florida Winter Series
Race 1 @ CSRCC – Feb 19th
Race 2 @ Bashers – March 11th
Race 3 @ Mills Pond – May 6th
Best 2 out of 3
Three of South Florida's top tracks have come together once again to host The 2nd annual South Florida Winter Series. This popular series brings in over 150 entries per round making for some exciting racing.

11 year old Associated/JConcepts Team driver Daimon Borkowicz was able to TQ & win Pro2 Mod SC in 2 Rounds of the South FL Winter Series. Daimon also battled Felix Law for the Mod buggy class, both drivers had one win but Daimon's extra TQ point at Round 2 made him the winner over all in the buggy class. This title shows that Daimon will become the next "big gun" in upcoming races; watch out for the youngster in the near future.
The Traxxas/JConcepts Team driver Felix "More Powa" Law was able to TQ & win in Mod truck class with his JConcepts equipped Rustler showing everyone an RTR could become a racing machine. Felix also dominated the Pro 4 Mod SCT class by TQ & wins in 2 Rounds.
Thanks to Mike Applegate for another great South Florida Series, looking forward to the next one.