Short Course Showdown Series Round #3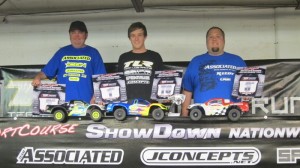 JConcepts Sweep Round #3 at the 2012 Short Course Showdown
Race: Short Course Showdown Series
Round 3
Track: Trackside Hobbies Brookfield, WI
Date: May 4th – 6th 2012
On back to back weekends JConcepts keeps its winning streak alive by TQ'ing and winning all 3 expert classes at round 3 of the Short Course Showdown. The Trackside Hobbies crew did an amazing job with this year's track layout and surface prep. With plenty of elevation changes, off-camber turns, rhythm sections, and high-bite conditions, the racing was tight and super exciting.

JConcepts driver Daimon Borkowicz got the weekend started off with a bang by taking the TQ in all 4 rounds of qualifying of the 17.5 expert stock class. This was followed up by JConcepts driver Dustin Evans setting the untouchable TQ run of the weekend in the very first round of 2wd expert Mod class. JConcepts driver Chad Due finished off the perfect qualifying weekend with a dominating performance in the 4×4 expert Mod class by taking the overall TQ position.
A-main shake-up! The A-mains got underway and Daimon's perfect weekend came to an end in the expert stock class when 2nd place qualifier got into the back of him on the first lap, shuffling them back into mid pack. Jason Hills and Alec Walters took full advantage of the first lap mishap with Jason leading the first 9 laps, but on lap 10 Jason made a mistake allowing Alec to sneak by into the lead. Alec went on to drive a perfect race for the overall win, Jason Hills second, and Daimon working his way back into third for the final podium spot. Privateer Alec Walters chose Bar Codes & Rulux wheels for his winning combination.
The 2wd modified class got off to a much better start for the top 3 trucks as Dustin Evans took full advantage of his TQ position and lead wire to wire. Chad Due and Brian Kinwald traded positions on lap 3 when Chad made a small mistake; they both maintained those positions throughout the main event to round out the podium spots. Dustin locked in on green Bar Codes from the 2nd practice run and ran the same set the entire weekend.
The 4wd expert mod class was an amazing display of patience driving by Brian Kinwald. TQ holder Chad Due took the early lead and looked very solid, but Brian continually put amazing pressure on Chad until one small mistake opened the door for Brian to sneak by for the lead and the overall win. Chad held on for 2nd and Dustin Evans in 3rd. Brian Kinwald also picked green Bar Codes and Hazard +3 wheels early on in practice and continued with the same set for the entire event.
Side note: Every truck in the expert mod A-mains (2wd & 4wd) were on JConcepts rubber as well as 6 of the top 8 in expert stock.
Special thanks to Scotty Ernst and the Trackside Hobbies crew for another amazing event!