Short Course Showdown – Competition Hobbies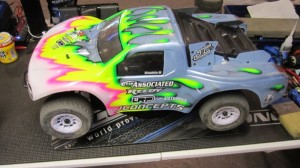 JConcepts TQ's 3 of 4 classes and wins Mod, 4wd and Stock at race #2 of the Short Course Showdown Nationwide Tour.
Race Reporter: Dave Duncan
Track: Competition Hobbies – Arizona
Dates: April 27-29, 2012
From shortcourseshowdown.com
"The intent of the SCSNWT is to bring our style of event to different venues around the country and allow as many people as possible to enjoy this exciting and fun form of racing. This event is not a series, but 7 individual races held at some of the best tracks in the USA. Each event will consist of practice on Friday, qualifying on Saturday and mains on Sunday."

Friday Practice
Friday morning at 10am the doors open and we start setting up our pits and getting ready for a full day of practice. The track crew started watering the track and sweeping the running line to the edges. No blowers used at this track, all broom. The track was soon dried out and ready for practice, the track seemed to be ready right off the start. The track crew at Competition Hobbies is really good and the place is awesome!! We all start off on blue Bar Codes. A few drivers tried Pressure Points either front or rear or both. Most would say that the Pressure Points in the front would calm it down but I found that it gave me more steering doing that.
Saturday Qualifying
The guys running 4wd SCT liked running Bar Codes, orange compound up front and blue in the rear. After the day was over with 3 full rounds of qualifying in the books, JConcepts was sitting TQ in 4wd mod with Billy Fischer running blue Bar Codes rears and orange Bar Codes in the front. Brian Kinwald had the TQ in 2wd mod with blue Bar Codes rears and blue Pressure Points fronts and Dave Duncan held the TQ in 17.5 stock with blue Bar Codes front and rear.
Sunday Qualifying and Mains
On Sunday we ran the final 4th round of qualifying and then on to the mains. Even with the resort the same 3 guys stayed TQ in those same classes. So JConcepts takes the TQ spot in 3 of 4 classes. On to the mains, Tanner Denny finished 1st on JConcepts tires in 2wd Mod, Billy Fischer takes the TQ position straight to the win in 4wd Mod SCT and Dave Duncan starts on pole and never looked back taking the win in Pro2 17.5 stock.
All and all was a great race with Scotty and Charlie running the show perfectly.