Shearer Wins Open 2wd!! 2018 Reedy Race Memories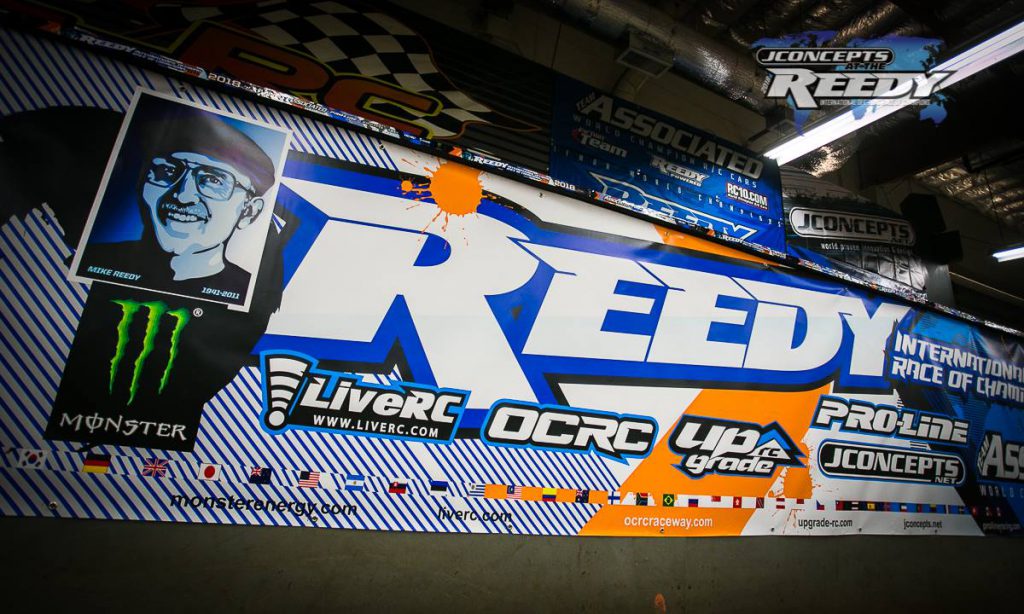 The Reedy Race of Champions is built upon one man's dream of having the best racing event possible to celebrate his birthday. Each year, we honor Mike Reedy's birthday by inviting the best racers from around the world to compete in the Invitational Reedy race format and to find the 2wd and 4wd Open Champions at a legendary event known as the Reedy Race of Champions. If you want to test your skills against the best, this is the race to find out what you're made of.

Perhaps the most anticipated race on the calendar year, the Reedy Race is well known for its racing heritage providing a quality of race that's unsurpassed in our sport. This year's Reedy Race was no exception as it included a very difficult track layout that tested everyone skills each and every lap. With a total of 3 triples, you had to master the jumps before you could master the track, if that was even possible. With the difficulty and challenge peaking off the charts, the separation of speed and skill was clearer than glass. For those who are fortunate enough to have the mindset of welcoming challenge adapted quickly and found themselves a level above the rest.
One of the unique things about the Reedy Race for JConcepts is that we have a lot of drivers from all parts of the globe in attendance and this gave us a chance to catch up with them in these unique interviews that's full of wonderful insights of their character. When you have time, check out the collection of interviews for another perspective of the Reedy Race.
Wednesday Open Practice and Interviews Galore

Thursday Evening Pitwalk "Who's your pick to win the Open 2wd and 4wd class?"

Driver's Meeting

"How did day 1 go for your at the Reedy?"

Day 2 Wrap Up – "How was day 2 for you?"

Junior Class
A job well done by Kyosho's Braxten Culley, whom fell sick on the opening day and wasn't able to practice and started off the weekend straight into qualifying. Great job by the young driver to take a win in the Juniors class and also to the colorful Brittany Tozser for coming in 2nd.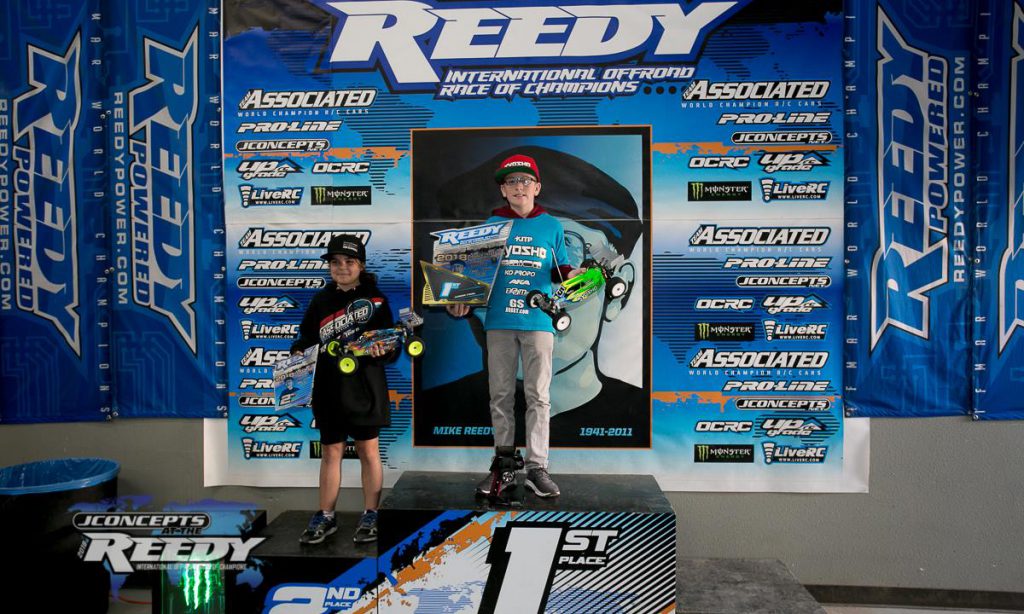 2wd Open Modified Class
It was a special race from the oldest member in the A-Main of 2wd Open. 22 year old, AE/JConcepts' Brad Shearer, put in the performance of his life during the double 10-minute A Finals. With a solid A1, Brad finished 2nd giving him a great chance to win the overall, but needed another stellar performance in A2 and he delivered just that. With a terrific start, Brad locked onto 2nd and held it for the entirety of A2 knowing he'd be the overall winner. It was an amazing 20 minutes of driving and congrats to Brad for an outstanding performance and his remarkable drive under pressure!
Also making the podium in the 2wd Open class was Xray/JConcepts' Tommy Hinz. Hinz delivered some of his best driving to date and mimic Brad's results, but with two 3rd place finishes locking up the 2nd place overall. Young CJ Jelin was on fire from winning the 4wd Open A2 and carried the momentum into A2 of 2wd taking the crucial A2 win and bumping him up to 3rd on the podium.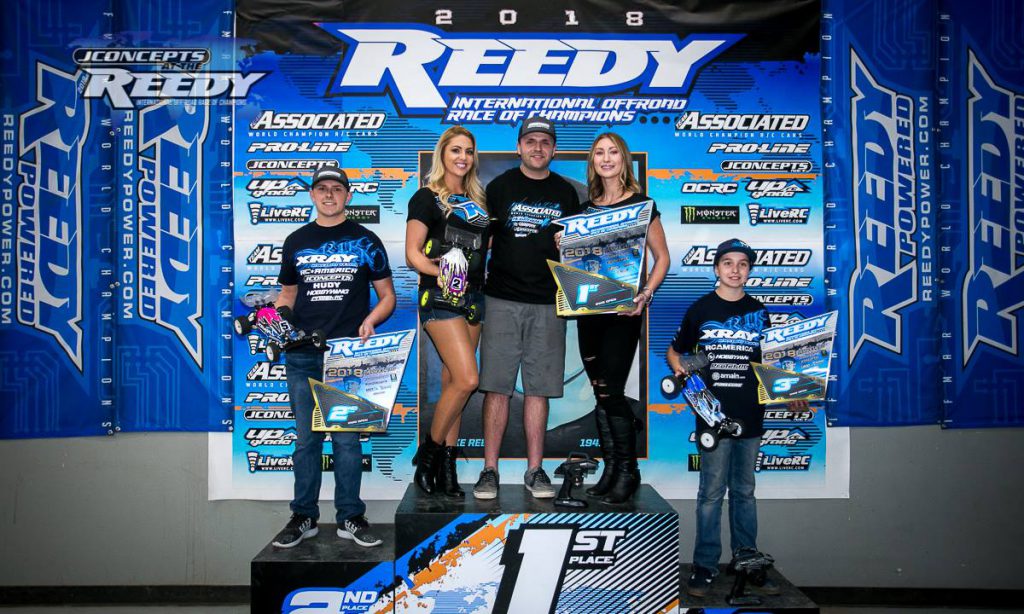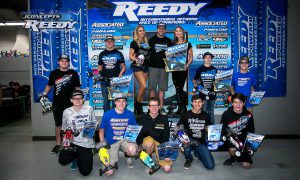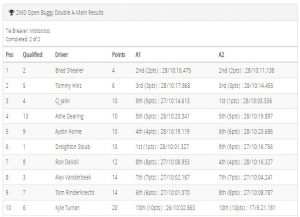 4wd Open Modified Class
Picked as one of the favorites to win the 4wd Open division at the 2018 Reedy, Xray's CJ Jelin had a lot of pressure on his shoulders before the race even started. As one of Nor-Cal's finest talents, CJ thrived under pressure and was able to finish 2nd in A1 and completely dominated A2 to win the overall. FTR's Aydin Horne actually tied CJ in points with a win in A1 and a 2nd in A2, but with the Reedy rules weighing more on A2, Aydin's 2nd place was the result of the tie-breaker. Another driver from NorCal, Amain's Kyle Turner, put in some great drives to finish 3rd on the box.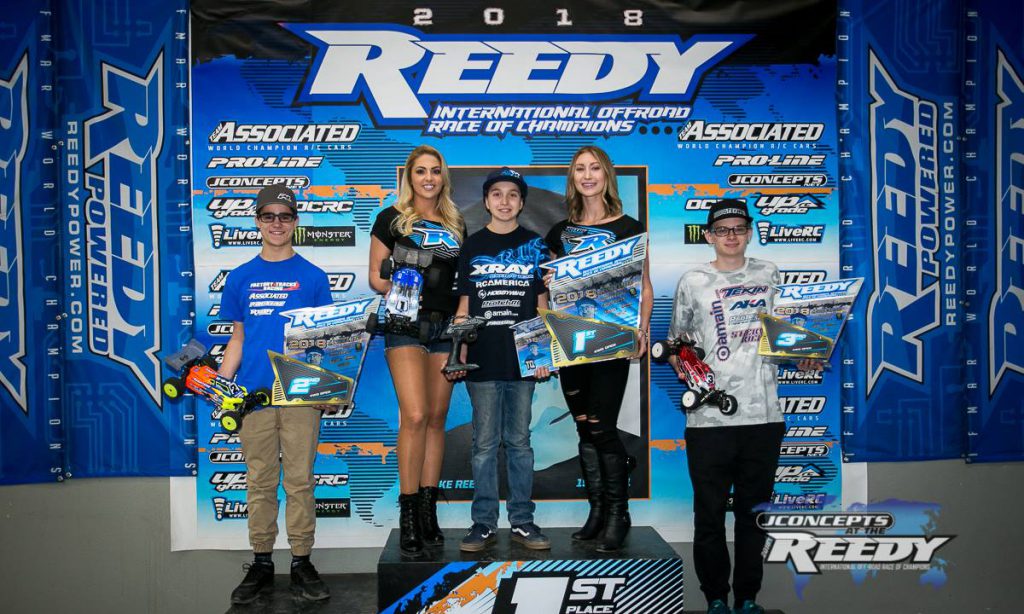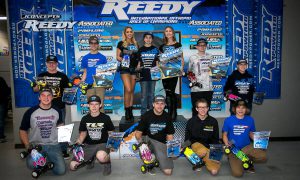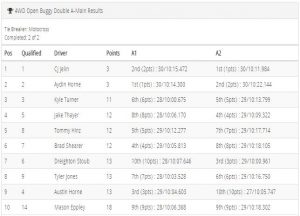 Invitational Class Top 3
The 2011 Reedy Race Invitational winner, AE/Reedy's Dustin Evan, was able to recreate his remarkable feat 7 years earlier with his best driving we've seen from Dustin in a long time. Since joining the AE team last year, Dustin has found a resurgence in his racing career beating the industry's top drivers at the 2018 Reedy Race of Champions. With the best-combined score of 15, Dustin was able to lock up the overall after completing his Round 6 Heat 1 race regardless of how his competitors finished. Having a perfect score of 5 wins in the 2wd portion of the event, Xray's Ty Tessman would move into 2nd overall with 18 points. Unfortunately for AE/JConcepts' Ryan Cavalieri, his hunt for the win ended in round 5 of 2wd with a dogbone popping out after a harsh landing resulting in him using his drop involuntarily. However, the 4 time Reedy Champion would stay on the podium with 19 total points.
Yokomo/JConcepts Ryan Maifield found himself in 4th tying Cavalieri in points but losing out to the tie-breaker. AE/JConcepts star Spencer Rivkin finished in his goal of staying in the top 5 with Cole Tollard 6th, Alex Kosciuszek 7th, and Joona Haatanen 10th.
Click on this link to watch the full replay of all the Invitational races thanks to our friends at RedRC!