Shay Brand Is The SCT Top Dog.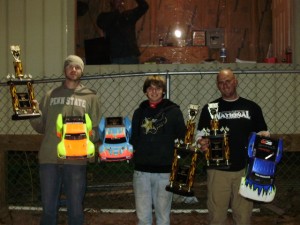 Event: SCT Top Dog Trophy Race
Date: November 5, 2011
Track: Loganville RC Speedway
The all short course truck race was held at Loganville RC Speedway this past weekend. The SCT Top Dog Race brought in 87 short course truck entries, within the classes of stock, mod, and 4×4.

JConcepts Team Driver, Shay Brand raced the Mod SCT, running JConcepts Double Dees in the first two qualifiers and Bar Codes for the final qualifier. In the 3rd qualifier, Shay was able to get a 10 lap run in, which ended up being the only one of the day out of any class, as well as the fastest lap of 38 seconds.
Before the mains, Shay mounted on a new set of JConcepts Bar Codes in Green Compound and got everything prepped for the race. Shay got off to a bad start but it was a good battle between 1st through 3rd all the way through the race. With about a minute to go Shay was able to take the lead and hold off the rest of the field to come home with the TQ and the Win for Mod SCT, and became crowned the SCT Top Dog in the Mod class.
It was a great day for an all SCT race, and Shay said he can't wait to run the race again next year.