Shay Brand and JConcepts Win The HCRCR Metro Summer Series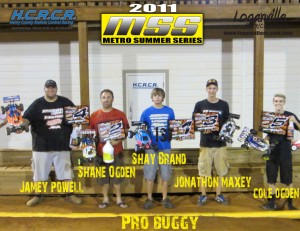 The Finals for the Metro Summer Series were held this past weekend at Henry County Remote Control Raceway. The series finals went really well with 124 entries.
Coming into the final race of the series JConcepts Team Driver, Shay Brand, was holding the top spot in the Pro Buggy class. With some really tough competition, Shay ended up qualifying in the third spot, running Subcultures in Green Compound.
Shay was caught up at the start of the 20 minute long A-Main, and had to try and work his way back through the field. Shay made it back up to the third spot, where he would finish. Shay told us, "The Mugen buggy was really good, and the JConcepts Hybrids in Green Compound were stuck to the track."
With this third place finish Shay would be able to hold onto his first place lead in the points, and come away as the Metro Summer Series Pro Buggy winner. Congratulations to Shay on a great series run.